Nina Dobrev's New Hairstyle Proves the Shag Is Ready for a Comeback
Nina Dobrev has had a bob haircut with blunt bangs for a little while now, and stylist Chris McMillan is helping her grow it out with a shag haircut.
---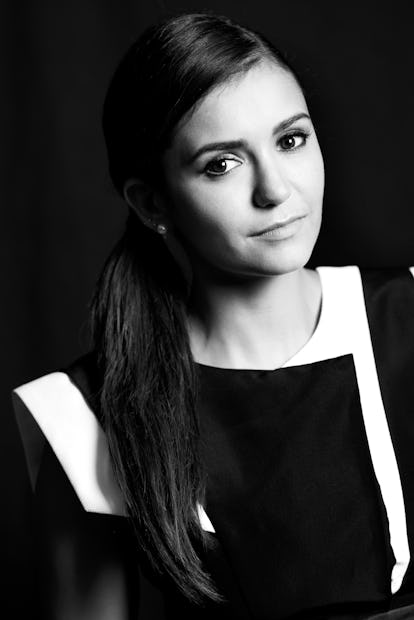 Photographer: Caitlin Cronenberg
Nina Dobrev has changed her hair several times in the past year.
It all started in January 2017, when the Vampire Diaries actress chopped off a substantial amount of length. Ever since she's gone shorter and shorter, finally getting a chic bob with blunt bangs back in September for the movie Lucky Day. But now it seems she may be looking to grow her hair back out a bit. Dobrev just paid a visit to the stylist Chris McMillan and he gave her a gorgeous haircut (with bangs!) that not only looks great now but will also work to help her seamlessly grow out her bob.
McMillan posted the cut on his own Instagram, saying, "Best way to grow out your bob. Face-framing layers and add a few long layers." He also spoke to Allure about Dobrev's latest transformation. "[Her hair] is actually a work in progress," he said. "Instead of bobbing her to let her bangs grow out I softened her blunt bangs and softened her bob to create a new shag look."
He also described what he calls his "dot-to-dot" method, which is created by using the corners of the bangs to determine where the first layer falls, explaining, "I always start with face-framing, then the long layers are created by just basically holding the hair up and cutting off the corners."
McMillan also told Allure that he believes this iteration of the shag is the next big hair trend, so keep your eyes peeled. He says of this particular cut, "It allows the hair to be more natural with less maintenance, and it's fresh and modern. Also, I was just in Paris and noticed all the cool girls on the streets were wearing their hair more in this direction."
Related: How to Detox from Coachella According to Vampire Diaries Actress Nina Dobrev