North West and Penelope Disick Celebrate Their Birthdays with Joint Unicorn-Themed Party
Complete with "real" unicorn rides and a 10-year-old DJ.
---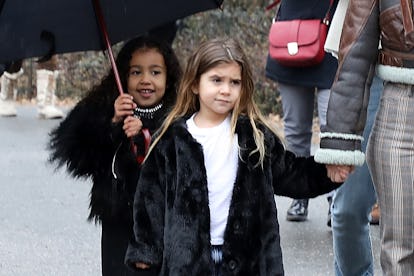 Pierre Suu/Getty Images
If you, like most clear-minded people, make all important decisions by wondering to yourself, "What would North West and/or Penelope Disick do?" prepare to celebrate your next birthday with a massive, mythical creature–inspired party. On Sunday, the dynamic duo rang in their upcoming birthdays—West will be 5 on June 15, and Disick will turn 6 on July 8—with a unicorn-themed pool party. As seen in a series of photos and videos posted on West's mom Kim Kardashian's Instagram and Snapchat Stories, the birthday bash was loaded with unicorns, rainbows, and almost every member of the girls' famous family.
First and foremost: the food. Guests loaded up unicorn-shaped plates with doughnuts, cake pops, cookies, Rice Krispie treats, chocolate-dipped pretzels, and marshmallows, all of which were decorated to look like pastel-maned, single-horned equines. There were also two unicorn cakes from ultra-Instagrammable bakery Flour Shop that, when cut into, exploded with multicolored sprinkles and candy. Once on a sufficient sugar high, West, Disick, and their pals were able to lounge on giant rainbow pool floats, listen to 10-year-old DJ Livia's high-energy set, and ride actual "unicorns" (ponies with glittery manes and fake horns strapped to their heads).
The birthday girls perfectly coordinated with their party's decor in matching rainbow one-piece swimsuits and sparkly rainbow robes; West completed her look with a high ponytail and unicorn-horn headband, while Disick left her shiny mane down and unaccessorized. Aside from Kim and Disick's mom, Kourtney Kardashian, there to fete the tiny besties were their grandma Kris Jenner, great-grandma M.J. Shannon, Aunt Kylie Jenner, and cousins Stormi Webster and Dream Kardashian.
Though West's and Disick's birthdays are several weeks apart, they've made a tradition in recent years of ringing them in together with a joint party. Last year, they celebrated closer to the midpoint between their two big days with a Moana-themed soirée; they both dressed up like the Disney heroine, spent time with animals in a petting zoo, played on inflatable slides, and each received a Pomeranian puppy as a gift. And the year before that, they partied it up with a The Little Mermaid-inspired bash, complete with sparkly mermaid tails and a handful of other Disney princess impersonators.
Related: At 4 Years Old, North West Is Already Chicer Than You on Instagram
At Four Years Old, North West Is Already Chicer Than You On Instagram
Out in New York City with mom Kim Kardashian, wearing matching furry coats. 2016.

Instagram
Throwing serious side-eye while wearing sunglasses on vacation with dad, Kanye West.

Instagram
Dressed like a princess with her best friend, Ryan, and cousin Penelope Disick.

Instagram
Trying on mom's thigh-high, silver Balenciaga boots. "Didn't think it would happen this soon…my baby girl stealing my shoes. At least she has good taste," wrote Kardashian.

Instagram
Visiting Bambi's friends while in character at Disneyland.

Instagram
Taking a bath with a few glowing accessories, 2016.

Instagram
Trying out Snapchat's flower crown and somehow avoiding looking basic.

Instagram
Wearing matching custom Vetements with Mom while heading to Dad's concert.

Instagram
Wearing matching custom Vetements with Mom while heading to Dad's concert.

Instagram
Accessorizing a velvet slip dress with furry slides and a white baseball cap.

Courtesy of @kimkardashian
With Mom, Dad, and President Barack Obama. "Oh Northie!!! North fell and was crying so Potus gave her White House M&M's. She smiled when I opened the box but I wanted to save them for memories so wouldn't let her eat them so she cried again," Kardashian wrote.

Instagram
Again, with President Obama, this time playing it cool.

Instagram
Playing the part of a very chic tennis girl in a white velvet slip dress and matching white hat.

Instagram
Getting a backstage tour with Ariana Grande before the singer's stadium tour.

Instagram
Giving aunt Kylie a run for her lip empire money with goth black lips.

Instagram
Cozing up to Mom in a fashionable leopard print top and black choker.

Instagram
Posing for a family portrait on Easter with Mom, Dad, and brother Saint.

Courtesy of @kimkardashian
Working hard as the fit model for Mom and Dad's new clothing line.

Courtesy of @kimkardashian
"That time North gets a time out & is a little too quiet… I go in her room to check on her & she's in the bathroom, made her own spa & tells me she's chilling out," wrote Kardashian.

Instagram
"she has no clue what 100 million followers means but she's excited cause i'm excited lol thanks for the follows and the love" captioned Kardashian.

Courtesy of @kimkardashian
Of the mommy-and-me style, Kardashian wrote, simply: "Besties!"

Instagram
For a Mother's Day post, Kardashian wrote, "Thank you to my babies for choosing me and allowing me to be your mom. You've given me a deep love I can't explain. I'm always here to teach you and protect you! Thank you for making my Mothers Day so special!"

Getty