How to Dress for the Super Bowl According to Olivia Culpo, Girlfriend of New England Patriot Danny Amendola
It involves a pair of "bright red Givenchy boots."
---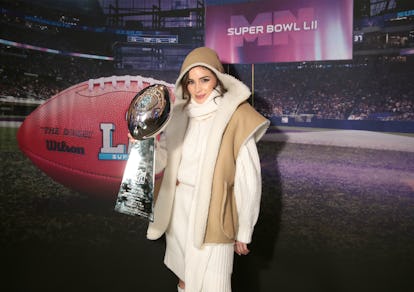 Cindy Ord
Dressing for a sporting event can be tough. But dressing for the Super Bowl, the, well, Super Bowl of sporting events? That's a sartorial nightmare. This weekend, temperatures are hitting freezing in Minneapolis, making planning an outfit that much harder. Among the tens of thousands of people attending the big game this year is Olivia Culpo, the former Miss Universe turned model who is dating New England Patriots wide receiver Danny Amendola. Here, Culpo, who is also currently up for a somewhat sports-related trophy of her own as a finalist for Sports Illustrated's Swimsuit Rookie of the Year, breaks down how to do sideline style the right way.
How are you preparing for the Super Bowl this year? I actually created a bunch of Super Bowl-inspired recipes and cocktails and put them up on my website. The Super Bowl itself is such a fun and unique experience and I am so lucky I get to go again this year. I am preparing by packing very warm clothes, and getting excited for Sunday. Go Pats!
What is your go-to look for a football game? Something comfortable, stylish, and obviously showing my team spirit. I still like to pay attention to making my outfit fun and fashionable, like throwing on a great pair of boots in a bold color, like red, and a camo jacket layered over the team jersey. I might even add a fanny pack if I am feeling a little extra that day.
What would you never wear to a football game? I believe you can wear anything you want to a football game. As long as you feel good, comfy, and confident in your outfit choice, go for it. The only thing I would never wear to a game is gear supporting the other team.
What about wearing heels? If you are comfortable in heels, wear them. Most of my most comfortable boots are heeled. I love a good heeled boot, and think that it certainly can belong at a sporting event. I try not to live by any rules and wear what feels good to me in the moment. Some days it is heels, and other days it is a sneaker. I will say I tend to enjoy a look that feels pulled together overall, so whatever shoes give me that polished look.
What are the do's and don'ts for sideline style? Make sideline style your own.You really can't go wrong as long as you feel confident and happy in what you have on. Do try a fun hairstyle like braids or a high ponytail. Do wear team colors in unique and unexpected ways. Do wear something that will look as good after three hours of cheering. Don't wear anything you are not comfortable in because the experience is what the game is all about.
Beauty-wise, what are your must-haves for attending a football game? Since you can't bring a purse into the games, I travel very light. I fit everything in my pockets, but I will say I always carry a lip balm with me, especially in the cold. In the cold air, your lips can get chapped so fast. I also have my phone and a charger, my ID and a lip liner, just because that is my thing.
How are you preparing your Super Bowl outfit this year? Depends on the weather! I heard it can be cold in the stadium so I will probably whip out my warmest jacket. I don't know exactly what I will wear but I have a pair of bright red Givenchy boots that might make an appearance—and my team jersey.
Related: Gisele Bündchen and Football: A Timeline of Sideline Cheering and Elevator Rants
Gigi Hadid Only Gets Starstruck for Kobe Bryant