Welcome To Decadence: Inside Palazzo Venart, Italy's Newest Must-Visit Luxury Hotel
In a city where hotels rarely open, Palazzo Venart, in it's royal grandeur, steals the scene.
---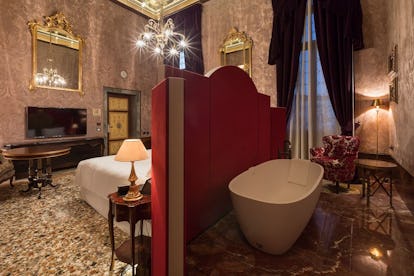 In a city which attracts over 2.5 million visitors per year, you would think new hotels would be popping up every month to meet the increase of tourists who are eager to gondola through the canals, peruse the Duomo, and chow down on life-changing homemade tagliatelle. But in Venice, it's actually the opposite. Not only is there no such thing as an empty lot or a free space to build, but the city has wildly strict preservation laws, which prohibits any company from coming in and restoring run-down buildings, even if they can afford the hefty price tag.
"That's why Venice is still Venice after so many years," explained Marco Casarola, general manager of the LDC Hotel Group's Italian hotels, which includes Palazzo Venart, Venice's newest five-star hotel. "The increase in tourists destroys the city, so the authorities have to protect the legendary palazzos that are there." This is precisely what makes Palazzo Venart, which celebrates it's one year anniversary this month, so unique: the simple fact that hotels rarely open in Venice—let alone luxury ones.
According to Venetian law, hoteliers who want to open properties are only permitted to restore existing palazzos, rather than build new ones. Oftentimes the palazzos are in such poor condition, that building from scratch is more cost-efficient, and restoring them a total nightmare. "Every single detail had to be authorized by the government authorities who came in every Friday morning to personally check on our process," said Casarola of their grueling two-year renovation which cost tens of millions of Euros. From the light bulb brand used to illuminate the palazzo's exterior, to the plants blooming in their garden, everything had to be approved.
Luckily they were in good hands, tapping the restoration team who restored such Venetian landmarks as the Rialto Bridge (a task equivalent to restoring Rome's Coliseum), to oversee their process. The team tracked down original archival photos of the formerly lavish fifteenth century palazzo, in order to restore it to its original grandeur. "Everything that was possible to restore, and not make new, we did," said Casarola, who oversaw the process from start-to-finish, physically removing the original flooring and Murano glass ceilings which they sent away to be fixed, cleaned, and then re-installed in their intended place.
The result is rather astounding, and allows Venart to compete with the world's most legendary hotels, such as The Cipriani, where Casino Royale was shot, or the Gritti Palace, where Woody Allen filmed Everyone Says I Love You. "These hotels have been there for hundreds of years, and frequented by royalty, Hollywood, and other VIPs, so we had to think, 'What can we do better than them?'" noted Casarola.
After two years of planning, they nailed it. Visiting the four story 18-room hotel, is like stepping back in time. Rich colors and custom luxurious upholstery line the walls. The hotels suites and common areas are accentuated with baroque style furniture sourced from antique fairs in Tuscany and auctions at Christie's. Every floor is more opulent than the next—you'll find a three-hundred-year-old piano on the second floor (tuned by the conductor of the Venetian theatre), and gilded vitrines on the first.
"The authorities in Venice were so happy about our restoration," Casarola noted. "Some guests say they feel they're living in a palazzo, others feel they're living in a museum, or in the past century." La dolce vita.
Basics
You can book a suite for €2,000 a night, or a classic room for €450. Want to rent the entire palazzo and throw a party? No problem. It can be yours for €20k a night.
Location
The hotel is located off the San Stae vaporetto stop, which is around five stops from the Venezia train station or Marco Polo airport. It is a short walk to the Rialto Bridge, and far enough from jam-packed tourist areas like San Marco Square. The rooms have stunning views, overlooking either the Grand Canal or their charming courtyard.
Tribes
You can expect everyone from international royalty to honeymooning couples. Their upcoming reservations include George Clooney, who will be there early next month for the Venice Film Festival.
Food
Make sure to wake up in time for a complimentary breakfast. All pastries and breads are homemade, and the cheese locally sourced. For dinner, check out their courtyard restaurant, Glam, headed by two Michelin-starred chef Enrico Bartolini.
Related: Forget the Amalfi Coast: Sicily Is the Italy Beach Destination of the Moment
Inside W's Augmented Reality September Issue