Paris Hilton Hilton Defended Donald Trump Against Sexual Assault Accusations
"When something happens all these opportunists will come out."
---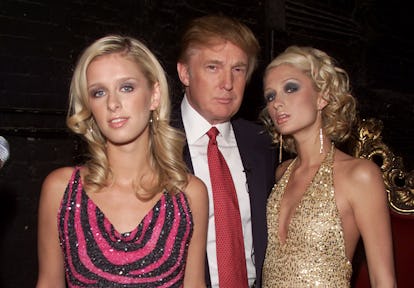 Frank Micelotta Archive/Getty Images
So far 2017 has been Paris Hilton's year. She's remained at the top of her DJ game as Ibiza's unofficial ambassador. She's announced her return to singing songs. She's even enjoyed extra spotlight as the cultural tide turns back to the aughts when she was reigning queen. But that momentum just screeched to a halt with her latest sound bites.
In a new interview with Marie Claire, Hilton reveals her thoughts on the United States' 45th president, the same person who's made inappropriate remarks about the heiress' beauty as young as when she was 12 years old. For a refresher: "Now, somebody who a lot of people don't give credit to but in actuality is really beautiful is Paris Hilton," Trump told Howard Stern in 2003, before admitting to watching Hilton's sex tape. "I've known Paris Hilton from the time she's 12, her parents are friends of mine, and the first time I saw her she walked into the room and I said, 'Who the hell is that?'" According to Hilton though, these comments didn't bother her. "It was on Howard Stern, so I feel that anyone that's on that show, Howard just loves to say weird things and people say things they normally wouldn't say," she told Marie Claire writer Irin Carmon, who has since shared the full transcript of their interview. "It wasn't creepy at all. He's not like that, he's always been so respectful."
Hilton apparently does not find issue with Trump's "Grab them by the pssy" comments either, where the president told former Access Hollywood* host Billy Bush that he doesn't ask women for permission before kissing or groping them because "when you're a star they let you do it" in a clip that went viral a month before the election. "I've heard guys say some pretty crazy things," Hilton said, dismissing the comments as mere guy talk. "Like, worse than that. So I think that when someone doesn't realize they're being filmed or recorded, they say things. Especially with a guy. So I think it was kind of just one of those things where you're with someone—I've heard guys say the craziest things ever cuz I'm always around guys and I listen to them speak. So I definitely do't think he would just say that." Yet he did, which can be watched in full below.
The conversation then took yet another turn with Hilton dismissing the many, many women who have accused the president of sexual assault over decades. "I think that they are just trying to get attention and get fame," Hilton said of the accusers. "I feel like, a lot of people, when something happens all these opportunists will come out. They want to get money or get paid to not say anything or get a settlement when nothing really happened. So I don't believe any of that. And I'm sure that they were trying to be with him too. So I don't believe any of that. Because a lot of women, I've seen, like him because he's wealthy and he's charming and good-looking so I feel like a lot of these girls just made the story up."
Update: Hilton has now apologized for the comments in a statement issued to Refinery 29, and points out she gave the interview in November, 2016.
"I want to apologize for my comments from an interview I did last year. They were part of a much larger story and I am regretful that they were not delivered in the way I had intended.
I was speaking about my own experiences in life and the role of media and fame in our society and it was never my intention for my comments to be misapplied almost a year later. I always believe in helping women have their voices heard and helping create an environment where women feel empowered and believe in themselves.
I am deeply hurt by how this has played out and also deeply sorry. Moving forward I will continue to do what I can to be an advocate for girls and women with the hopes of providing a louder voice for those who may desperately need it."
Though, as Jezebel points out, she doesn't directly apologize to the women she accused of lying about sexual assault for fame.
Related: Stephen Colbert Asks Anthony Scaramucci if Donald Trump "Orders His Spine on Amazon Prime"
See What's Trending in W Video: