Get Shorty
With a number of starlets taking the plunge, pixie cuts are on the rise.
---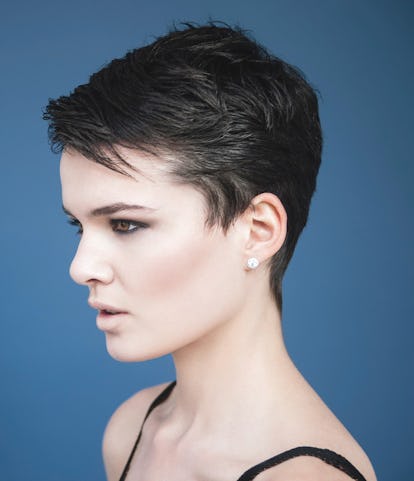 Now that Michelle Williams, Jennifer Lawrence, and Pamela Anderson have all shorn their flowing locks, it's no wonder that pixie cuts are having a moment. "We looked at a lot of pictures of Jean Seberg," says Anderson's hairstylist, Laurent Philippon. "Pam actually resembles Jean." To create the Seberg/Anderson 'do, he used a razor to fine-tune the hair's length and to decrease volume. "What's nice about a short cut is that you can balance the face with it," Philippon says. "If your forehead is too big, we make the bangs a bit longer. If it's short, make the fringe really, really small. With a rounder face, elongate the sideburns." Philippon likes to use Bumble and Bumble BB Texture Hair (Un)dressing Creme for a piece-y look; Kérastase K Short Mania Star-to-Be Sculpting Paste and Redken Mess Around 10 Disrupting Cream-Paste also do the trick. A style like this requires regular maintenance—but the effort is worth it. After Anne Verhallen, the model in this photo, went supershort, she landed her first Givenchy runway show. Pixie magic?
"Get Shorty" in the April 2014 issue of W Magazine incorrectly referred to hairstylist Laurent Philippon as Pamela Anderson's hairstylist. While Philippon has cut and styled Anderson's hair, Paul Desmarre of Los Angeles's Cristophe Salon is responsible for her original pixie cut.