Pregnant Kate Hudson Now Has a Bob, Confirming She Can Wear Any Hairstyle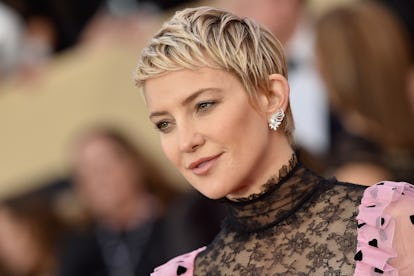 Axelle/Bauer-Griffin/FilmMagic
Over the past year, Kate Hudson has proven she can wear anything from an ombré pixie 'do to a buzz cut, executed by her six-year-old son Bingham Bellamy and the pop singer and songwriter Sia. This time, however, she decided to go with a professional hairstylist to update her look: She recruited Chris McMillan to give her a bob.
Hudson shared a video clip of her blonde bob being tousled by the celebrity stylist who's best known for giving Jennifer Aniston her iconic shaggy haircut for Friends later known as "The Rachel." As it turns out, McMillan is just as skilled at setting the stage — hand-fanning the air and all — for the perfect haircut selfie. "This is my wafting card," he says, as Hudson cracks up.
The actresses' new bob comes as she's grown out the buzz cut she got for Sister, a film about "a sober drug dealer and his autistic sister" that Sia wrote and is directing. Hudson, who stars in it alongside Sia's famed dancer Maddie Ziegler, talked about how her last haircut came to be on the Lorraine show, saying, "My little one and Sia took clippers to it. It's funny because when you're doing it for a role you don't really think about it because you're just ready for it. You're like, 'Let's do this.' But when it was done, it was like: 'Oh, my head's shaved … oh, my god!"
Lately, the actress has been busy preparing for the arrival of her third child and first daughter. The baby will be her first with her musician boyfriend Danny Fujikawa. Hudson announced the news that they were expecting last month with an adorable gender reveal video where she popped a balloon to reveal smaller pink balloons. "SURPRISE!!! ?," she wrote in the caption. "If you've wondered why I've been so absent on my social channels it's because I have never been more sick! It was the most sick first trimester of all my children. Boomerangs have made me nauseous, Superzoom is an easy way to have my head in the toilet, food instagrams make me queezy and thinking too much about insta stories made me even more exhausted than I already had been. If you've seen me out and about smiling and pretending like everything is amazing…I was lying! BUT! I have broken through on the other end of that and rediscovering the joys of insta/snap. We have been trying to keep this pregnancy under the radar for as long as possible but I'm a poppin now! And it's too darn challenging to hide, and frankly hiding is more exhausting then just coming out with it! My kids, Danny, myself and the entire family are crazy excited! A little girl on the way ?" It will be awhile, though, until she has her chance at cutting her mom's hair like her older brother.