Kate Hudson Enlisted Sia to Help Shave Her Head
Kate Hudson reveals how she prepared for her latest role.
---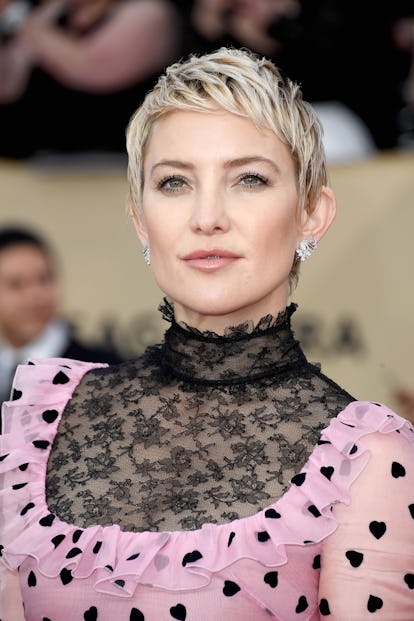 Getty.
For Hollywood's elite, access to the industry's best hairstylists, makeup artists, and aestheticians comes with the territory. However, when it comes to head-turning transformations, it seems that actress Kate Hudson prefers to opt out of the pros and use her own personal glam squad instead. Appearing on the Lorraine show, the 38-year-old actress, who recently shaved her head for a role in the musical Sister, shared that it was actually her 6-year-old son, Bingham, and the director of Sister, close friend and singer Sia, who were the masterminds behind her shaved head.
Explaining the process of her transformation, Hudson revealed: "My little one and Sia took clippers to it. It's funny because when you're doing it for a role you don't really think about it because you're just ready for it. You're like, 'Let's do this.' But when it was done, it was like: 'Oh, my head's shaved … oh, my god!" The How to Lose a Guy in 10 Days star continued on to admit that she grew to love her new look, sharing, "I really loved it, I actually miss it. My boyfriend used to rub my head and it would put me right to sleep. I'll never forget that sensation of just falling asleep to him rubbing my head. I'd never felt anything like that before."
And while stars these days can't seem get enough of this season's ultra-short bob, Hudson is among the ever-growing list of actresses who willing take their transformation one step further in the name of Hollywood by undergoing extreme makeovers. Saying that everyone should take the plunge when the time feels right, Hudson added, "I honestly think a women in her life at one point just needs to chop it all off, it's so liberating. People look at you differently."
Kate Hudson's Adventurous Hairstyles, From Beachy Waves To A Blonde Buzz Cut
A young Kate Hudson poses at the Eighth Annual MTV Movie Awards in 1999, wearing a natural face with tousled curls.

Getty.
Wearing a mauve lip with her shoulder length locks and tousled bangs, Hudson attends the Hollywood Women's Press Club's 60th Annual Golden Apple Awards in 2000.

Getty.
Wearing her natural curls in a tousled up do with a burgundy red lip, Hudson attends the 14th Annual American Comedy Awards in 2000.

Getty.
Radiating at the 2002 Golden Globe Awards, Hudson wears her golden blonde locks in voluminous curls with a hint of blush on the cheeks.

Getty.
Hudson is all smiles at the Raising Helen film premiere in 2004, pairing her wild curls with a mauve lip.

Getty.
Hudson keeps her look minimal and chic with a simple high ponytail and luminous skin at the Sydney premiere of You, Me and Dupree in 2006.

Getty.
At the Orange British Academy Film Awards in 2008, Hudson opts for a simple braided do with side swept bangs.

Getty.
At the Glamour Magazine 2010 Women of the Year Gala, Hudson channels old Hollywood with her sleek S-wave curls with a satin red lip.

Getty.
Wearing an elegant up do with a frosted smoky eye, Hudson arrives at the 67th Annual Golden Globe Awards in 2010.

Getty.
At the amfAR 3rd Annual Inspiration Gala in 2012, Hudson opts for a slicked back, low tousled pony with a golden smokey eye.

Getty.
Wearing her perfectly blown out curls with a stain nude lip, Hudson attends the 70th Annual Golden Globe Awards in 2013.

Getty.
Looking regal at 86th Annual Academy Awards in 2014, Hudson wears her elegant waves with a subtle smokey eye.

Getty.
Hudson keeps her look simple at the 72nd Annual Golden Globe Awards in 2015, wearing a low, middle-parted bun with a natural lip.

Getty.
Debuting her newly chopped bob, Hudson wears her loose waves with a pale pink lip at the 2016 Vanity Fair Oscar Party.

Getty.
Opting for a dramatic up do the a 2017 Costume Institute Gala, Hudson pairs her frosted white locks with a taupe smokey eye.

Kevin Mazur