Bella Hadid's Hairstylist Chad Wood on the Rules of a Spring Hair Revamp
Chad Wood explains how to refresh your hair for spring.
---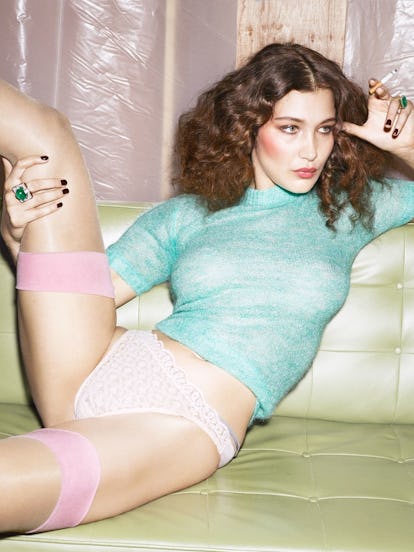 Photography by Mert Alas and Marcus Piggott Styled by Edward Enninful
A new season warrants a fresh hairstyle. And whether that means a daring new bob or an edgy trim, this spring is the perfect time for a style revamp. As Bella Hadid's hairstylist Chad Wood says, "Spring is a fun time to play." Wood, who is also responsible for the locks of A-listers like Jessica Alba, Olivia Munn, and Vanessa Hudgens, breaks down the simple ways to nurture your hair back to life after a harsh winter. Here, he explains hair-care essentials, go-to maintenance tips, and why "healthy hair is always in season."
What do you notice most about the hair's condition after the winter season? I notice that after a winter season, the hair is left a little dry and dull from the cold weather. Aside from cold temperatures causing brittle hair, overuse of hot tools can be one of the more damaging things we do to our hair. The best advice I could give is to be conscious of the quality of the hot tools you're using and try to give your hair a break a few days a week. In other words, try not to straighten your hair four days in a row. You also want to make sure to use a reputable brand, and then you want to go a step further and apply a heat protectant when you are going to be using a tool. On your days off, let your hair air-dry and use products and clips to shape the hair and give it a more natural style.
What changes can we make to our hair maintenance routine from season to season? I think small changes from season to season are great for the hair. With the weather change, coupled with free radicals, pollution, etcetera, it is always good to give your hair a fresh reset every few months. One of my favorite staples that can be taken from season to season is Hair Rituel by Sisley-Paris Revitalizing Fortifying Serum ($195, nordstrom.com) for the scalp, to keep it hydrated and stimulate new hair growth. I also love a good oil, and Shu Uemura Essence ($69,barneys.com) is great for conditioning the ends and reviving hair after winter's harsh weather.
What are your go-to spring hairstyles? For springtime, I am really into a fresh, clean cut and updating your color for the warmer months! It's like spring cleaning, but for your hair. Chop off that deadweight to switch up your look. It's starting to get warm out, so your hair will grow even faster, making spring the perfect time to try something new and chic. Then, you can experiment with temporary color without the commitment with Toppik Hair Filler Fibers for a subtle change. For a more dramatic effect, build color with the Colored Hair Thickener. Spring is a fun time to play.
What treatments do you recommend to help refresh our locks for a new season? I really love to do a deep conditioning with Goldwell Kerasilk Reconstruct Intensive Repair Mask. So often people think that a treatment is time consuming, but I always tell my clients that they can apply the product to dry, tangle-free hair, braid the hair, and sleep in it overnight. Wake up, rinse, and apply Sisley-Paris Precious Hair Care Oil, and your hair looks shiny and new!
What are your top five tips to help refresh our hair for the spring season? Take a risk! This is the time to try something new. Act on that risk by getting a cut, whether it be a strong trim or a completely new look. When it comes to color, change it up! This is the time to go a bit brighter and warmer with your color! Have your "go-to" lineup when it comes to tools and products; make sure you get the right tools and styling products for your new look. Consult with your stylist and you'll be able to re-create a look even after you leave the salon. Explore and experiment with all the new ways you can wear your hair, and don't forget to take care of your strands. Healthy hair is always in season.
10 French Girl Beauty Rules To Follow, Straight From Paris Fashion Week
Model Céline Delaugère's skincare essentials include Vitamin E oil and "sleep, lots of water, and sun."

@celinedeldel
Model Camille Rowe uses avocados in her diet and beauty routine, saying,"I eat a lot of healthy fats. I'll have an avocado a day. I also put them on my face and in my hair."

@fingermonkey
For model Aymeline Valade's DIY spot treatment trick, all you need is a lemon. "When you have a lot of pimples and you don't know what to do anymore—I tried everything—there is one thing that really works besides essential oil: clean your skin and then rub lemon on your face. Leave it on for five minutes and use rosewater oil to take it off. Don't dry your face with towels. I change my sheets a lot as well, and clean my clothes as much as I can."

@aymelinevalade
Jeanne Damas's lipstick trick is a no brainer. "I mix lipsticks and I always apply it with my fingers by tapping for a melted effect."

@jeannedamas
Clémence von Mueffling breaks down her hair and bath routine as,"David Mallet L'Hydratation shampoo, Leonor Greyl and Christophe Robin hair masks. And then always a shower sponge and a cleansing washcloth that you can put your hand in, like a glove. You don't find them here, but in France you buy it where you buy your bath towels."

@newyorksocialdiary
Camille Charrière is all about hydration in the winter, sharing, "I sleep with a mask in my hair sometimes when I'm in the cold because it's dyed and it breaks really easily. But other than that, I try and avoid make-up as much as possible."

@camillecharriere
French It Girl Sabina Socol recommends to moisturize everything as her standard beauty rule.

@sabinasocol
Thylane Bloundeau's beauty routine includes, "A lot of sleep; washing off makeup at the end of the day is crucial with a lot of hydration. I use a lot the makeup and hair products from L'Oréal."

@thylaneblondeau
Caroline de Maigret breaks down her TSA essentials sharing that, "Lancome Nutrix moisturizer that I put on during the whole flight and lip balm from La Roche-Posay" are her go-tos.

@carolinedemaigret
For a simplistic morning beauty routine, follow model Marine Deleeuw's easy trick. "In the morning, I wash my face with cold water and then I put on this Vinoperfect moisturizer by Caudalie that has sunblock in it to protect my skin. Then I just use concealer to cover up a pimple from time to time. That's it!"

@marine_deleeuw