Ask a Beauty Guru: Yes, You Can Cut Your Hair 26 Times a Year
Want a consistently chic coif like Megyn Kelly? It's time to sneak a regular trim in with your blowout.
---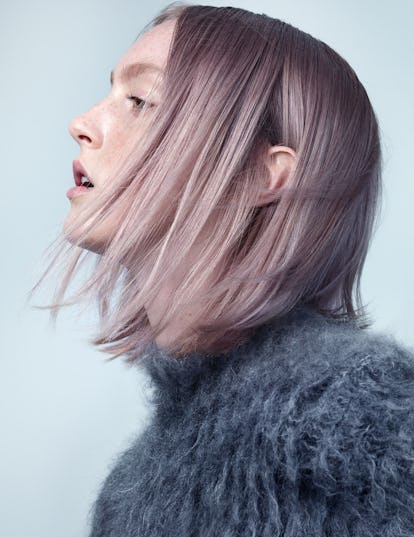 Photographer: Benjamin Lennox Stylist: Andreas Kokkino and Katie Becker
Ask any hairstylist about what the lay man or woman should do to better their hairdo, and you will undoubtedly hear the same thing: "Get a haircut." It's the micro trims that keep people in the public eye from ever looking like they just went to see their hairdresser, even if they did.
Regular blowouts may allow news anchor coifs like Megyn Kelly's to be their best accessory, but the hot tools can take a serious toll. "Thermal damage is real and can generally stop hair from fulfilling its lusciousness," explained Gregorio Ruggeri, the Aussie hairstylist and owner of Ruggeri Salon on Manhattan's Fifth Avenue.
Unlike traditional hairdressers, Ruggeri is both a master with cuts and color. So to further enhance the experience of his one-stop hair mecca, he rolled a subtle trim (dubbed a dust) into all of his services, even a blowout.
"When you see the lack of hair sitting on the ground, it's just a little dust," he said. Such a small amount should quell the anxiety of any haircut-phobe. A regular dusting is also a clutch technique for maintaining hair health while trying to grow some serious length.
Public-facing clients tend to make appointments as frequently as every two weeks—that's 26 times a year. "We chat about what the hair is currently looking like on camera—whether thats in-studio or on location," he said, and cut and color accordingly.
Even stylish Manhattanites covering their grays, or maintaining a bright blonde, tend to be back as often as twice a month. Lower key processes, like highlights or demi permanent glosses, are stacked at every four to six weeks. That clocks in at a still impressive 13 to nine visits a year.
Before any color process, every client gets a dust to maintain their ends. After every blowout, ever client gets a dust. And yes, there are a few actual haircuts in there too.
As for any other crucial tips for people in powerful roles looking for consistency with their style, Ruggeri has just one: don't overdo it with the dry shampoo. "There is nothing worse than meeting someone for the first time and seeing a white halo on their head or powder on the shoulders." Duly noted.
2017 Beauty Trends: See the Best Hair, Makeup, and Nails of the Year
Watch: Japanese Stylist Ryoji Imaizumi Turns Hair Into Art
Japanese Stylist Ryoji Imaizumi Turns Hair Into Art