Prince Harry Condemns the Paparazzi for Photographing Princess Diana as She Lay Dying
"She'd had quite a severe head injury, but she was very much still alive on the back seat."
---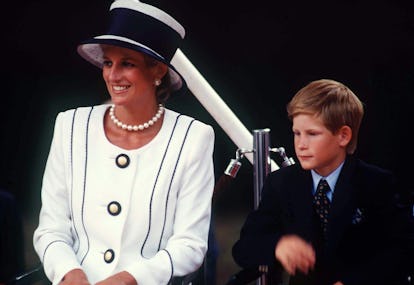 Tim Graham/Getty Images
In honor of the 20th anniversary of Princess Diana's death, Prince William and Prince Harry have opened up more than ever before about how they've coped with their mother's tragic passing. Now, Prince Harry has spoken out about one of the most difficult aspects of the princess's fatal car accident: the fact that the paparazzi that caused the crash photographed her as she lay dying.
In a new promo for the upcoming documentary Diana, 7 Days, which is set to air on the BBC August 27th and on NBC September 1st, Harry recalled, "I think one of the hardest things to come to terms with is the fact that the people that chased her into the tunnel were the same people that were taking photographs of her while she was still dying on the back seat of the car." Princess Diana was killed in a fatal wreck after her car, pursued by French photographers, was traveling at high speed through a tunnel in Paris in 1997.
"William and I know that. We've been told that numerous times by people that know that was the case," Harry continued. "She'd had quite a severe head injury, but she was very much still alive on the back seat. Those people that caused the accident, instead of helping, were taking photos of her dying on the back seat. And then those photographs made their way to news desks in this country."
Prince Harry, who—together with Prince William and Kate Middleton—has become a major advocate for mental wellness, previously spoke about how his mother's death impacted his own mental health. The prince described his tendency to bury his feelings over the loss and said that he was "very close to a complete breakdown on numerous occasions" before his brother insisted he seek help.
Prince William also got candid in a promo for Diana, 7 Days about how he hoped his and his brother's way of dealing with her death will positively lend itself to Princess Diana's vibrant legacy.
"When you have something so traumatic as the death of your mother when you're 15 — as very sadly many people have experienced and no one wants to experience — it will either make or break you. And I wouldn't let it break me. I wanted it to make me. I wanted her to be proud of the person I would become," Prince William said in the clip. "I didn't want her worried or her legacy to be that William and/or Harry were completely and utterly devastated by it. And that all the hard work and all the love and all the energy that she put into us when we were younger would go to waste."
Related: Princess Diana Would've Been "A Nightmare!" as a Grandmother and Other Such Micro Revelations From William and Harry's Documentary
Princess Diana's 8 Most Iconic Looks