Newborn Prince Louis, In His First Official Photos, Outshines His Sister Charlotte on Her Own Birthday
The infant royal highness and his elder sister wear hand-me-downs in new photos taken by their mother, the Duchess of Cambridge.
---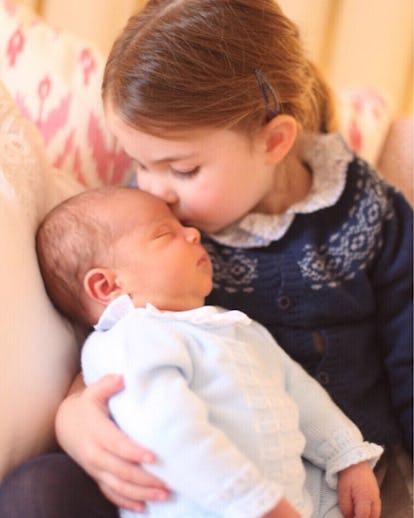 @kensingtonroyal
The thing about being an older sibling is that you're always, to varying degrees, at risk of being upstaged by the younger members of your family. Princess Charlotte, the second of Kate Middleton and Prince William's brood, learned this firsthand when her third birthday party became an occasion to take some of newborn Prince Louis's first photos. (This is a risk her older brother, Prince George, was likely already aware of, seeing as he was nearly two when his sister was born and how the Queen herself has reported Charlotte is the real head of the household.)
Charlotte turned 3 on Wednesday, May 2; to mark the occasion, the Kensington Palace official Instagram posted a portrait of the young princess, as it has done for her previous birthdays. Then, late Saturday, the account posted a couple more images of Charlotte—who recently began nursery school—and her brother, both taken by their mother, the Duchess of Cambridge, who has become the royal family's de facto documentarian. In the first, Charlotte cradles Louis and plants a kiss on his forehead; though taken on his sister's birthday, Louis is the clear focus here, seeing as it's the infant Royal Highness's first official portrait. Even so, it looks quite tender—so maybe Charlotte will maintain her position as the woman in charge over at Kensington Palace. (Also, Charlotte is reportedly wearing a hand-me-down sweater George wore for a family portrait several years prior.) In the second, taken in late April just a few days after his birth, a wide-eyed, red-faced Louis, posing alone, looks off into the distance. (His look is likewise a hand-me-down, this one from Charlotte. The royal family, subtly deconstructing gender norms.)
Posted within hours of each other, the images have garnered nearly 900,000 and more than 600,000 likes, respectively—proving that, despite having her birthday moment kind of usurped by her little brother, Charlotte is not to be outdone. (She is, after all, the "one in charge" of the palace.) And proving that two royal babies are better than one.
There is, of course, one key way in which Charlotte is not going to be outdone by her new baby brother: Due to the Succession of the Crown Act, passed in 2013—two years before Charlotte's birth—the three-year-old princess will remain fourth in line for the crown, rather than being bumped down to fifth by the arrival of a new son in the family. Dismantling the patriarchy, one tiny princess at a time.
Related: Meghan Markle's Couture Wedding Gown Will Reportedly Cost £100,000