Princess Eugenie's Wedding Dress Showed Off Scars from Scoliosis Surgery, On Purpose
"I think you can change the way beauty is, and you can show people your scars."
---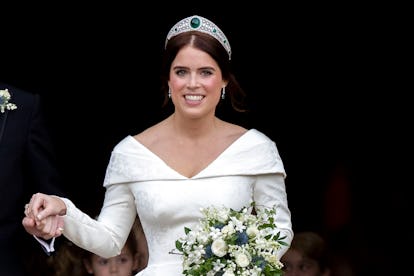 WPA Pool/Getty Images
On Friday, October 12, Princess Eugenie and Jack Brooksbank tied the knot at St. George's Chapel in Windsor Castle—where a certain other royal wedding took place earlier this year—in a heartfelt ceremony attended by royals like Prince Harry, Meghan Markle, Prince William, and Kate Middleton, plus British A-listers like Kate Moss, Naomi Campbell, and Cara Delevingne. For the occasion, Princess Eugenie wore a custom gown designed by British label Peter Pilotto, featuring long sleeves, a fold-over neckline, and an open back, the latter of which carries extra significance for the newly married princess.
The V-shaped back showed off the faint scars from the back surgery Eugenie underwent to treat her scoliosis when she was a child. In a recent interview with ITV's This Morning ahead of her wedding, Eugenie had hinted that she'd specifically chosen an open-back wedding gown in order to show off those scars. "I had an operation when I was 12 on my back, and you'll see on Friday," she said. "It's a lovely way to honor the people who looked after me and a way of standing up for young people who also go through this." She added, "I think you can change the way beauty is and you can show people your scars, and I think it's really special to stand up for that."
Eugenie also paid homage to the formative experience by inviting representatives from the Royal National Orthopaedic Hospital to her wedding, where she had her surgery, and for which she now serves as royal patron. "It's just very important that they get a chance to be honored for the work that they do constantly, so it's lovely that I can share this special day with them," Eugenie, who also included representatives from several of her other patronages on her guest list, told This Morning.
Earlier this year, Eugenie celebrated becoming a patron of the RNOH by sharing the X-rays from her back surgery for the first time on Instagram.
The mother of the bride, Sarah, Duchess of York, also spoke this week about her daughter's decision to invite doctors and administrators from the RNOH to her nuptials. "She is walking up that aisle with a straight back because of them…She did have what would have been very serious curvature of the spine. She certainly will be an extraordinary example of great work from the RNOH," Fergie told the Evening Standard. "The wedding is about love, future, and inclusivity. What a huge, huge day for health, for the NHS, for the RNOH, and for hope. This is why this wedding is so beautiful—it's hope for other children suffering from scoliosis."
Princess Eugenie's Royal Wedding: See What Everyone Wore, From Meghan Markle to Kate Moss
Meghan, Duchess of Cambridge arrives ahead of the wedding of Princess Eugenie of York to Jack Brooksbank at Windsor Castle on October 12, 2018, in Windsor, England.

WPA Pool
Kate Moss and Lila Grace Moss Hack ahead of the wedding of Princess Eugenie of York and Mr. Jack Brooksbank at St. George's Chapel on October 12, 2018, in Windsor, England.

WPA Pool
Demi Moore arrives ahead of the wedding of Princess Eugenie of York and Mr. Jack Brooksbank at St. George's Chapel on October 12, 2018, in Windsor, England.

WPA Pool
Holly Valance arrives ahead of the wedding of Princess Eugenie of York and Mr. Jack Brooksbank at St. George's Chapel on October 12, 2018, in Windsor, England.

WPA Pool
James Blunt and Sofia Wellesley arrive ahead of the wedding of Princess Eugenie of York and Mr. Jack Brooksbank at St. George's Chapel on October 12, 2018, in Windsor, England.

WPA Pool
Emma Joy Kitchener and Julian Fellowes arrive ahead of the wedding of Princess Eugenie of York to Jack Brooksbank at Windsor Castle on October 12, 2018, in Windsor, England.

WPA Pool
Pixie Geldof and George Barnett arrive ahead of the wedding of Princess Eugenie of York to Jack Brooksbank at Windsor Castle on October 12, 2018, in Windsor, England.

WPA Pool
Queen Elizabeth II arrives ahead of the wedding of Princess Eugenie of York and Mr. Jack Brooksbank at St. George's Chapel on October 12, 2018, in Windsor, England.

WPA Pool
Zara Tindall and Mike Tindall arrive ahead of the wedding of Princess Eugenie of York and Mr. Jack Brooksbank at St. George's Chapel on October 12, 2018, in Windsor, England.

WPA Pool
Liv Tyler arrives ahead of the wedding of Princess Eugenie of York to Jack Brooksbank at Windsor Castle on October 12, 2018, in Windsor, England.

WPA Pool
Princess Anne, Princess Royal and husband Timothy Laurence attend the wedding of Princess Eugenie of York to Jack Brooksbank at St. George's Chapel on October 12, 2018, in Windsor, England.

WPA Pool
Holly Branson arrives ahead of the wedding of Princess Eugenie of York to Jack Brooksbank at Windsor Castle on October 12, 2018, in Windsor, England.

WPA Pool
Peter Phillips and Autumn Phillips attend the wedding of Princess Eugenie of York to Jack Brooksbank at St. George's Chapel on October 12, 2018, in Windsor, England.

WPA Pool
Karoline Copping and Jimmy Carr arrive for the wedding of Princess Eugenie of York and Mr. Jack Brooksbank at St. George's Chapel on October 12, 2018, in Windsor, England.

WPA Pool
Tamara Beckwith arrives ahead of the wedding of Princess Eugenie of York and Mr. Jack Brooksbank at St. George's Chapel on October 12, 2018, in Windsor, England.

WPA Pool
Ellie Goulding arrives for the wedding of Princess Eugenie of York to Jack Brooksbank at St. George's Chapel on October 12, 2018, in Windsor, England.

WPA Pool
Chelsy Davy arrives ahead of the wedding of Princess Eugenie of York to Jack Brooksbank at Windsor Castle on October 12, 2018, in Windsor, England.

WPA Pool
Naomi Campbell and Debbie von Bismarck arrive ahead of the wedding of Princess Eugenie of York to Jack Brooksbank at Windsor Castle on October 12, 2018, in Windsor, England.

WPA Pool
Poppy Delevingne arrives ahead of the wedding of Princess Eugenie of York and Mr. Jack Brooksbank at St. George's Chapel on October 12, 2018, in Windsor, England.

WPA Pool
Catherine, Duchess of Cambridge and Prince William, Duke of Cambridge arrive ahead of the wedding of Princess Eugenie of York to Jack Brooksbank at Windsor Castle on October 12, 2018, in Windsor, England.

WPA Pool
James Matthews and wife Pippa Middleton arrive ahead of the wedding of Princess Eugenie of York and Jack Brooksbank at St. George's Chapel on October 12, 2018, in Windsor, England.

WPA Pool
Sarah, Duchess of York and Princess Beatrice arrive ahead of the wedding of Princess Eugenie of York and Jack Brooksbank at St. George's Chapel on October 12, 2018, in Windsor, England.

WPA Pool
Robbie Williams and Ayda Field attend the wedding of Princess Eugenie of York to Jack Brooksbank at St. George's Chapel on October 12, 2018, in Windsor, England.

WPA Pool
Cara Delevingne arrives ahead of the wedding of Princess Eugenie of York and Jack Brooksbank at St. George's Chapel on October 12, 2018, in Windsor, England.

WPA Pool