Priyanka Chopra and Nick Jonas's Relationship Timeline Goes Back a Lot Further Than We Thought
It really does go down in the DMs.
---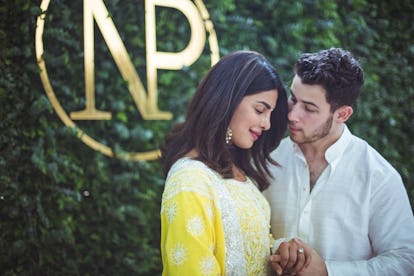 instagram.com/priyankachopra
Perhaps the union between Priyanka Chopra and Nick Jonas has been remarked upon as one of the bigger celebrity engagement surprises in a year that was chock full of whirlwind engagements for the A-list. But the soon-to-be married couple is not finished surprising us all just yet.
In a new Vogue cover story, more details have been provided if you were looking to fill out the timeline of the couple's seemingly fast track to romance. After the two appeared together at the Met Gala in May 2018, whispers of a new celebrity romance began to circulate. By the end of the summer, Chopra and Jonas were engaged, and many fans of the two were left scratching their heads. But let's backtrack a bit—this relationship really didn't just start this year. In fact, according to both Chopra and Jonas, they've been flirting for a little over two whole years now.
After Jonas caught a glimpse of Chopra on Quantico, the three-season-long FBI drama series on ABC that premiered in 2015, he texted her costar Graham Rogers: "Priyanka. Is. Wow." Jonas then sent Chopra a DM on September 8, 2016, that read "I'm hearing from a few mutual friends that we should meet," to which Chopra responded, "My team can read this. Why don't you just text me," and gave him her number.
The story goes that they texted back and forth a bit for a couple months, then ran into each other at the 2017 Vanity Fair Oscars party—where Jonas was starstruck to see Chopra in the flesh. "I put my drink down," he said. "Get on one knee—this is in front of a bunch of people—and I say, 'You're real. Where have you been all my life?' Like, loud."
They had one drink that lasted for about five minutes while Chopra was on her way out the door, then got a real drink at the Carlyle hotel in New York the week before the Met Gala that year, where they were both invited to appear in Ralph Lauren together. Right after the meeting at the Carlyle, Chopra invited Jonas to her apartment, but her mother was present in her nightgown, so nothing happened but a "back pat" from Jonas, who wanted to be "respectful."
A full year after not seeing one another, Chopra and Jonas bumped into each other at the 2018 Met Gala, attended a performance of Beauty and the Beast together in Los Angeles, and went to a Dodgers game. That was when Jonas had the bright idea to propose to Chopra, after just three official dates with his new love interest. When he proposed in July, the day after Chopra's birthday celebrations in Crete, apparently the actress took almost a whole minute to say yes. "I got down on one knee, again, and I said: Will you make me the happiest man in the world and marry me?" he admitted. "No joke—she took about 45 seconds. Forty-five seconds of silence," he continued.
It turns out that this whirlwind relationship really wasn't that much of a whirlwind after all. The recent onslaught of Instagram posts from Chopra, Jonas and his brothers, and plenty of their friends may have seemed to come at us very quickly, but now it all makes sense. Two years ago, Jonas started a flirtation with Chopra and stuck to it. The wedding, which will take place on Saturday, December 1, at a palace in Rajasthan, and last about three days long (Chopra joked that "people will need vacations after this wedding" in her Vogue profile), has already been heavily planned to involve both sides of the family and will include Jonas riding in on a horse like the true Prince Charming he is, all because of a DM sent in 2016.
Related: Priyanka Chopra and Nick Jonas's Wedding Has Reportedly Begun With a Pre-Ceremony Puja in Mumbai