Catching the Wave
Hair pumps up the volume with a return to retro waves.
---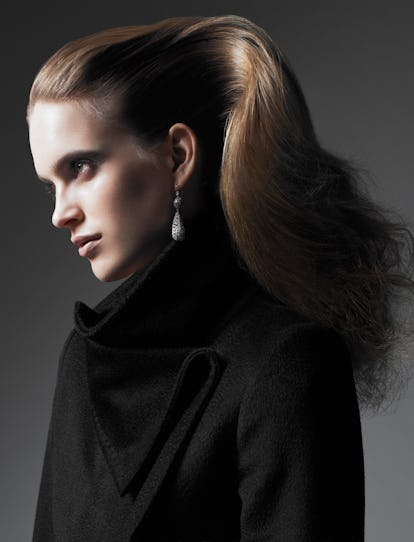 Photographer: Amy Troost Stylist: Michelle Cameron
After years of taming their tresses into submission with products, heavy-duty devices, and straightening treatments, women are embracing their curves again. "Waves are big, but they're a bit reminiscent of the disco era, when they were brushed back," says Laurent Philippon, editorial stylist at Bumble and bumble. "They looked luxurious, but they also looked touchable." He and his team were the masterminds behind the popular serious-hold products Sumowax and Sumotech; their newest offering is the gentler Semisumo, a light wax-and-oil combination that helps hair achieve major volume while keeping it malleable enough to be shaped with ease. To get a big, soft wave, set damp hair with a clip, let it air-dry, and finger-comb a small amount of Semisumo through it. "You get a gentle hold but also great shine," says Philippon, who encourages experimentation. "There's no uniform trend in hairstyles nowadays—like there was in the sixties with teasing or in the seventies with wearing it loose or in the eighties with the graphic look. Today it's about individuality. We don't want do-nothing hair; we just don't want it to look overdone."
Hair by Rudi Lewis. Makeup by Polly Osmond. Digital Technician: Charley Parden; Photography Assistants: Henry Lopez, Scott Simpson; Fashion Assistant: Jessica Zamora-Turner. Special Thanks To Fast Ashleys Studios. Model: Mirte Maas at Women Management.