Rihanna Goes Full Steve Irwin in an All-Python Atelier Versace Look
The musician, designer, and beauty mogul celebrated the first anniversary of Fenty Beauty in Sydney this week.
---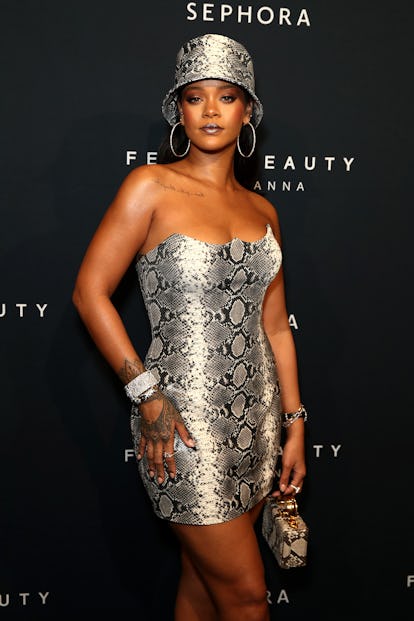 Brendon Thorne/Getty Images
A year ago, an Australian woman became the first person on the planet to buy a piece of Fenty Beauty. (Due to the time zone, a Melbourne branch of Sephora was the first to open on launch day.) So, if not intentionally coordinated, it at least feels fitting that Rihanna would choose the continent down under as her destination to celebrate Fenty Beauty's first birthday.
So it was that she arrived in Sydney over the weekend, and on Wednesday made her way to the International Overseas Passenger Terminal, a cruise ship port in the New South Wales capital, for a party in honor of the brand's anniversary. And for the occasion, she wore a look that only Rihanna could make work: head-to-toe python.
Sure, monochromatic dressing is a well-documented trend at this point—even head-to-toe patterns. But in a python minidress—a custom design by Atelier Versace—paired with a python bucket hat, pointy-toed python pumps, and a tiny python Mark Cross box bag, Rihanna took it to new lengths. It's like…Steve Irwin meets '90s hip-hop. She matched the look with a faintly glimmering pewter lip and a deep blush, because when you're a beauty mogul celebrating your beauty brand, your makeup had best not be an afterthought.
Rihanna and Versace cohosted the Met Gala for "Heavenly Bodies: Fashion and the Catholic Imagination" earlier this year (though Rihanna arrived to the event dressed as Pope Rihannus I in a look by John Galliano for Maison Margiela), but the singer's relationship with the Italian couture house goes back way further than that. She wore a leather Versace minidress for a Milan Fenty Beauty launch (and proceeded to plunge into a ball pit while wearing the look); even before that, she selected a couple pieces from the brand's Spring 2018 collection to party in Barbados last December. And at the 2015 iHeartRadio Music Awards, she debuted one of her most iconic looks: a highlighter-green Versace fur. (She proceeded to immortalize the look on a pair of socks for her Stance collection.)
It's also far from the first time Rihanna has taken the head-to-toe thing and exploded it: For who could forget her 2017 Coachella look, a glitter Gucci bodysuit, complete with hood? In her immortal words, "I can't go home yet, because enough people ain't seen my outfit."
Related: Let Rihanna Headline Coachella