Let Rihanna's Mom, Monica Fenty, Take You to Church With Her Instagram Bible Verses
For Rihanna's mom, there are only two genres of Instagram posts—throwback photos and Bible verses.
---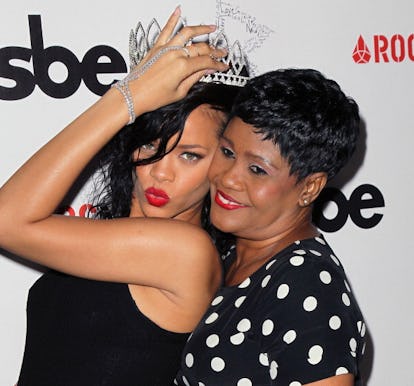 Getty Images
Rihanna's mom is the ultimate support system. She once presented her daughter with the Icon Award at the American Music Awards, and most recently accompanied her to a huge benefit party for her emergency response organization, the Clara Lionel Foundation. But of course, where she is Rihanna's biggest champion is on social media.
On Mother's Day this year, the Ocean's 8 star tagged her mom on Instagram in a sweet post, and suddenly many of us who had not realized the treat we were in for stumbled upon the Instagram account for Rihanna's mom, Monica Fenty.
Celebrity mothers occupy an important niche on Instagram. Ms. Tina (mother to Beyoncé and Solange) has established her own brand on Instagram with her signature corny jokes, Melanie Griffith (Dakota Johnson's mom) is on there too, and even Diana Ross takes some time out of her busy schedule to post the occasional throwback or celebration of her daughter Tracee Ellis Ross. It only makes sense that Rihanna's mom, Monica Fenty (can we call her Mama Fenty?) would do the same.
On her account, which has grown to 120,000 followers, Fenty only posts two types of content, because simplicity is key. In between an abundance of screen-grabbed Bible verses from the Bible Gateway app, she will post a throwback of her family, her daughter, or even herself.
She goes through long stretches of time where she will also post a different daily verse from the New International Version of the Bible, which can range from simply encouraging ("Be kind and compassionate to one another") to exalting praise ("The love of Christ compels us")—but Mama Fenty almost always leaves her screenshots caption-less because, well, the words in the Bible do tend to speak for themselves.
Colossians, Corinthians, Psalms, New Testament, Old Testament—it's all fair game for Fenty, who, in the past has asked her daughter to clean up the language in her own saucy captions. They certainly occupy a different corner of social media than the thirst traps and memes bestowed upon the Instagram community by "badgalriri." "Let your conversation always be full of grace, seasoned with salt," however, seems like some sort of daily scripture Rihanna would have conjured up all by herself.
Related: Rihanna Blessed Anne Hathaway With a Compliment About Her Butt