KJ Apa Says Riverdale Season 3 Is Going to Be "a Game Changer"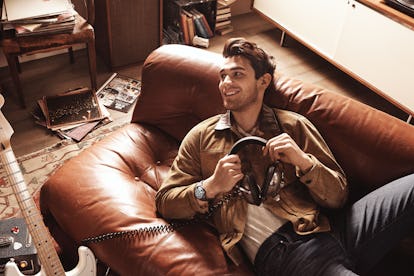 TOM SCHIRMACHER
The cast of Riverdale has been keeping very busy since the hit teen drama first hit The CW two years ago. But this week has been a particularly nonstop one for KJ Apa, the New Zealand native who plays Archie Andrews on the show. Ahead of tonight's season 3 premiere, Apa joined co-star Lili Reinhart over the weekend in New York City at Comic Con to tease what's to come in the new season. Also this past weekend, his new film The Hate U Give, in which he plays Amandla Stenberg's boyfriend, opened in theaters to rave reviews. And, there's more: Apa has officially gotten into the design game, creating a new watch face for Fossil's Q4 Explorist HR smart watch.
"I drew inspiration from my Samoan heritage as well as my passion for art and music," the actor said. "The design is based off of a traditional Samoan mark-making illustration, and I also have a similar tattoo that I got when my dad become Chief of our family's village in Samoa. Seeing my illustrations on the face of a digital watch is amazing—and cool that fans get to carry a piece of me wherever they go." Here, the actor talks designing and what's to come from Riverdale season 3.
Had you ever thought about designing before this collaboration?
Definitely not watch faces, but this kind of style I've been doing since I was little, so I enjoyed it a lot.
Have you shown your cast members the watch?
Yep, they've seen it. They've seen it all over Instagram, and I've shown them. I'm actually wearing the Mood watch at the moment.
Which cast member would you say is the most fashionable, and would be best at designing their own fashion line?
Hmm. I think Madelaine [Petsch] would be good.
How is filming the new season going so far?
It's going really well. We're almost halfway through the 22 episodes, which are going to be really great. I really think season 3 is going to be a game changer. The stakes are higher, and this is definitely the best [season] so far.
Do you still get nervous before starting a new season?
There's always nerves going into a season. I still get nervous for all the scenes that I'm shooting. But with season 3, we're very much familiar with it, so we're more seasoned a bit now.
At what point did you get the script for the new season?
About three or four weeks before we started shooting it, that's when we got the first draft. I loved it. It's one of our best episodes so far.
Do you ever ask writers for certain storylines or things for your character to do?
I mean, yeah, but it's nothing serious. It's just a bit of banter between us and the writers.
Do you sneak inside jokes with the cast and crew into the script?
No, not really. It's a pretty rigid script. We can't really mess with it too much.
What are you most excited for with the new season?
I'm excited to see how people react to Archie's storyline. The material that I got to work with was a lot more fun and challenging. I can't wait for people to see it.
How do you gauge people's reactions?
Social media is definitely a way; you can see it popping up everywhere. And just people talking about it.
You also have The Hate U Give in theaters now. How was filming that?
It was awesome. I was very much walking into a set that had already been established three months ago because they had all been working together for so long, so I was a little nervous, but it ended up being a great environment to be shooting in. I felt really honored to be a part of such a powerful role.
What about your music? Would you ever consider putting out an album?
At the moment, I just don't have enough time to dive into it. It's all about Riverdale at the moment.