Robert Pattinson and FKA Twigs Have Reportedly Split
They've been together since 2014.
---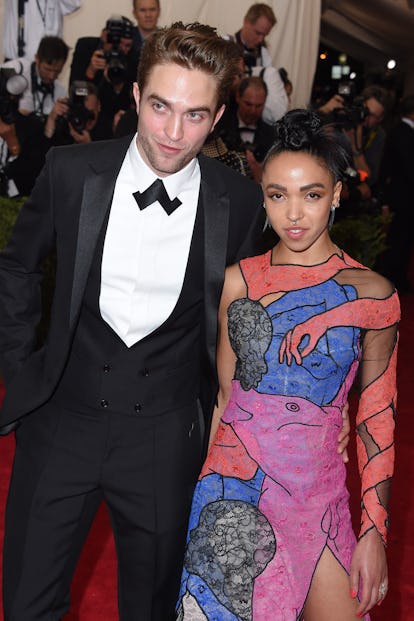 FilmMagic
One of the celebrity world's hippest and most interesting couples is apparently no more. Robert Pattinson and FKA Twigs have reportedly split up, The Sun reports, after three years together.
"Rob is tired of it, has called off their engagement ,and told friends they have split," an unnamed source told The Sun. "With so much ­history between them, though, there are still strong feelings there. It's a difficult situation, but things have become tough between them for some time and they both know they were no longer working as a couple."
Neither Rob nor FKA Twigs — whose real name is Tahliah Barnett — has commented on the break-up news. The British singer, however, was spotted without her engagement ring last month.
The couple began dating in September 2014, after Robert attended one of FKA Twigs's shows. Seventh months later, rapper T-Pain accidentally revealed they were engaged in an interview published (unfortunately) on April 1. When T-Pain's efforts to pass his slip-up as an April Fools joke were unsuccessful, People confirmed their engagement, and eventually a ring materialized upon FKA Twigs's finger.
Since then, however, the couple has remained famously private about their relationship.
"It's one of the most frustrating things in the world, because you want to be able to [be open and public], but to get kind of stuck in a position where, like, you have to make the decision," Rob told Howard Stern in July. "Do you want to let, kind of, crazy people in, because for whatever reason with Twilight, there's, like, a crack troop of crazies who think every decision you're making is creating some kind of conspiracy."
Meanwhile, FKA Twigs has spoken out about the racist abuse she's received from Rob's fans since they started dating. "I am genuinely shocked and disgusted at the amount of racism that has been infecting my account the past week," she tweeted three years ago. "Racism is unacceptable in the real world and it's unacceptable online."
With their reported break-up now out in the open, hopefully the "crack troop of crazies" will leave them both alone. After all, they both have a lot on their plate: FKA Twigs is hard at work on her second album, while Rob is busy getting as far away as possible from the vampire franchise that shall not be named — in a pink wig and a Matthew McConaughey–esque renaissance.
Related: Robert Pattinson and André 3000 Are Co-Starring in Sci-Fi Film High Life
Robert Pattinson Tells the Story of His First Kiss:
Robert Pattinson and FKA Twigs. Photo by Getty Images.
Grace Jones. Photo by Getty Images.
Bip Ling. Photo by Getty Images.
Henry Holland. Photo by Getty Images.
Amber Atherton. Photo by Getty Images.
Harriet Verney. Photo by Getty Images.
Phoebe Collings-James. Photo by Getty Images.
Tessa Kuragi. Photo by Getty Images.
Aimee Phillips. Photo by Getty Images.