Socialite Sally Quinn Says She Hexed Three People Who Died, But Won't Hex Donald Trump
She has been asked to pull a Lana Del Rey, but refuses.
---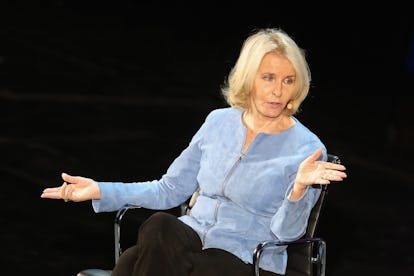 Jemal Countess
One could say, in a metaphorical sort of way, Sally Quinn has been a bewitching presence on the Washington D.C. social scene for decades, but as it turns out Quinn believes she is quite literally a bewitching presence who may have sent three people to the grave with her own form of witchcraft when she was in her late '20s and early '30s. Since opening up about her alleged powers, friends have asked Quinn to pull a Lana Del Rey and put a hex on President Donald Trump. Yet, the socialite and former newspaper columnist refuses after swearing off her dark arts long ago.
The revelation came in an interview with USA Today meant to promote her new spiritual memoir Finding Magic.
"When I was in my late 20s and early 30s, there were three people who hurt me in some way, or (hurt) somebody I loved, and so I decided to put a hex on them," she told the paper. "I had never done it before. What I wanted to have happen was for them to feel what I had felt. I didn't mean for them to die."
Quinn, by the way, claims that all the women in her family are psychic, and that they learned voodoo-type rituals from their staff while summering in prototypical Southern Gothic town Savannah, Georgia.
She refused to divulge her full hexing process, but said, "I light candles and music and fire and notes and that kind of thing. I just sort of made it up. "
So what happened to those she put hexes on?
"One person died right away, another person got fired immediately and then died, and then the other one died right away."
Well, then!
Quinn said it was her brother who convinced her to stop. Though, lest you think Quinn is totally off to the moon, she did add, "intellectually I don't believe in it, there's something emotionally and psychologically that makes me worry maybe I did have some responsibility for it."
Ah, yes, intellectually, of course.
Despite repeated pleas from friends, though, Quinn will not hex Trump, she begged: "I can't tell you how many friends have asked me to put a hex on Donald Trump, and I won't do it. I just said no. I don't do that anymore."
Witchcraft happens to be a recurring theme of the resistance in Trump's America. Singer Lana Del Rey became the celebrity face of a movement to use witchcraft to curse Donald Trump, and later confirmed, "Yeah, I did it. Why not?"
For those who may not be familiar with Quinn, well she was once a glamorous newspaper columnist (to our younger readers: yes, we're aware the term "glamorous newspaper columnist" may be as confusing and mythical as the concept of witchcraft, but there was once a world where such a thing was possible). She reported on society and the D.C. powers that be for the Washington Post's Styles section, and, most famously, ended up marrying the Post's legendary executive editor Ben Bradlee; the two became one of the capital's most elegant hosts, though, again, in Washington there's very little competition. Quinn's always been known for a bit of quirk, and the family famously bought Grey Gardens from "Little Edie" Beale as a summer home (though, Quinn currently has it on the market).
She still continues to blog about religious topics, and in Finding Magic characterizes herself as a Christian who has dabbled in the occult.
Perhaps unsurprisingly, Quinn is now being characterized on certain right wing websites as an "admitted occultist," "wicked person," and "practitioner of the dark arts" without a hint of irony. Intellectually, apparently some people do believe it.
Related: Sally Quinn on life in Grey Gardens
Fall 2016, the Season of the Witch
Loewe bag; Marc Jacobs shoes.

Photographs by Inez and Vinoodh, Styled by Edward Enninful
Valentino jacket and gown; Stuart Weitzman boots.

Photographs by Inez and Vinoodh, Styled by Edward Enninful
Miu Miu coat and skirt. Heather Huey bonnet; Caroline Constas neck collar (both throughout).

Photographs by Inez and Vinoodh, Styled by Edward Enninful
From left: DKNY jacket; Morgenthal Frederics sunglasses. Prada cape; J.W. Anderson dress and corset; the Frye Company boots. Chanel dress and brooches. Gucci jacket, shirt, and skirt.

Photographs by Inez and Vinoodh, Styled by Edward Enninful
Clockwise, from left: Kenzo dress and top; the Frye Company boots. Junya Watanabe Comme des Garcons jacket, T-shirt, and leggings; Louis Vuitton boots. Philosophy di Lorenzo Serafini dress; Daang Goodman for Tripp NYC fishnet shirt; Mugler skirt. Prada dress, harness, and charm necklace; Oliver Peoples The Row sunglasses.

Photographs by Inez and Vinoodh, Styled by Edward Enninful
Louis Vuitton jacket, dress, and pants; Inez and Vinoodh ring (throughout) and earring. Beauty note: Banish the wattle with StriVectin TL Advanced Light Tightening Neck Cream.

Photographs by Inez and Vinoodh, Styled by Edward Enninful
Dsquared2 jacket and skirt.

Photographs by Inez and Vinoodh, Styled by Edward Enninful
Chanel dress; Wolford tights; the Frye Company boots.

Photographs by Inez and Vinoodh, Styled by Edward Enninful
Michael Kors Collection cardigan; Daang Goodman for Tripp NYC fishnet shirt (throughout); Rosamosario bra; Moncler Grenoble skirt; (right wrist) Robert Lee Morris bracelet; (rings, right hand, from left) Louis Vuitton, King Baby, Louis Vuitton; (left wrist) King Baby bracelet; (left hand) Jennifer Fisher ring; Alexander Wang boots. Agent Provocateur tights (throughout). Beauty note: Legs look enchanting, thanks to Guerlain Les DElices de Bain Perfumed Body Lotion. Pictured here and throughout: Patrick Dougherty's What the Birds Know, 2015 (a site-specific installation commissioned by the Peabody Essex Museum).

Photographs by Inez and Vinoodh, Styled by Edward Enninful
Versace coat; Etro dress; (necklaces, from top, throughout) stylist's own, Chrome Hearts, Stylist's own, Lauren Klassen, Chrome Hearts, Isabel Marant; Balenciaga boots. Beauty note: Give the evil eye with Covergirl the Super Sizer Fibers by LashBlast Mascara in Very Black.

Photographs by Inez and Vinoodh, Styled by Edward Enninful
Giorgio Armani cape and jumpsuit; (from top) Gigi Burris Millinery hat, Horisaki Design & Handel hat; Haider Ackermann boots.

Photographs by Inez and Vinoodh, Styled by Edward Enninful
Blumarine dress; Bottega Veneta bra top; I.D. Sarrieri briefs; Stuart Weitzman boots.

Photographs by Inez and Vinoodh, Styled by Edward Enninful
From left: Alberta Ferretti dress; Wolford tights; the Frye Company boots. Alexander Wang bra top, skirt, and boots; (bracelets, right wrist, from top) Robert Lee Morris, Isabel Marant, Chrome Hearts; (bracelets, left wrist, from top) Wendy Nichol, King Baby, Isabel Marant. Beauty note: Cast a different spell with Chanel Rouge Allure Velvet Lipstick in Demoniaque.

Photographs by Inez and Vinoodh, Styled by Edward Enninful
Balmain bodysuit; bag from Galaxy Army NavY, New York; Balenciaga boots.

Photographs by Inez and Vinoodh, Styled by Edward Enninful
Vetements shirt, jeans, and boots.

Photographs by Inez and Vinoodh, Styled by Edward Enninful
From left: Marc Jacobs jacket, dress, and briefs. Marc Jacobs jacket, T-shirt, and jeans; Inez and Vinoodh earring. Marc Jacobs gown. Beauty note: For phenomenal skin, use Olay Regenerist Luminous Light Hydrating Lotion.

Photographs by Inez and Vinoodh, Styled by Edward Enninful
From left: Fenty Puma by Rihanna jumpsuit; Balenciaga boots. Jacquemus jacket and pants; Michael Kors Collection boots. Beauty note: Conjure good hair with Oribe Bright Blonde Radiance & Repair Treatment.

Photographs by Inez and Vinoodh, Styled by Edward Enninful
Chloe overalls and sweater; Louis Vuitton boots. beauty note: glow in the dark with giorgio armani prima smart moisture serum.

Photographs by Inez and Vinoodh, Styled by Edward Enninful
Alexander McQueen gown; Stuart Weitzman boots.

Photographs by Inez and Vinoodh, Styled by Edward Enninful
Photographs by Inez and Vinoodh, Styled by Edward Enninful
From left: Viktor & Rolf gown. Azzedine Alaia dress; Tia Mazza veil; Mokuba ribbon (around neck); Inez and Vinoodh ring. For stores, prices, and more, go to Wmag.com/where-to-buy-september-2016.

Hair by Malcolm Edwards at Art Partner; makeup by Dick Page for Shiseido at Jed Root; manicures by Karrie Welch at Anchor Artists. Models: Isabella Emmack at DNA Model Management; Lexi Boling at IMG Models; Jamie Bochert at the Lions NY; and Odette Pavlova at Next Management.

Photographs by Inez and Vinoodh, Styled by Edward Enninful
Christopher Kane dress; Daang Goodman for Tripp NYC fishnet shirt; Louis Vuitton rings; Agent Provocateur tights; Balenciaga boots.

PRODUCTION BY V.l.m. productions; executive producer: stephanie bargas; production coordinator: eva harte; Studio Coordinator: Tucker Birbilis; Lighting Director: Jodokus Driessen; Studio Manager: Marc Kroop; Digital Technician: Brian Anderson; Photography Assistant: Joe Hume; fashion assistants: ryann foulke, dena giannini, sam walker; hair assistant: sophie anderson; makeup assistant: gina daddona; special thanks to the City of Salem, Massachusetts; Mayor Kimberley Driscoll; Winter Island Park in Salem; forest river park in salem; salem pioneer village 1630; The City of Salem Parks, Recreation & Community Services department; Salem Maritime National Historic Site; Destination Salem; Peabody Essex Museum; and Patrick Dougherty at stickwork.net

Photographs by Inez and Vinoodh, Styled by Edward Enninful
Fall Fashion Advice from a Very Young Stylist: