Sarah Jessica Parker Avoids Another Sex and the City Drama by Endorsing Cynthia Nixon for Governor on Instagram
Following an unclear statement on her support for Nixon and and rumors that followed it.
---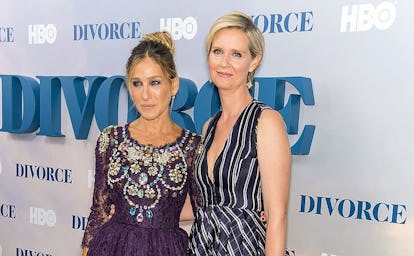 Gilbert Carrasquillo/Getty Images
As the increasingly dark and dramatic feud between Sarah Jessica Parker and Kim Cattrall has escalated, practically everyone ever involved with Sex and the City has been called upon to offer their takes and even claim a side—to the point that Cynthia Nixon's innocent, chance run-in with SJP, which they documented with a selfie, made headlines alleging she was on Team SJP.
As much as Nixon deserves to be left out of that mess, though, she's ended up landing in some Sarah Jessica Parker drama of her own. A week and a half ago, Nixon announced her long-rumored run for governor of New York, sparking dreams of a Miranda Hobbes-run administration and, more practically, endorsement from former costars like Kristin Davis as Nixon has made it clear she really does have political chops (or, at the very least, ambitions), putting "racial and economic injustice" at the forefront of her campaign and showing support for movements like the March for Our Lives.
All this, you'd think, would appeal to SJP, a vocal democrat who hosted a massive fundraiser for Barack Obama and even once reprised her long-ago role as Annie in singing "Tomorrow" at a fundraiser for Hillary Clinton. She also has children enrolled in New York's public schools, whose improvement Nixon has made part of her platform. Still, when asked for a comment by Page Six on Wednesday, Parker went only so far as to carefully say, "Cynthia has been my friend and colleague since we were little girls. I look forward to talking to her about her New York state gubernatorial bid."
This seemed a bit foreboding for their friendship, given that it came a day after Nixon said all of her former main Sex and the City costars had "expressed love, support, and excitement" about her challenging Andrew Cuomo in the Democratic primary, and that her "colleagues' ongoing support for my years of activism, and now my campaign, means a lot to me." But after a flurry of headlines suggesting Parker was wary of supporting Nixon, with Page Six suggesting she possibly didn't want politics to draw Nixon away from that increasingly unlikely third Sex and the City movie, Parker set the matter straight on Monday morning: She posted an Instagram lauding her "dear friend" and "sister on- and off-screen," and finally endorsing her by saying that Nixon has her "love, support, and vote."
There goes one less Sex and the City drama on our hands! In fact, unlike the ongoing feud about a potential third movie, Nixon's run for governor is going rather smoothly with her former castmates. Parker and Davis have now explicitly endorsed Nixon, and even Cattrall seems to be doing so, too. Though her tweet saying that she "support[s] & respect[s] any former colleague's right to make their own career choices" was considered rather lukewarm, Cattrall also retweeted a fan calling out Fox News for calling her words "dismissive" of Nixon's run. Even if Nixon's run turns out not to be the one thing they can all agree on, though, at least we know that avoiding more drama surrounding the show seems to be top at all of their lists of priorities.
Related: Leave Cynthia Nixon Out of This Increasingly Depressing Kim Cattrall-Sarah Jessica Parker Saga