Apparently Scott Disick and Sofia Richie Actually Haven't Broken Up, Despite Photo That Allegedly Showed Him Cheating
He's blaming it on the alcohol.
---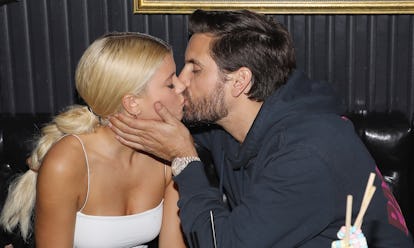 Alexander Tamargo
2018 has thrown a lot of celebrity breakups at us, from Jennifer Aniston and Justin Theroux to Channing Tatum and Jenna Dewan. But Scott Disick and Sofia Richie aren't fated for the same mourning—yet. The couple, who were first romantically linked together last May, are still going strong, despite a recent bout of drama.
According to a rep for the couple, who chatted with TMZ, we should all go ahead and ignore that photo of Disick holding a mystery woman which surfaced after Kanye's recent album listening party for Ye. At the event, the 35-year-old was photographed hugging a woman who wasn't his 19-year-old girlfriend. He was also allegedly bragging about being single, in the wake of his ex Kourtney Kardashian finally, reportedly, giving her parental seal of approval to him and Richie. A source close to Disick blamed his behavior on alcohol, which the reality TV star has openly struggled with in the past. Disick definitely looked out of sorts in the cameos he made on Kim Kardashian's Instagram stories during the Wyoming-set event — although even if he was inebriated, that isn't an excuse for cheating.
Maybe it is all one misunderstanding though, as TMZ also reports that Disick is friends with the woman he was holding and their embrace only lasted momentarily—long enough for someone to snap a photo and share it with TMZ.
Even if Disick wasn't cheating on Richie, he put himself in a position to subject her to headlines like these. Richie, who wasn't in attendance at the album listening party, no doubt viewed the photo that later surfaced from home. (She posted to Instagram from Malibu over the weekend but later deleted her posts, as The Cut notes.) Richie, meanwhile, has been seemingly taking their relationship seriously, stepping up in a more parental role for Disick and Kardashian's three children.
"Sofia is helping Scott be a better, healthier person," a source close to the Kardashians said last week. "Kourtney feels confident that Scott and Sofia take good care of the kids. Scott is a great dad when he has his life together." Hopefully, this will be a wake-up call for Disick to do that sooner than later.