Sonequa Martin-Green, Star Trek: Discovery's Fiery New First Officer, on the Premiere's Shocking Death and That Cliffhanger
Meet the woman captaining Star Trek's first TV mission in over a decade.
---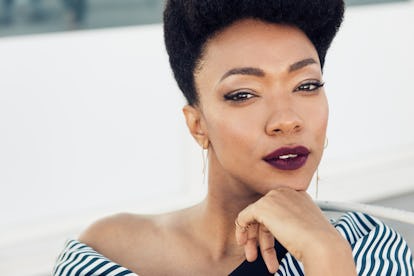 KARINA ORDELL
Spoilers ahead for "Star Trek: Discovery."
The year is 2256, a decade before the events of Star Trek: The Original Series, and two years before James Kirk is commissioned as captain of the Enterprise. The USS Shenzhou, a starship under the command of Captain Philippa Georgiou (Michelle Yeoh), has been sent to the farthest reaches of Federation space to investigate a communications relay that was damaged under suspicious circumstances. The Federation has not yet entered into uneasy alliance with the Klingon Empire—in fact, the Federation has not even made contact with the Klingons for nearly a century—so when the "sarcophagus," a Klingon ship bearing the remains of its dead on its outer carapace, emerges into view, the crew of the Shenzhou reacts first with disbelief, and then uncertainty.
That is, except Michael Burnham, the Shenzhou's first officer and the woman around which the newest entry into the Star Trek canon, Star Trek: Discovery, crystallizes. As played by actress Sonequa Martin-Green on the series, which premiered Sunday on CBS (the rest of the season will air on the streaming platform CBS All Access), Burnham is reactive (despite her dispassionate Vulcan schooling), decisive, and brilliant—one crewmate refers to her, in the series' not-yet-aired third episode, as "the smartest officer I've ever known."
At the outset of Discovery, she's approaching the apex of her career, prepared to take command of her own ship with the endorsement of Captain Georgiou. But by the end of the first two episodes, Burnham has been branded "Starfleet's first mutineer," stripped of her title, and sentenced to life imprisonment.
When we connected over the phone last week, Martin-Green was in Toronto with two weeks remaining on the marathon production for Discovery, which began in January. She was just about to start shooting the season finale.
"We're in the home stretch, for sure," Martin-Green said. The 32-year-old Alabama native, best known for a recurring part on The Good Wife and for her role as Sasha Williams on The Walking Dead, had been circling around the role since last fall, when she first sat down to discuss the part with Bryan Fuller, the then-showrunner of Discovery who had previously cut his teeth as a writer on Deep Space Nine. (He departed in October, ostensibly to focus on American Gods.)
There was just one conflict: Martin-Green was still finishing up her arc on The Walking Dead (Sasha was about to be killed off). But when delays pushed Discovery's premiere date back from May to September, Martin-Green became "abundantly available at that point," she said. There were rumors that production had actually been delayed until she was available, to allow her to take the lead as Burnham—whether this was indeed the case or not, the fate of the show may very well rest on her shoulders. "The core mission of 'Discovery' is to make viewers care about Burnham," wrote Variety's critic Maureen Ryan, "and it succeeds in that regard."
"We've all kind of been sworn to secrecy from the very beginning," Martin-Green added, laughing. "We have been sort of talking around plot lines, we've been speaking about the show thematically, but it's going to be amazing to be able to speak about it practically and to have some postmortem conversations," she said. She didn't necessarily mean that figuratively: By the end of the first three episodes, Discovery racks up a serious body count—most notably, Michelle Yeoh's Captain Georgiou, run through by a Klingon saber when she and Burnham undertake a covert mission to capture the opposing faction's leader.
"It's the epitome of devastation," Green said. "She's not just my captain. She's not just my mentor. She's not just my teacher or my leader—she's also my mother, in a sense." Georgiou's death will continue to inform Burnham's development throughout the show's first season: "That's one of those turning points. That's one of those catastrophic events, one of those mortifying events, that changes the course of your life, and it's hard to remember who I am as a woman, as a first officer," she said. "What you witness is an annihilating moment in my life."
Discovery's two-part debut is a tantalizing hint of the action that follows. It has yet to introduce Jason Isaacs as the enigmatic, maybe-a-bad-guy captain of the USS Discovery, nor have we been introduced to Lt. Stamets (Anthony Rapp), the first openly gay crew member in a Star Trek TV series. But it does reveal some of the themes of Discovery. During a tense episode with a Starfleet admiral in the series premiere, Burnham tells him, referring to her appraisal of the Klingons they confronted, "It would be unwise to confuse race and culture." In the year 2256, overt racism among humans is, it seems, a thing of the past—"the war has been won, and now, we are just enjoying the spoils," Martin-Green said.
But it's very much not in the past of the aggressively nationalistic Klingons: "Some might view the color of your skin as nature's mistake," one tells a promising subordinate; the show is also not so idealistic as to suggest that the humans in Discovery are completely unplagued by racism, although in less surface ways, as a recent Daily Beast review notes: "Michael's need to prove herself—and to constantly have her instincts interrogated—mirrors what it's like to be a woman and a person of color in America right now."
Instead, Discovery, like the Star Trek series before it, largely casts its eye outwards, examining the relationships between the humans of the Federation and the alien races around them. The Klingons are just one: In studying for Discovery, Martin-Green dug into the history and traditions of the planet Vulcan, where Burnham was raised by the Vulcan ambassador Sarek (James Frain)—making her a foster sister to Spock—after a Klingon raiding party killed her family.
"That's been a theme of every Star Trek," Martin-Green said. "That's part of its legacy."
Discovery premiered Sunday, just after pro football players across the country knelt together in defiance of Donald Trump and in protest of police brutality. In this world, onscreen representation can, at least for an hour, act as a kind of antidote: Martin-Green is the first woman of color to play a first officer, Yeoh the first Asian woman to occupy the captain's chair—and together, they are the first pair of women in the top leadership positions on a Federation ship.
"I think that kind of representation is important all the time, of course. I think we should always be able to turn on our TV screens and go to our movie theaters and see representations of ourselves, because I think that is a responsibility of art and certainly of storytelling," she said. "These are examples of what our world looks like, and I think we're surrounded by the problem right now—if I can put it in quotations, the sort of 'big problem' of division and of separatism," she continued. "We are inundated with the problem right now, so to see the solution, it doesn't just offer you an escape, but it offers you an example of what we can be."
This is also not new in the Star Trek universe, which has long featured women and people of color in prominent roles: In the original '60s series, Nichelle Nichols played Nyota Uhura, the communications officer played by Zoe Saldana in the more recent big-screen reboot. Deep Space Nine was fronted by Avery Brooks as Commander Benjamin Sisko. The Next Generation's ensemble cast included a woman doctor, played by Gates McFadden, and counselor, played by Marina Sirtis, as well as LeVar Burton and Michael Dorn as the chief engineer and (Klingon) chief of security, respectively.
Discovery is certainly indebted to the series that came before it, but it's also adamantly its own thing, with new uniforms, a new starship, and new aliens both friend and foe. Plus, though it takes place 10 years before the original series, the technology is, somehow, more streamlined than the '60s imagining of the future.
Still, as the first Star Trek series to air in more than a decade, Discovery's crew was "endowed with this heirloom," Martin-Green said, a charge she did not take lightly. Most dauntingly, though she was only passively a fan of the series before she signed on, "I vowed to myself that I would watch everything in the canon," she said, laughing. "That is a big undertaking."
She didn't quite get there before production began, but she remains stubborn as her character Burnham: "I am going to see every single thing there is."
James Corden reveals the secret to the perfect karaoke: