Why You Should Add St. Petersburg To Your 2018 Wanderlust List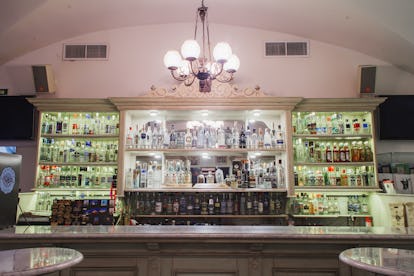 © Evgeni Ave
Russian novelist Fyodor Dostoevsky once called St. Petersburg "the most abstract and intentional city on the entire globe." And it is a title it retains today. Founded in 1703, St. Petersburg was architecturally inspired by the canals, bridges, and quaint streets of Europe, a reprieve from the brutalism and concrete structures of other Russian cities. Considered to be the gateway to the West, it is far more than a land of vodka and caviar, so try to give yourself five full days to fully understand the culture. It's easier to navigate than Moscow (which is double its size), and is home to burgeoning cultural scenes, from art to food and fashion. In honor of fashion's enfant terrible Gosha Rubchinskiy's Fall 2018 show, which debuts today in the industrial Russian city of Yekaterinburg, we break down why St. Petersburg should be your next vacation.
Dining
For a contemporary gastronomic experience head to Tartarbar. As you can guess from the name, they serve an impressive range of tartar dishes, from tuna to beef, as well as cooked dishes like bass, crab and other vegetable courses. For those in search of the most typical Russian experience, it's worth driving thirty minutes to Podvorye. Waiters are dressed in Slavic attire, and the food is as traditional as it gets—Vladimir Putin would agree; he had his birthday party there. Make sure to order the beef stroganoff, Pelmeni (meat dumplings), Pirozhki (vegetable and meat filled pastries) borscht, and Vinegret (a salad of diced beets, potatoes, and carrot). Before a night out on the town, make a reservation at Apartment Mansard at Kreutz Flat. The restaurant wants diners to feel as if they're in someone's apartment, so take a seat and order a drink in the library, living room, or by the open kitchen, where you can actually cook your own meal. The design-standout is decorated with oddities that its owner, Kostya Kreutz, has collected from St. Petersburg and around the world. The restaurant also doubles as a hotel, so you can spend a night or two in one of their back room apartments, if you please. Kreutz Flat is a bit hard to find. It is located down an alley, where you'll show an emailed code through a peep hole in a non-descript door. Once inside, ring the buzzer on apartment number 8.
Shopping
For fans of streetwear and skatewear (think Gosha Rubchinskiy), go straight to Otdel Store, a streetwear boutique which stocks local Russian brands, emblazoned with cyrillic writing, as well as more mainstream labels like Stussy and Fila. While Otdel has four outposts throughout the city, do not miss the original; it is located inside a cultural center called Loft Project Etagi, and you have never seen anything like it. Housed in a former cake factory, the six-story building has been creatively divided into individual shops and stalls, ranging from contemporary, to vintage and streetwear. In addition to vegan and carnivorous street food stands, they also have cultural programming. (When we were there, a Peruvian shaman was holding a séance.) Another not-to-be-missed shopping hub is Dasha Zhukova's New Holland, another shopping center which doubles as a cultural hub. Formerly a prison, the massive four-story space supports burgeoning Russian designers from chic eyewear labels to emerging avant-garde brands. In the winter New Holland also hosts a Christmas market where you can find typical chotskies and artisanal items like candles and lambswool gloves.
Nightlife
Start your night perusing Rubinstein street, a block where artists roam from watering hole to watering hole. While on Rubinstein street, make sure to stop by Orthodox, a newly opened mixology bar that is tucked away down an alley. The drinks are inspired by Russia's cultural figures, from dancers to composers, such as "the Nutcracker," a cocktail inspired by Tchaikovsky which consists of buckwheat vodka, honey, ginger, and medovukha, a Slavic honey-based spirit. Also check out Tipplers Bar, part modern industrial apartment, part sparse Soviet Era living room. The bartender will whip you up anything you'd like, from a pisco sour to a vodka tonic. If you want to go all out, check out Mosaique, St. Petersburg's best techno club, that summons international DJ's for deep house and techno sets. The have two supersized speakers on either side of the DJ booth. Watch out for the club-goers who climb on top and dance the night away.
Sightseeing
In a city that has far too much to see in a single visit (it is said that it takes two years to see the entire Hermitage if you spent one minute in front of every piece), you need to allot time for St. Petersburg's greatest hits. If you only have a day, you must see the Hermitage, the second largest museum in the world and Russia's pride and joy. Inside you'll find everything from the gilded relics of Russia's golden age, to works by Titian and Leonardo Da Vinci. Make sure you purchase tickets in advance or better yet arrange for a private tour. Otherwise you'll be queuing up for hours. For those who want something a bit more fun and light-hearted, check out the Vodka Museum and ask for a guided tour where you'll learn the complete history of vodka. Learn how it all started, and why Russia can lay claim to the clear liquid as their national beverage. Make sure to ask for a vodka tasting after the tour. But it's not for the faint of heart—you'll try three different vodkas which are paired with pickles, rye bread, and herring. Doesn't get more Russian than that.
Russia is filled with palaces, and while there are far too many to see on a single trip (i.e. the homes of former Queens and Russian tsars), if you're going to choose one, head to Yusupov Palace (aka. Moika Palace), which is also the site of Rasputin's murder in 1916. It is also one of the only palaces that wasn't burnt and pillaged by the Nazis, so it retains its original splendor.
You can't leave Russia without going to a typical Russian bath house. Check out the Degtyarniye baths, an authentic, dual gender no frills Russian bathhouse. Ask for a traditional massage, or if you're really in the spirit, try Venik, a Russian ritual in which birch branches are slapped along the body to improve circulation and boost metabolism. It's strange at first, but you'll get used to it.
Accommodations
Look no further than Rocco Forte Hotel Group's Hotel Astoria, a landmark in St. Petersburg and loaded with history (Hitler intended to hold his victory celebration there after World War II). Situated in the Admiralteysky district, it is smack dab in the center of the action, walking distance to bars, restaurants, and cultural haunts, like the Maritsky theatre and the Hermitage. The hotel boasts 86 suites, 83 rooms, a traditional Russian sauna, a pilates studio, and private training courses. Make sure to request a champagne and caviar tasting before dinner. You'll sample three of the best caviars served with fresh sour cream and homemade blinis. If caviar is not your thing, make sure you sit at least once for high tea, where a pianist will play from 3pm into the night. For a true St. Petersburg experience, make sure to request a room that overlooks St. Isaac's Square—past guests like Elton John, Hillary Clinton, Jack Nicholson, and Madonna would agree.
Related: Valley Girls: Meet the Ladies of Switzerland's Engadine Valley
Irina Shayk Took a Birthday Night Swim in the Indian Ocean