Why Stephen Colbert Dismissing Louis C.K.'s Actions as "Disturbing" Is So Disturbing
The late night host missed out on an important opportunity to call out his cancelled guest.
---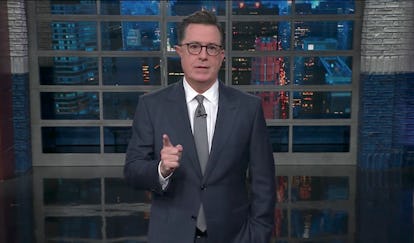 The Late Show with Stephen Colbert
This Thursday was supposed to be a good day for Louis C.K. First, his film I Love You, Daddy—about a TV writer's 17-year-old daughter's relationship with a 68-year-old man—was premiering in New York, which he was set to drop in on before moving on to an appearance on The Late Show with Stephen Colbert. But by that morning, both appearances had been abruptly cancelled, and by that afternoon C.K.'s years-long reign over the comedy scene abruptly fell: The New York Times published a report that seems to have finally confirmed the rumors have been swirling around C.K. for years—that he's a known predator who systematically forces younger female comics to watch him masturbate.
C.K.'s appearance on the Late Show was cancelled, but the show, of course, had to go on for Colbert, who noted in his opening monologue that night that he had some "bad news" for "those of you tuning in to see my interview with Louis C.K. tonight," and then that he had some "really bad news. Louis cancelled his appearance here tonight because the New York Times broke this story today: Five women are accusing Louis C.K. of sexual misconduct."
These accusations can't have been news for Colbert, who made sure to poke fun at the fact that C.K. has been able to get away with his long-rumored behavior not only because of his position of power, but because he was simply too popular for people to want to believe it. "When reached for comment, Jesus said, 'La-la-la-la-la. I don't want to hear about it, I was a big fan!'" Colbert said while flashing an image of Jesus with his fingers in his ears on the screen.
And so while the news broke hours before the show was set to air, Colbert would likely have been prepared to address the issue; the parallels between the allegations that C.K. has refused to address throughout this year's press tour for I Love You, Daddy to his provocative movie, in which a male character vigorously mimes masturbation with a female character in the room and another on speaker phone, are hard to ignore.
Sure, C.K. was Colbert's first-ever boss in TV, when they both worked on the Dana Carvey Show in 1996, but one would hope that Colbert would have done more than state the obvious in his opening monologue, which was to describe the news about C.K. as "disturbing behavior" and "the latest in an avalanche of allegations against powerful and prominent men." By Thursday evening, dozens of comedians much less powerful than Colbert publicly turned against C.K.; HBO cut all ties with him, pulling his work from their network; and FX, the network behind C.K.'s beloved show Louie, said that C.K. and the show are "currently under review." And while it wasn't announced at the time of Colbert's show, it wasn't exactly a surprise that as of Friday morning, I Love You, Daddy has been scrapped altogether.
C.K. does not deserve to have an entire late-night show devoted to him, but all the situation needed from Colbert was a few more powerful sentences. We know that Colbert is capable of delivering strong words, and he has used his platform to convincingly condemn systemic abusive behavior from male authority figures in the industry. He could have, at the very least, devoted more than barely a minute to matter, seeing as he spent three minutes and 20 seconds ripping into the Republican Senate nominee Roy Moore. By segueing quickly away from C.K. into another jokey bit about Keith Urban's questionable song about Weinstein, Colbert in fact joined those he was ridiculing. After all, it's unfortunate but true that it often takes condemnation from celebrities like Meryl Streep and George Clooney for real change to take place, and by essentially ignoring the issue, Colbert neglected his duty as the "king of late night," as C.K. himself called him earlier this year.
Of course, it's hard to speak out against someone you've known for decades and who gave you a leg up on your path to success; Weinstein's case has unfortunately proven things can quickly get sticky when stars attempt to stand by their suddenly not-so-defensible friends and benefactors. Perhaps that's why Conan O'Brien chose not to mention C.K., who was a writer for Late Night With Conan O'Brien when the show launched in the '90s, and has been a frequent guest of his since, on his show on Thursday night; same goes for Jimmy Kimmel, who shares the same publicist as C.K. and has also had C.K. on his show as a guest. (James Corden also didn't mention C.K. on his Late Late Show, Seth Meyers stuck almost entirely to Roy Moore, and Jimmy Fallon was airing a rerun following the death of his mother.)
Hopefully, Colbert spares a minute or two to tune into Thursday's episode of The Daily Show, where Trevor Noah perfectly demonstrated how to fleetingly yet properly address C.K.: "At this point, we're going to need a new Oscar category this year—Best Actor Whose Movies We Can't Watch Anymore. Now that I think about it, all women in Hollywood should win double Oscars for acting like all the men were cool all along, every single one of them," he said, at which point his addition "I'm just f—ing saying" was drowned out by the audience's applause.
Related: Comedians Respond to Sexual Harassment Claims Against Louis C.K.
62 Fashion Insiders Speak Out in a Powerful Video for International Women's Day: