Barb From Stranger Things and the Cast of 13 Reasons Why Partied Together, Somehow the Internet Remained Intact
All of the parties that you may have missed this week.
---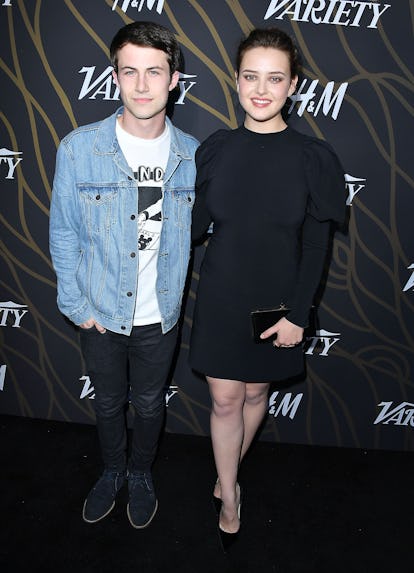 Steve Granitz
This week, some of the most famous actors who can't yet legally get into a bar came together to celebrate at the Variety Power of Young Hollywood party. Among those in attendance at the Los Angeles soiree: Chloë Grace Moretz, Zendaya, Yara Shahidi, Rita Ora, Charli XCX, Kaitlyn Dever, and Ashton Sanders. Two of the Internet's most beloved fictional high-schools were represented, as well, with Shannon Purser (Barb from Stranger Things) and 13 Reasons Why's Dylan Minnette and Katherine Langford, and remarkably, the Internet didn't implode at the coming together of their favorite Netflix teens (no word on what would happen if a Sprouse twin was factored in, however). Elsewhere, the slightly older set held down the fort on the East Coast, where Aubrey Plaza and Elizabeth Olsen premiered their new film Ingrid Goes West, and Betsey Johnson celebrated her 75th birthday at the annual ACE Awards. Here, a look back at all of the party pictures that you may have missed.
Shannon Purser, current star of Riverdale and Stranger Things's beloved Barb, arrived at the event in a sheer LBD.
As did Chloë Grace Moretz, who made headlines this week with her cover story from the publication, in which she revealed that a male co-star had body-shamed her when she was 15-years-old.
Opting for a more statement-making ensemble was Moretz's fellow cover star, Zendaya.
Aubrey Plaza and Elizabeth headed east for the New York premiere of their new film Ingrid Goes West, hosted by Neon and The Cinema Society.
And the cast of The Glass Castle, including Brie Larson and Naomi Watts, celebrated their new film with a screening of their own.
Betsey Johnson rang in her 75th birthday with Victoria Justice at the annual ACE Awards.
Lauren Bush Lauren stepped out in Brooklyn for the opening of Smile To-Go Dumbo at Empire Stores.
Hailey Baldwin, apparent big Carpool Karaoke fan, attended the series' launch party.
And while Rihanna was partying it up in Barbados, Drake and Lebron James hugged it out in Toronto.
Related: Aubrey Plaza and Elizabeth Olsen Sound Off on Hollywood, Dark Humor and the Pitfalls of Instagram
Zendaya's Favorite Birthday Featured a Very Surprising Homecoming
The Red Carpet Evolution of Chloë Grace Moretz's All-American Beauty
Chloë Grace Moretz is all smiles at the Charlotte's Web Los Angeles premiere, wearing her golden blonde curls with a chic beret.

Getty.
Attending the 2008 Los Angeles Film Festival, Moretz arrives fresh faced with perfectly blown out locks.

Getty.
At the Los Angeles premiere of (500) Days Of Summer, Moretz pairs her tousled curls with a glossy, natural lip.

Getty.
Debuting a chin-grazing bob with a hint of blush on the cheekbones, Moretz arrives at the British Academy Children's Awards in 2010.

Getty.
Wearing her hair in a tousled up do with loose curls framing her face, Moretz arrives at the Hugo film premiere in 2011.

Getty.
Moretz arrives as a dark brunette wearing her newly dyed locks in a toulsed up do at the Fox Teen Choice Awards in 2013.

Getty.
Opting for a messy top knot and dark smokey eye, Moretz attends the Laggies premiere afterparty in 2014.

Getty.
At the 2014 Costume Institute Gala, Moretz wears a sleek half up do with tousled curls and a charcoal grey smokey eye.

Getty.
Shoulder length tousled waves with a dark smokey cat eye was the look at the iHeartRadio Jingle Ball in 2015.

Getty.
Moretz keeps her look clean and simple at the 2015 Costume Institute Gala with a middle parted low pony.

Getty.
Moretz radiates with luminous skin and a polished copper smokey eye at the 87th Annual Academy Awards.

Getty.
Channeling rocker chic hair with a matte mauve lip, Moretz attends the TrevorLIVE Los Angeles 2016 fundraiser.

Getty.
Wearing regal curls with a frosted smokey eye, Moretz arrives at the 2016 Costume Institute Gala.

Getty.
Arriving at The 5th Wave photocall, Moretz wears her hair in a simple up with a bold, fuchsia lip.

Getty.
Wearing her wet waves in a sleek and twisted up do with frosted blue eyeliner, Moretz attends the Coach 1941 Women's Spring 2017 show.

Getty.