Sweden's Crown Jewels Were Reportedly Stolen by Robbers in a Speedboat
A pair of thieves stole Sweden's crown jewels and successfully escaped on a boat. The police are looking into it.
---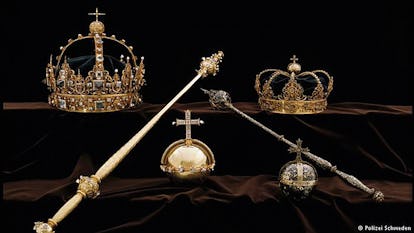 Sweden's royal family was on the receiving end of a pretty shocking jewel heist this week, as two thieves successfully stole crown jewels that have been in the family for centuries.
Per The Washington Post, the thieves managed to grab two crowns and one golden orb—ornate funeral regalia from the 17th century encrusted with pearls and stones, to be precise—from a cathedral near Stockholm where they were on display in alarmed-triggered glass boxes. And not only that, but the robbers capped off their heist by jumping in a speedboat and driving off into the nearby Lake Mälaren, much to the voyeuristic delight of bystanders.
"It is not possible to put an economic value on this. It is invaluable items of national interest," the police spokesman investigating the case, Thomas Agnevik, explained to the media, admitting that the thieves seemed to know what they were doing. (So much for our "impromptu speedboat theft for maximum coolness" theory.) "What usually happens with this type of object is that they are recovered sooner or later, because there are very few people who are prepared to handle such items. We have high hopes of getting them back. It's 1-0 to them right now, but we do not know what it looks like tomorrow." He also confirmed that both suspects are male.
While the Post notes that the crown jewels are rarely, if ever, worn by Sweden's royals anymore—in fact, the last documented case of them being worn in public was at the very start of the 20th century—they've become a solid attraction for visitors to look at, and a slight economic loss for the town might result in their theft.
Related: Swedish Royals Prince Carl and Princess Sofia Stole the Show at Friend's Wedding