Prince Carl Philip of Sweden Made His Instagram Public So You Can More Easily Stalk Him
The Swedish royal just made his account public so you can more easily stalk him.
---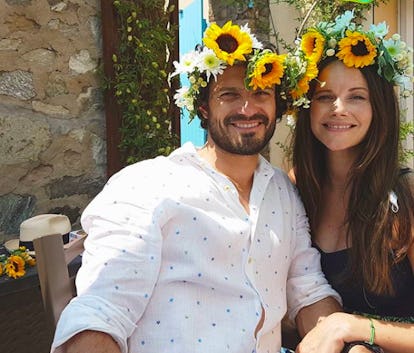 instagram.com/prinsparet
We are in the midst of a full-on royal revolution, with power (even if it's just symbolic) being transferred from one generation to a new one, and Sweden's Prince Carl Philip is an embodiment of that. The royal, who often tops the most eligible princes lists despite being married with children, just did what few in the monarch have done before: He made his Instagram public. Let the thirst trap commence.
In his first public post, Carl posted a selfie that also featured his wife, former reality star Princess Sofia. "Welcome to our official Instagram account," the caption reads. "As you can see, we have already posted photos for a while to give you an insight into our work."
Some of that includes creating greater advocacy for dyslexia as Carl did in a speech, which she shared a photo from as his very first Instagram post back June of 2017. "A regular day in the castle," he wrote in the caption. "We spend a lot of time in preparation for programs." Carl also spends a lot of time documenting his wife's own activism endeavors, which she often shares on Instagram.
What's most exciting on his feed, though, are the glimpses of Prince Carl Philip and Princess Sofia living life as parents to two adorable children, two-year-old Prince Alexander, and eight-month-old Prince Gabriel, who was recently christened back in December. So far, the royal couple has shared both royal portraits and candids of their children. They celebrated Alexander's birthday with a portrait of him and the caption, "Congratulations our beloved Alexander! Two amazing years of seeing the world through your curious and enthusiastic eyes."
They even shared one of Alexander and Gabriel's first moments together.
While Carl's sister Princess Madeleine has had a public Instagram for a few months now, and the family has shared personal moments on The Swedish Royal Court's official Instagram account, Prince Carl Philip's account is notably more intimate. There are even photos of him and his family in casual clothes, a rare sight even in 2018.
Now that Prince Carl Philip is paving the way for royals to be less formal on social media, perhaps it will inspire newly royal couple Prince Harry and Meghan Markle to do the same when they surface with their own inevitable account.
Related: All of the Hot Bachelor Princes Twitter Has Rounded Up Now That Prince Harry Is Married