Now Is the Time To Get the Perfect Swimsuit—Just Ask the Experts
Top swimwear designers break down the dos and don'ts of finding your best suit.
---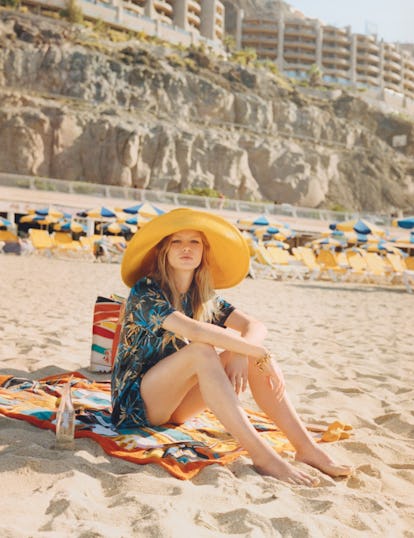 The designers of the swimwear we wore all summer long are those who know best what to search for when purchasing a swimsuit. Let's be honest: it is not easy to find the one and the process can be daunting, but the women behind the waterproof concoctions, from Celine Adler to Tori Praver, are here to share their wisdom. During Miami Swim Week, the biggest designers in the industry shared their biggest tips for finding the ultimate swimwear for all of your needs—just in time for all the big end of season sales. Read on to learn more.
Tori Praver
"The most important thing is the fit, you need to fit comfortable and confident in the way the suit fits your body so that you can relax and not worry about adjusting it all of the time. The most common mistake is buying a swim that is too small. The fit is so important and you want to make sure it fits well in all the right places, that it isn't cutting in or restricting you."
Georgiana Huddart, Hunza G.
" Think about what colors look good on your skin tone—generally anything that makes you feel confident is the way to go. People buy swimwear that is too big, baggy or covers too much flesh,thinking that it is more flattering. It is what I call Big Knicker Syndrome. Quite often a higher cut and a tighter fabric can look far better on someone than the baggy sack they think is more flattering."
Celine Adler, Réard
"It is so important to have a swimsuit that makes you feel great, and a piece that offers support and flatters your shape can have you feeling 100% and instantly lift your beachside confidence. Buying based on trend rather than the best option for you! I'm all about having fun and letting swimwear show off your personality, but buying a piece that fits your body perfectly is going to look ten times more amazing than buying the current must-have piece that perhaps isn't so friendly to your figure."
Catalina Alvarez, Agua Bendita
"First of all, women need to know themselves, what feels and looks good on them, and they must feel comfortable in what they wear. Body type and coloring are a big priority, but more than that, trusting themselves, and feeling good with what they like to wear, is of course, the most important! The biggest mistake is choosing a style of suit, that is not the most flattering, and doesn't feel like you. Style would include the cut of the suit, the color, look, and fit, as well as the comfort. Find a suit that flatters your body and your style, and you will always feel good in it."
Marie Loise Brangstrup, North
"Women should think about the best part of their body and they should show that off. If your legs are the nicest then you have to focus on that. You always have to focus on the best part and then show it off—really show it off."
Leora Elituv, Kisuii
"People follow trends too much. While you want to have the best thing you also want to dress for your body and find what suits you."
Liliana Villalobos, Aguaclara
"Don't buy a swimsuit that they like on others, but that does not fit right on you. That is why it is important to spend time in trying many silhouettes until find the perfect fit. Even if it is annoying, there is always a perfect fit for all of us. It is a matter of giving some time to it. Also most women likes to stick to the same shape for years, but there are so many different new silhouettes every season, that you think would not look well, and it can be a surprise how well a shape you wouldn't think, will look amazing on you."
Naomi Spindel, For Love & Lemons
"It is important to buy something that makes you feel like it is an expression of yourself. I feel like a lot of girls buy bikinis that are safe, because you feel vulnerable when you are in a bathing suit, but is really important to pick something that has a really awesome silhouette, that doesn't give you crazy tan lines, that is a balance of both, but also pick a color that looks good with your tan skin – always think about that because normally you buy it at the beginning of the season when you are all pale, but it is going to look good once you get a little tan in."
Madeleine Forssell, Demadly
"When it comes to swimsuits, what you pay for is what you get. Invest in high quality fabric in a flattering seamless cut and you are covered."
Melissa Jasniy, Issa De Mar
Having more coverage on your bum doesn't always make your butt look better. Showing a little skin actually works towards your advantage. A lot of women are afraid of a cheekier cut bottom, however you have to understand that your eye is drawn to the fabric, so the more fabric you have covering your bum the wider your assets are going to appear. We're not saying you have to go out and buy a thong tomorrow but trying a cheekier cut rather than a full might pleasantly surprise you!"
Related: Meet the Sisters Behind Instagram Beloved Swimwear Line Mikoh
Irina Shayk Took a Birthday Night Swim in the Indian Ocean