SZA and Kendrick Lamar's "All The Stars" Is an Early Contender for Video of the Year
Hot off the 'Black Panther' soundtrack.
---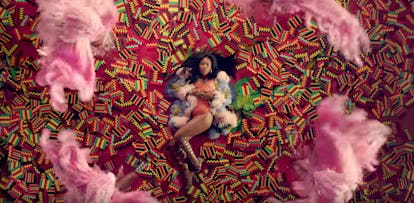 It's only February, but we feel comfortable predicting that you'll see Kendrick Lamar and SZA's new video "All The Stars" on several best-of-2018 lists by the end of the year. Which wouldn't be too much of a leap, considering that Kendrick Lamar and SZA's solo visual efforts dominated "best of lists" last year, so their collaboration for the first video from the upcoming Black Panther soundtrack album should of course be really next level.
The video starts with Lamar crossing a sea of waving hands via boat, cuts to him entering a tent that's crowned with the head of a queen, and then cuts to SZA dancing in an African-shaped galaxy of stars high above where she belongs (that tableau also calls to mind the inside of one of Yayoi Kusama's Infinity Rooms). Then it all just gets more opulent and visually striking from there. It obviously finds inspiration in the upcoming Ryan Coogler-directed Black Panther, but the clip finds a visual language of its own thanks to co-directors David Meyers (a frequent Missy Elliott collaborator) and the little homies (AKA Lamar and creative partner Dave Free). It also adds to a pantheon of music videos that have celebrated both African regality and Afro-futurism in epic fashion, including classics like Busta Rhyme's "Put Your Hands Where My Eyes Can See" and Michael Jackson's "Remember the Time."
Lamar, of course, pulled double duty as executive producer of the Black Panther soundtrack, and revealed the tracklist last week. Contrary to speculation otherwise, there isn't any Beyoncé, but it's still definitely a moment. In addition to this duet with SZA, Lamar will also feature on tracks with Future, James Blake, The Weeknd, and new father Travis Scott. Vince Staples, Khalid, and 2 Chainz also appear alongside African-based talent like Babes Wodumo, Sjava, and Saudi. Here's hoping at least one more of those tracks gets a video accompaniment as well.
Related: Despite Her Album CTRL's Success, SZA Still Hasn't Forgiven Susan Miller For Throwing Her Vibe Off