From Taraji P. Henson's Power Blonde on Empire to Maggie Gyllenhaal's Hooker Curls on The Deuce, We Ranked the Most Powerful Wigs on TV
Prime time is wigging out.
---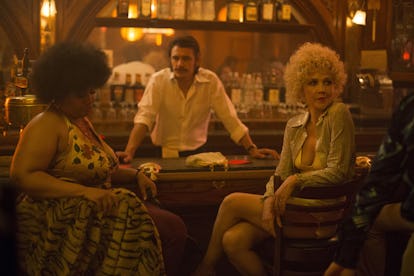 The best cameo on Curb Your Enthusiasm this season, so far, is not Carrie Brownstein's perma-constipated assistant, delightful as she is. It's Larry David's terrible wig, the one he thinks will save him from the fatwa declared on his bald head.
Whether it's to define a character or to advance a ridiculous plotline, wigs are all over TV at the moment. And when it comes to prime-time wigs, the more outlandish the better. But why, given the sophistication of TV makeup today (just look at the zombies trudging across the screen), are kitschy hairpieces the look right now? Maybe blame it on our appetites for camp (thanks, Ryan Murphy) and true crime from eras with bad hair (Sarah Paulson's Marcia Clark wig being the wig that started it all).
Not all wigs are created equal, of course. Some turn up with little fanfare, while others take on a life of their own, their very existence defining an entire series. Here are our prime-time wig power rankings.
6. Mandy Moore's grandma wig, This Is Us
Turning gorgeous, 33-year-old Mandy Moore into a (still gorgeous) grandmother in her 60s for generation-spanning tearjerker This Is Us is no easy task. In fact, it takes three-and-a-half hours in makeup (including the use of 12 prosthetics) to prepare Moore's Rebecca for a visit with the grandkids. But the pièce de résistance is the wig—a gray-flecked bob with unfortunate bangs that's totally fitting for a chic, suburban grandma. While it's obvious that Moore is wearing a wig (otherwise, how would she age 30 years and back again in a single episode?), the entire look remains impressively realistic. This is great news for the show's head of hairstyling, Michael Reitz, but bad news when it comes our wig power rankings. A predictable, realistic look does not a powerful wig make.
5. Taraji P. Henson's comeback wig, Empire
While Empire has, sadly, lost a lot of its mojo, Taraji P. Henson's Cookie Lyon continues to dominate, specifically in the hair and wardrobe department. When we first met Cookie, she was the physical embodiment of ghetto fabulous, with her inappropriately wild outfits and ever-changing wigs. But by season two, Cookie had put a high fashion spin on her wardrobe, trading in skin-tight, low-cut dresses for matchy-matchy Moschino. Last season, she dated a senator, which meant rising necklines and power suits (gold or animal print power suits, of course) and sleeker, subdued hairdos. But in the season 4 premiere, we saw a return to O.G. Cookie, who appeared on the arm of Lucious wearing a zebra print dress with outrageous thigh slits and a blonde wig, complete with two-inch roots. This is the DGAF Cookie we know and love.
4. Larry David's disguise, Curb Your Enthusiasm
This isn't the first time we've seen Larry David, famous bald, don a wig on Curb Your Enthusiasm (remember when TV Larry appeared in a Martin Scorsese gangster flick back in season 3, or when he briefly ascended to heaven in the season 5 finale). This season's wig, however, is by far the most ridiculous, both aesthetically and plotwise. Attempting to escape a fatwa (which has been placed on his head in the wake of a TV appearance to promote his musical, Fatwa!), Larry wears a shoulder-length grsy wig (which looks a little Jeff Bridges-esque) and bushy mustache whenever he goes outside. Larry's uncomfortable social interactions sound even more ridiculous when he's incognito, most notably in episode 2, when he suggests that a prostitute shop at Saks in order to attract higher-end clients. While the fatwa storyline isn't Curb's best, this wig definitely is.
3. Viola Davis's (mostly) ever-present wig, How To Get Away With Murder
While Viola Davis's powerhouse lawyer Annalise Keating, of How To Get Away With Murder boasts the most unassuming wigs on this list, they assert a quiet sense of power that ranks them relatively high. The lasting impact of Ms. Keating's various wigs (which range from a chic bob to a "can I see your manager" mom cut) is derived from the few times she's taken them off. Anyone who watches the show can vividly remember the season 1 scene in which Annalise, preparing for bed, removes her wig and makeup (this iconic moment was Davis's own idea). Last season, the wig came off again, when Annalise spent a brief stint in prison. Now she's back in the courtroom and better than ever, wigs perfectly coifed, dresses immaculately tailored. Still, every time we see Annalise we're also seeing the damaged woman beneath the power wigs. Without this wig-centered dichotomy (and, in turn, without Viola Davis), she would not be one of the most powerful characters on TV.
2. Maggie Gyllenhaal's hooker wig, The Deuce
If you're not watching HBO's 70's sex-trade drama The Deuce, you should be, if only for Maggie Gyllenhaal and her fabulous coif. Gyllenhaal plays Candy, the wig-wearing world-weary hooker that's street smart enough to survive without the help (and hindrance) of a pimp. Like Annalise Keating's wig, Candy's wig ranks so high because it occasionally comes off. Partway through episode 1, we learn that Candy only dons her wig while she's "working." As we get to know the brunette beneath the wig, and as Candy's job and her private life bleed together, she grows more complex and compelling. That, and the wig itself is just incredible.
1. Edie Falco's perfect perm, Law & Order True Crime: The Menendez Murders
On rare occasions, the wig makes the show. Exhibit A: Edie Falco's wig in Law & Order True Crime: The Menendez Murders. Falco plays defense attorney Leslie Abramson, a woman whose hair needs to be seen to be believed. In a fictionalized series, we'd never see a lawyer with such a coif—it would be far too distracting, but in this over-the-top depiction of the brutal scandal, Falco's blonde perm is the most true-to-life element. In fact, this is the perfect intersection of period piece and camp, so it's unsurprising that this wig nabs the top spot. I can't be the only viewer who tuned in only because of the promo images of Falco in that wig. It really deserves its own IMDb credit.
Zendaya Is the Ultimate Hair Chameleon
Attending the Pastry Lite Shoe Collection Launch Party in 2011, a young Zendaya wore her hair in tousled curls in a nude, glossy lip.

Photo by Getty.
Wearing her hair in a faux bob with side-swept bangs and glossy pink lip, Zendaya looked chic at the 40th American Music Awards in 2012.

Photo by Getty.
Zendaya keeps her long brunette locks sleek straight with a frosted metallic smoky eye at the 2013 American Music Awards.

Photo by Getty.
With a sleek up do and a bold, matte red lip, Zendaya arrives at the Academy Of Motion Picture Arts and Sciences' Governors Awards in 2014.

Photo by Getty.
At the BET Awards in 2014, Zendaya wore her hair in long French braids paired with a dramatic cat eye.

Photo by Getty.
Zendaya debuted a dark brunette bob with messy bangs and blunt bangs at the FOX's 2014 Teen Choice Awards.

Photo by Getty.
Back to her long locks, Zendaya wore a blonde highlighted sleek, low pony at the 2014 Radio Disney Music Awards.

Jon Kopaloff
Wearing her hair in a sleek, twisted up do with a light contour on the cheekbones and nude lip, Zendaya attended the 12th annual CFDA/Vogue Fashion Fund Awards in 2015.

Photo by Getty.
Zendaya wore a dark brunette bob at the Star Wars: The Force Awakens Los Angeles premiere in 2015.

Photo by Getty.
Channeling the '70s with an sleek bob and a jade green smoky eye, Zendaya looked cool at the 28th Annual Kids' Choice Awards.

Photo by Getty.
At the Essence 6th Annual Black Women In Music in 2015, Zendaya wore her hair in a playful braided up do with a nude lip.

Photo by Getty.
At the 87th Annual Academy Awards in 2015, singer Zendaya wore her long dreads in a half up do with a glossy nude lip.

Photo by Getty.
Wearing a rocker chic faux blonde mullet, Zendaya wowed at the 58th Grammy Awards in 2016.

Photo by Getty.
At the 2017 MTV Movie And TV Awards, Zendaya kept her look elegant with polished curls and a jade green smoky eye.

Photo by Getty.
Crimped waves with blunt bangs and a nude lip was Zendaya's look at the Art of Elysium 2016 HEAVEN Gala.

Photo by Getty.
Attending the Louis Vuitton fashion show during Paris Fashion Week, Zendaya wore her long loose curls side-parted with a matte mauve lip.

Getty.
At the Nickelodeon's 2017 Kids' Choice Awards, Zendaya wore her hair in a sleek, middle-parted tousled pony with a copper smoky eye and a glossy lip.

Getty.
Turning heads at the 2017 Costume Institute Gala, Zendaya wore her hair in voluminous, brushed out curls with a vibrant coral red lip.

Photo by Getty.
Zendaya channeled old Hollywood at the16th annual Chrysalis Butterfly Ball, wearing a sleek, S-wave up do with a dark smoky eye.

Getty.
Attending the Spider-Man: Homecoming Hollywood premiere, Zendaya opted for loose, tousled curls with luminous skin.

Getty.
At the Teen Choice Awards 2017, Zendaya paired her voluminous curls and bangs with a berry stained lip.

Getty.
Stepping out in a show-stopping afro with a nude glossy lip, Zendaya arrives at the 3rd Annual InStyle Awards.

Jon Kopaloff
Related: Larry David's Daughter's Favorite Show is Curb Your Enthusiasm, and She's Not Afraid to Admit It
Taraji P. Henson gets down to "I Will Survive":