Tess Ward, London's Favorite Fashion Foodie, Explains What to Eat For That Summery Glow
The blonde Londoner once linked to Harry Styles on what you should be eating this summer.
---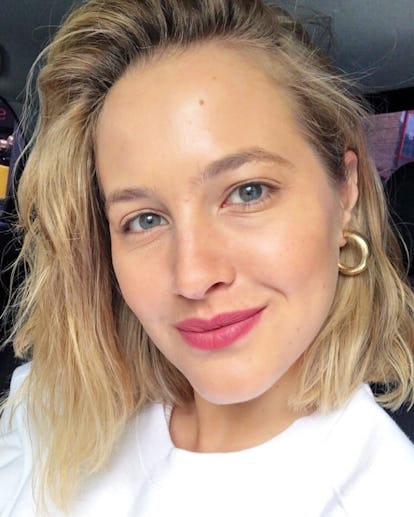 New Yorkers may have Athena Calderone as their queen of chic cookery and eye-pleasing dinner party-hosting, but Londoners lay claim to Tess Ward, an Oxfordshire-born, Le Cordon Bleu-trained chef and cookbook author who has become the fashion set's favorite foodie.
And, sure, while the former model certainly came to quite a bit of attention this time last year when it was revealed that she was the mystery blonde sitting shotgun in Harry Styles's car, but well before that she had already garnered a devoted following on her blog where she shared her recipes under the moniker "The Yes Chef.''
While Ward is a huge proponent of the clean-eating movement, she still knows how to have some fun. Balance is key for the food consultant, whether it is the color and texture on the plates she curates for dinners hosted by the French fashion house Chloé, or in her closet. The chef's 150K-plus followers on Instagram tend to love her fashion as much as her food snaps, as she has a knack for sourcing the best vintage and pairing it with investment staples from her favorite brands. Like many Brit It girls before her, Ward has walked in a Dolce & Gabbana runway show, and is signed to Storm Management along with the likes of Kitty Spencer and Amelia Windsor.
When she's not cooking up special meals for brands like Mulberry, Alice Temperley, and Michael Kors, Ward is dreaming up recipes for her site and future cookbooks. She can be often be found shooting food-centric videos around the world and in her kitchen, and scourging the local markets. "I bought some flowering kale at the greenmarket the other day, and it was amazing. Just pan fried with a little garlic, and toss it through until it softened and a bit blackened, and serve with a seared filet of fish and fresh lemon," she enthused.
Next on her list is setting up her new apartment in London and welcoming home a new cavapoo pup (for the uninitiated, that's a cross between a poodle and a Cavalier King Charles spaniel).
Although as a Brit Ward will not be relishing in any Fourth of July barbecues like the rest of us this week, she does have some summer go-to plates: "Roasted beetroot, cooked until it is soft—when you roast it it really intensifies the flavor," she said. "Or any steamed, garlicky greens, with a pesto and toasted nuts, are perfect. It just brings together lots of elements." Here, Ward explains how food is just the starting point for beauty.
Three words to describe your style:
Relaxed, comfortable, eclectic
Beauty from the inside starts with:
Good food, good fats, and water.
Good skin starts with:
Staple products, acid (not the drug kind!), and again, water I'd say.
Current fitness obsession:
It used to be spinning, but now I'm back into running, but you guys [in New York] have some funky yoga classes. I went to this place called Woom yesterday, oh my god, I literally had no words. It's the kind of thing where you have to smoke a joint or take some mushrooms before you go. Nah, I'm just joking! But it's 100% the most obscure yoga experience I've ever been to. I don't know it it really has anything to do with yoga. I couldn't stop laughing halfway through. I like more immersive, spiritual-led yoga, so like the Bhakti Center. Also, Tribeca Sports Center. It's a tiny place but the boxing is really good. So, anyways, sorry current fitness obsession, I'm gonna say, boxing and ballet.
Favorite drink:
This is going to make me sound like an alcoholic, but I would say probably a margarita and a Negroni.
In your medicine cabinet:
Homeopathic and herbal. I mean I'm not really one to take medication. I very rarely even take painkillers. The face that people in this country take medication every day honestly blows my mind.
Underrated beauty product:
Nivea creme. I think it's basically as good, if not better, than Crème de la Mer. The only ingredients that are different are a very minimal amount. Honestly, the products I really love are Zo Skin Health products. They have active ingredients so you have to get them from a dermatologist, but they actually make your skin glow.
Makeup miracle:
I like really good staples. A really good concealer. I think Tom Ford does really good stuff. In terms of lipstick, I think Rimmel and Revlon are really good because they are not that expensive and they have a good variation of colors.
Never leave the house without:
Lipstick! Not on but in my bag.
A good hair day starts with:
Probably having washed it and brushed it. I'm very low-key with my hair.
Warm weather beauty tip:
Wear SPF even not in the warm weather. Wear SPF every single day, and make sure you clean your face properly at night. And exfoliate at least every other day.
Best appointment you'd like to nab:
I have the best facialist, Kate Kerr. She works out of the Mondrian [in London] and I adore her. I really want to go and try Tracey Anderson's workouts. I haven't had a chance and she's opening up a studio in London but I haven't yet tried her method.
Reservation you'd love to nab:
Fäviken in Sweden. Also, Alinea in Chicago.
Best thing you can do for your health this summer:
Vitamin C and fresh food. I try to eat more raw food in the hot weather than I do cooked food in warm weather.