Kirsten Dunst Was Late For The Beguiled Premiere So She Could Tell Mom About Her Hollywood Walk of Fame Star
The cast of 'The Beguiled' reunited at the film's New York premiere to reminisce and celebrate Dunst's just-announced star on the Hollywood Walk of Fame.
---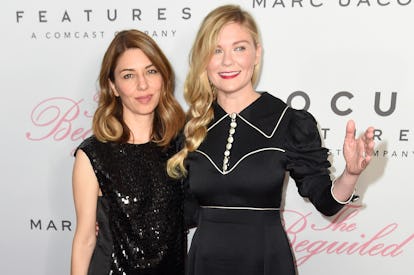 Nicholas Hunt
On Wednesday night, Kirsten Dunst got some news that momentarily halted her preparations for a special New York screening of The Beguiled, her new film directed by Sofia Coppola. Dunst had to text her mom, she said, "immediately"—she'd just received confirmation that she will be getting a star on the Hollywood Walk of Fame. "[My mom had] been asking! She was like, 'Will that ever happen for you?'" Dunst recalled. "I'd been like, 'Maybe one day, mom.'"
In addition to making her mother cry mid-grocery shopping, the honor also means that The Beguiled is quickly becoming one of this summer's most decorated casts. Last month, Coppola won Best Director for the film at the Cannes Film Festival, becoming only the second woman to ever do so in its 70-year history. The movie is in fact a remake of the 70's original starring Clint Eastwood, but Coppola's version that screened at the Metrograph on Thursday puts the women—played by Dunst, Nicole Kidman, and Elle Fanning, among others holed up at a girls boarding house during the Civil War—at the center of the film. Although it's the arrival of the wounded Union soldier played by Colin Farrell whom they all quickly become obsessed with who ends up dominating the narrative.
Coppola took care, she said, to cast Farrell with her "gay men friends" and "women friends" in mind—both of whom she was surrounded by on Wednesday night. The screening was hosted by her longtime pal Marc Jacobs, sporting pink streaks in his hair to match the neon head of his boyfriend Char Defrancesco, who held onto Jacobs's vape and obligingly posed for selfies with Jacobs's "chicest friend" and "favorite director."
Coppola and Jacobs have known each other since the early '90s, when Jacobs showed his landmark grunge collection for Perry Ellis, and between their collaborations on handbags and campaigns since, the designer has wormed his way into the fashion in Coppola's films, too. "I don't think I directly ask him for advice, but just knowing him is inspiring," Coppola said. "I was really inspired by his collection based on macaron colors when I was doing Marie Antoinette."
Her new period film, though, is less Versailles decadence and more Southern Gothic. The plantation house in New Orleans that Coppola had scouted to stand in for rural Virginia turned out to be the same house that appears in Beyoncé's Lemonade, much to everyone's delight on set.
In New Orleans, Coppola essentially turned the boarding house set into a real-life school. That included reading lists in the form of etiquette books and a field trip to a local 1800s-era home, as well as plenty of studying. "We learned how to cook, we did bible study, we learned how to do dances from that century," recalled Oona Laurence, the 14-year-old surprise star of the film. "We just learned how to be ladies, basically."
Still, the young actress, who brought along her dad as her date to the screening, managed to squeeze in time to goof off with Colin Farrell. "I'm really lucky—he's amazing," Laurence said. She waited until her dad was out of earshot before adding, "And he's pretty good-looking, too."
Related: Sofia Coppola Has Never Heard of the Bechdel Test, But All of Her Movies (Sort of) Pass It