The Weeknd Maybe Spent Halloween Checking How Many Likes His Costume Garnered
The musician reportedly spend Halloween evening checking his socials.
---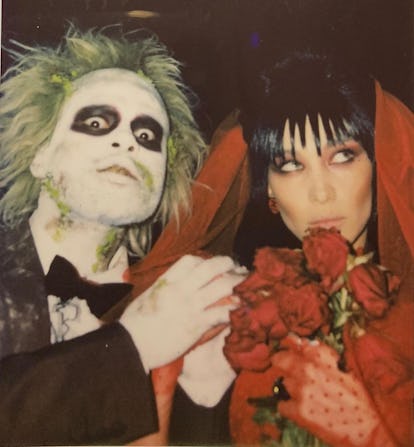 @bellahadid
Like all of us, The Weeknd just wants you to like his Instagram. On Wednesday, he and Bella Hadid, who recently moved in together at the celebs-only high-rise at 443 Greenwich in Manhattan's TriBeCa, arrived at Heidi Klum's 19th annual Halloween party—actually a last-minute plan, a source told Page Six—costumed as the titular Beetlejuice and his bride, Lydia, the characters played by Michael Keaton and Winona Ryder in the 1988 Tim Burton film. And even though they ducked the paparazzi on their way inside, once they got into the party, The Weeknd was glued to his phone as he watched the likes and comments stream in on a photo he had posted of Hadid and himself in their elaborate getups, at least according to the gossip column.
Later that night, the singer (whom we are obliged to mention was born Abel Tesfaye; the anonymous source for Page Six proved themselves a true insider by referring to him by the apparent pet name "Abe") posted a photo of their looks to his Instagram. "Showtime," he captioned the image, in which they both grimace off to the side of the camera, Hadid clutching a bouquet of wilted red roses. Under his watchful gaze, the approval rating on the photo is now at 1.7 million likes; Hadid's own first post of their costumes, an artfully blurred image captioned "yelled beetlejuice 3 times and he appeared," had nearly 1.3 million likes at the time of this story's publication.
Hadid later posted the same image to her own feed, though it failed to even reach 1 million likes—so we hope they're not competitive about this whole thing. (Their relationship, after all, has been defined by whether or not they're Instagram official.) After the myriad think pieces about how social media affects your mental health and dopamine and blah blah, now we have The Weeknd's Beetlejuice-painted face inked on our brains as the real image of social media addiction. He did it for the 'gram.
Bella Hadid's Dramatic Cat Eye, Cardi B's Violet Locks and More of This Week's Best Beauty Moments on Instagram
Bella Hadid wears a dramatic cat eye. Photo courtesy of Instagram.
Alexa Chung sports a natural look. Photo courtesy of Instagram.
Duckie Thot wears metallic eyeshadow. Photo courtesy of Instagram.
Taylor Hill wears a high half pony. Photo courtesy of Instagram.
Lady Gaga wears silver shadow and a red lip. Photo courtesy of Instagram.
Joan Smalls sports gold rhinestones. Photo courtesy of Instagram.
Millie Bobby Brown wears space buns. Photo courtesy of Instagram.
Rosie Huntington Whiteley wears a highlighted cheek. Photo courtesy of Instagram.
Cardi B wears head to toe purple. Photo courtesy of Instagram.
Emily Ratajkowski wears glowing skin. Photo courtesy of Instagram.