Tiffany Trump Reportedly Introduced New Boyfriend Michael Boulos to Her Family at Thanksgiving
She reportedly brought Michael Boulos to Thanksgiving at Mar-a-Lago.
---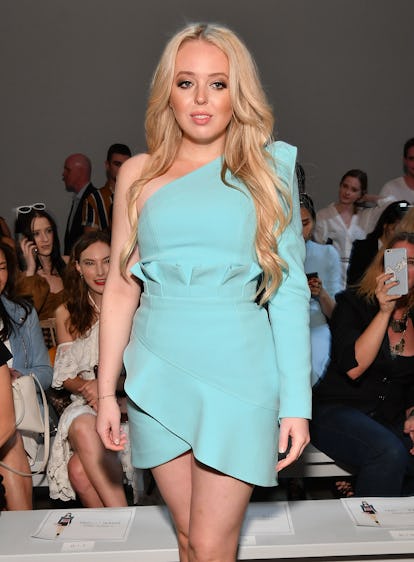 Dia Dipasupil/Getty Images
Though Tiffany Trump reportedly had a "rough summer" due to her breakup with her college boyfriend Ross Mechanic and her relation to this guy, at least one good thing came out of it. (Two, if you count the quality time she logged with Lindsay Lohan in Mykonos in July.) According to Page Six, while Trump was partying her troubles away in Greece, she met new boyfriend Michael Boulos, a "wealthy scion" who was raised in Nigeria and now lives in London.
Multiple sources confirmed the relationship to the outlet, with one adding that Trump even introduced Boulos to her family earlier this month, while celebrating Thanksgiving at her family's Mar-a-Lago resort in Palm Beach. "Tiffany is happy she has so far been able to keep things with Michael under the radar. But she introduced him to her family at Thanksgiving, and he comes across as a very intelligent young man from a great family," the insider said. "There was no mention of the president's unfortunate comment about African nations," they added, referring to Donald Trump's reported January 2018 labeling of Haiti, El Salvador, and unspecified African nations as "shithole countries."
Though Trump has yet to confirm or deny her relationship with Boulos (or any other heirs to a "vehicles, equipment, retail, and construction" fortune, for that matter), she does follow a private Instagram account registered to his name. Not much else is known of Boulos, though Page Six reports that he attended an "elite international school" in Nigeria and that his brother is an actor who moonlights as a rapper named Farastafari. The "well-connected" Boulos boys' family founded Boulos Enterprises, which began as a motorcycle assembly and distribution company, and SCOA Nigeria, the aforementioned "vehicles, equipment, retail, and construction" conglomerate.
News of Trump's budding romance comes about a year after she and Mechanic ended their two-year relationship, which began when they were both undergraduate students at the University of Pennsylvania. The split was "cordial," according to Us Weekly, and was due at least in part to Trump's starting at Georgetown Law last fall. "She's taking law school seriously," a source told the magazine at the time. Apparently, the second year of law school is much more conducive to maintaining a serious, long-distance relationship with a "wealthy scion."
Related: Tiffany Trump's Relationship With Her Dad Has Gotten "Much Worse" Since He Became President