Yes, Tiffany Trump Is Apparently With Lindsay Lohan in Mykonos
This is one way to spend the summer after your first year of law school.
---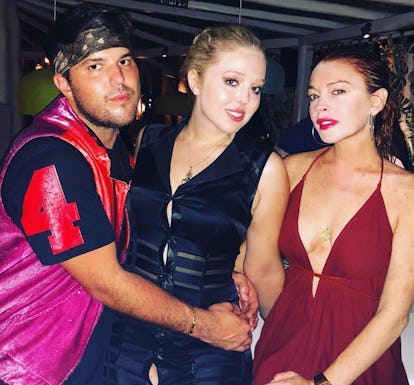 Though Lindsay Lohan entered the collective consciousness as the star of such cultural touchstones as The Parent Trap and Confessions of a Teenage Drama Queen, lately, she has established herself as a burgeoning entrepreneur, with a string of nightclubs to her name. Her most recent opening—the Mykonos beach club Lohan Beach House—joined her portfolio at the end of May, and since then, she has apparently been enjoying the fruits of her labor. Earlier this week, Tiffany Trump and Andrew Warren made their way to the Greek isle to help Lohan celebrate the latest opening, frolicking on yachts, in jacuzzis, and at the club.
In a since-deleted Instagram post, Lohan shared a photo of the trio at Mykonos's Nammos restaurant—herself wearing a deep-red dress, Trump in a black mini, and Warren in a Gucci bandanna and bright pink jersey. She captioned the post with a whole line of pink sparkly heart emojis, followed by the hashtags #mykonos and #america—and even tagging @realdonaldtrump. Warren also posted the image (and then deleted it), adding that the gathering was part of a fundraiser to prevent wildfires in Greece.
Warren also posted an additional image of himself and Trump, as well as a contingent of other friends, posing on a yacht. Lohan commented on the post, and then deleted it. (Screenshots below.)
Lohan and Trump, apparently, go way back—not only is the actress an outspoken supporter of Trump's reality star turned politician father, but she and the younger Trump also regularly speak over Facetime. In a New York Times profile last month, Lohan described her as "a really sweet girl. Nice person," anticipating the first daughter's upcoming Greek vacation. Though your average law school freshman would perhaps be eyeing an internship during that first summer, who could pass up a quick jaunt in Mykonos?
Related: Tiffany Trump Is Having a "Rough Summer," So She Went to London to Party
Mykonos: Where the Models Go To Play