Timothée Chalamet and Harry Styles Interview Each Other, Keep Some Details Private
They have answers to the question, they are just keeping them private.
---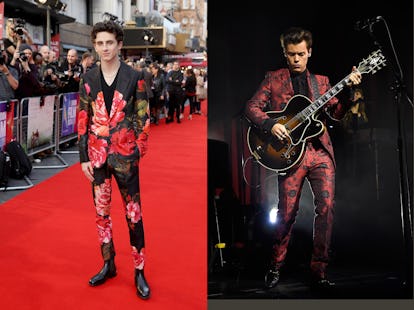 Tim P. Whitby
Timothée Chalamet and Harry Styles have a lot in common: Both are 20-something dreamboats who have captured the hearts of many via their movies and music.
They already dress like each other, so it should come as no surprise that they recently called each other for an interview in i-D. The conversation addressed a range of topics, including the societal perceptions of masculinity, the pitfalls of social media, and the trappings of fame, but eventually gave way to some fun, rapid-fire questions. In addition to learning that Styles is a fan of the animated Netflix series Big Mouth, and that Chalamet really is that big of a Kid Cudi fanboy, readers of the interview will also see that when asked about the classic desert-island scenario, both Styles and Chalamet held back on divulging one important thing they would bring.
When Styles posed the question, "If you were told you were only allowed to listen to one song, watch one movie, read one book, and talk to one person for the rest of your life, what would you choose?" to Chalamet, the actor gracefully answered three out of four elements. Of course, he'd listen to "Rain" by Kid Cudi, watch Punch Drunk Love, and read The Book of Disquiet, by Fernando Pessoa, but as for the one person he would speak to for the rest of his life? He would not budge on that one, but he does, technically, have an answer. "I'll keep that mysterious. I'll keep that to myself, but I have a clear answer in my head," he said, before asking Styles the same questions.
The musician responsed with Van Morrison's "Madame George," Goodfellas, and either Haruki Murakami's Norwegian Wood or Rob Sheffield's Love Is a Mixtape—all answers that seem to fit the heartthrob and his tastes quite well. Still, he echoed Chalamet's sentiment that he would "withhold" the name of his person.
This person could either be a romantic partner, a relative, or maybe just a really good friend for either of them, but who's to say, when they won't reveal the answer in an otherwise revealing interview about their tastes. They've left a blank space for fan fiction, and since both Styles and Chalamet withheld their answers on the final element of that question, one can still imagine the two might be holding a spot for an unnamed fan—anything is possible.
Related: Timothée Chalamet Wears a Harry Styles–Inspired Floral Suit