How Generous of Tom Cullen to Let His Friend Kit Harington Have His Engagement Moment First
The Knightfall actor said Harington's proposal to Rose Leslie "absolutely" made him think about getting engaged to longtime girlfriend Tatiana Maslany.
---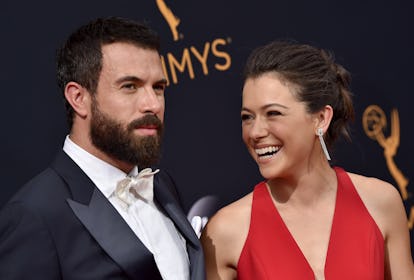 Axelle/Bauer-Griffin/Getty Images
Tom Cullen knows when Kit Harington and Rose Leslie's wedding is, and, like a true mate, he is not sharing. The two actors have known each other since drama school—they both attended the Central School of Speech and Drama, and, earlier this year, co-starred in the historical miniseries Gunpowder with Edward Holcroft and Liv Tyler—so, naturally, Cullen was on the list when the save-the-date invitations went out for the upcoming Harington-Leslie nuptials. (It's rumored to be such an occasion that Game of Thrones will halt production to allow the whole cast to attend.)
There is one thing he is sharing, though, and that is his desire to marry Tatiana Maslany, the Orphan Black actress he met on the set of the miniseries World Without End and who he has been dating since 2011. In a new interview with People magazine, in which Cullen discussed his new role in the historical drama Knightfall, he also let slip that seeing Harington propose to Leslie "absolutely" made him think about the possibility of a Cullen-Maslany wedding to follow.
"I'm just waiting for her to put a ring on it," he said. "I mean, I don't know what she's waiting for." (It was so, so generous of Cullen to allow Harington and Leslie to have their moment first.)
Since World Without End, the BBC miniseries where they met, Cullen and Maslany made another movie together—last year's The Other Half—as well as a short—this year's Souls of Totality, which may or may not actually just be about looking directly at the solar eclipse without glasses—and, according to People, Cullen is directing Maslany in yet another film, to be shot in Wales. Their successful collaborations bode well for their relationship—just ask Zoe Kazan and Paul Dano, or Kristen Bell and Dax Shepard—so really, it's high time Maslany "put a ring on it," or vice versa.
Of course, it's also to Cullen and Maslany's benefit that Leslie and Harington were engaged first. No one wants to be the first one in the friend group to pop the question, and anyways, Harington has been candid about botching his proposal. After planning to string up lights and "do all the romantic stuff," Harington got too excited by all the anticipation and, with little more than a wood fire and red wine for context, he asked Leslie to marry him. (To borrow his terminology, he "blew [his] load early.")
Nevertheless, she said yes. So it's not clear what the lesson Cullen could garner from his friend could be, but there's certainly one to be gleaned.