Tonya Harding Paintings and Merch Are For Sale at THNK1994 Museum in Brooklyn
The I, Tonya craze extends to the art world, with a pop culture museum dedicated to spreading the word and the merch of figure skater Tonya Harding.
---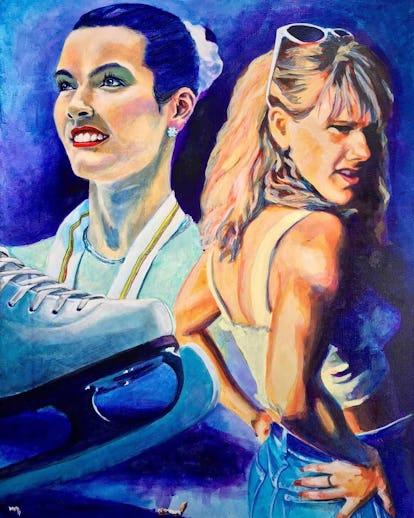 Derek Covington Smith/Instagram
The Tonya Harding Nancy Kerrigan 1994 Museum, also known as THNK1994, is located in Brooklyn, on the cusp between Crown Heights and Bed Stuy, and has evolved from a personal apartment hallway installation into a fever dream of a niche popular culture themed art gallery. To give you an idea of the general thesis behind most of the 2000s-themed curated shows at THNK1994, past exhibits include Olsen Twins Hiding From the Paparazzi, Nicole Richie's 2007 Memorial Day BBQ, and Real Housewives Pointing Fingers. "Our hope is visitors leave with a fresh look at a familiar subject and a really great Instagram post," the museum's curators declare in a statement on their site.
Curators and co-founders Viviana Rosales Olen and Matt Harkins now represent and feature work by artists Laura Collins, Miriam Carothers and Derek Covington Smith. Paintings of celebrities in fur coats, preserved pages from mid-aughts tabloid magazines with cover stars like Lindsay Lohan, Paris Hilton or the Olsen twins, and video installations smatter the walls and fill the rooms of THNK1994's galleries of pop culture ephemera, in celebration of some of the most iconic tabloid moments in aughts history. Visitors are encouraged to interact with and take photos of the galleries in the museum, where events such as panel discussions, screenings and Real Housewives symposiums are also held.
The initial purpose of the museum was to memorialize the "incident" between Tonya Harding and Nancy Kerrigan, wherein Kerrigan was attacked at the United States figure skating championships in Detroit, ahead of competing at the 1994 Lillehammer Olympics. Inspired by the Nanette Burstein documentary The Price of Gold, Matt and Viviana launched a Kickstarter two years ago to fund their commemoration of the incident, with many artists sending in artwork and artifacts from the era to place in their museum. Now, I, Tonya tells the twisted story of the tension between Tonya Harding, her mother, her husband and Nancy Kerrigan, and THNK1994 has reinvigorated their permanent collection of Tonya Harding artifacts to include all new pieces, including needlepoints, paintings, and Wheaties cereal boxes with Tony Harding's face. Are you a Nancy or a Tonya?
THNK1994 has also begun to sell merchandise that references the "incident" between Tonya Harding and Nancy Kerrigan, but also iPhone cases and sweatshirts that make niche pop culture references to unsung comedic icons like Joan Cusack and Niecy Nash. Merch that celebrates the art of Britney Spears' Instagram account or the dregs of social media in general are also part of their new collection.
Related: Eminem's Comeback Has Stretched Over to the Art World, Thanks to Alex Da Corte