Why Traditional Chinese Medicine May Be the Best Path to Flawless Skin
Have you tried red beet tonics, watermelon rinds, and pearl powder? Maybe it's time.
---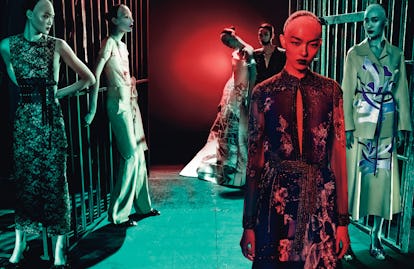 Growing up in Hong Kong, Cecilia Wong was well schooled in traditional Chinese medicine (TCM) from a very early age. "TCM is very much engrained in my culture," Wong says. Over the years, the skincare guru picked up a plethora of tricks from her mother, such as acupressure, pearl powder, and herbal remedies. Above all, her most valuable TCM tenant on which her practice is based, is the idea of beauty from the inside out. "When someone has skincare issues, it's more internal rather than topical. You need to get to the root of the cause," explains Wong from her Fifth Avenue skincare clinic. "When people talk about TCM there is a perception that it is just about herbs and acupuncture. And while they're important, so much of it is based on the healing power of food." Here, she shares her list of skin-saving super foods, and explains how targeted acupressure massage will leave your skin glowing and problem-free.
How did you first get into traditional Chinese medicine?
I was born in Hong Kong, in my family herbs are huge. Most of my knowledge comes from my mom teaching me about these things from a very young age. Specifically, she taught me this technique called gua sha, which she taught me how to do on her, how to make soup with different Chinese herbs, and what foods to eat. When I first evaluate a client's skin, it's all using TCM philosophy. TCM is based on four different things. Wind, water, cold, and heat, and there has to be balance. I look at a client's skin and I recommend foods to eat and herbs to take. In TCM, we use a lot of food to heal the body. That's the whole philosophy.
What is chi?
It's energy in your body. Everyone has it. If you don't have chi, you get sick and tired.
I know you learned most TCM techniques from your mom. What were her most valuable and effective tricks?
We used a lot of red dates, goji berries, and Chinese yams. The art of it is also about knowing how to combine certain ingredients together to be effective. You can't just put all this stuff together and drink it. When I got older, I became more interested learning that field. Everything was self-taught; I decided to incorporate it into the skincare business. She taught me that when someone has skincare issues, it's more internal rather than topical. You need to get to the root of the cause. It doesn't matter what you put on your skin, you'll still have that problem.
What was the strangest but most effective ingredient she used?
I grew up using pearl powder for beauty purposes. It is literally pearls crushed into a powder. It is supposed to rejuvenate, lighten, and help to brighten dull skin. For your face you simply mix it with water until it becomes a paste and put it on your skin as a mask. I grew up with acne, trying everything from drugstore products to other medicines. Another eccentric TCM cure is bitter melon. It is excellent for getting rid of acne blemishes. I put the juice directly on my skin. It dries up fast, it is my detox mask.
So all in all, what are the top TCM foods?
Red dates, bitter melon, goji berries, burdock root, chamomile, yams, and ginseng.
What are they used for?
I suggest red dates with goji berries, steep them in water and drink it daily. Red dates are only sold at Chinese supermarkets. I get a bag of them and boil them in a pot of hot water for an hour, add goji berries. You put it in the fridge, and drink it for the next days. They're great for replenishing iron. I grew up drinking this tonic. Red dates are great after your menstrual cycle. Black dates don't have the same potency as red dates. Ginseng is a root and is great for a hangover, it gives you vitality. Chamomile is very calming, and yams have a lot of B6.
Are their specific times of day you eat these foods?
Time of day is really important in TCM. For instance, if you have a lot of heat, don't eat ginger past 4 p.m. Your body reacts differently to different foods at different times. I would drink chamomile tea before going to bed, it's cooling. It's important to balance organs. If one is out of place, it sets everything off.
Now that we're in the middle of summer, what would be TCM's answer to sun exposure?
My mom would recommend to eat a lot of fruit. You lose a ton of moisture so it's important to eat a lot of watermelon. If your body has a lot of heat, you want cucumber and melons. If you have excessive water in your body, eat barley. TCM is about balance, you cannot eat one thing too much, that throws everything off. She taught me about watermelon rind. Every summer after a barbecue, my mom would give me the watermelon rind and tell me to rub it on my face. It really helps with sunspots and refreshing the skin. It stings in the beginning. Watermelon has certain enzymes in it which helps soothe the skin, especially after the sun.
Is there one food you should eat every day?
Honestly, it sounds so simple but an apple a day. It has so many vitamins, and helps to prevent a lot of things.
Foods aside, I know acupressure is crucial to your practice, tell me about how it works.
Your face and body have a lot of pressure points, and each pressure point corresponds with certain organs in your body. In fact, with your face everything is connected to your body. Acupressure is a process. I always start with the eyes – your eyes represent your kidneys and spleen. So a lot of times if you're really tired, dehydrated, and haven't gotten a lot of sleep, your kidneys and spleen can be affected. So I start with the eyes and work towards the cheek, mouth area, especially your upper lip, which is an important pressure point. Then I work on the neck where there's a lot of pressure points, and I also incorporate lymphatic drainage. Facial massage is a big focus for me. Throughout the years I did a lot of research and exploration. I perform it on myself, and after the massage you feel lighter. When I feel tired and need a pick me up, there are two main pressure points I use. One is the eyes, and the other is between your nose and your lip. This is a life point – if someone faints, this point wakes them up. It's a great pick me up.
Can you clarify the myth on essential oils? Some people swear by them, but others say they deplete collagen and irritate the skin…
I would never use them alone topically on your skin, but mixed in a serum they are good. They are very therapeautic. They definitely have a medicinal effect to them, but they're incredibly strong. Hibiscus and chamomile oil, are actually also considered as TCM herbs. I use chamomile and probiotics for my toner. I use plants, fruits, and essential oils in my nine product all-natural line of serums, moisturizers, masks, and toners, is infused with essential oils. All the ingredients are very therapeutic.
Are you still developing new techniques?
Yes, I am always learning. Learning more about facial massages, techniques on lymphatic. Your body is still a mystery. You have to find out whey you have imbalances, and see what your skin responds to.
13 Editor-Approved, Travel-Friendly Beauty Products to Buy This Summer
Watch: For Ellie Bamber, Bedtime Snacks Are an Important Part of Any Nightly Beauty Routine