Twin Peaks Is the Original Foodie TV Show
Before the Food Network, before Anthony Bourdain, before 'Master of None', there was Special Agent Dale Cooper's fanatical love of coffee and cherry pie.
---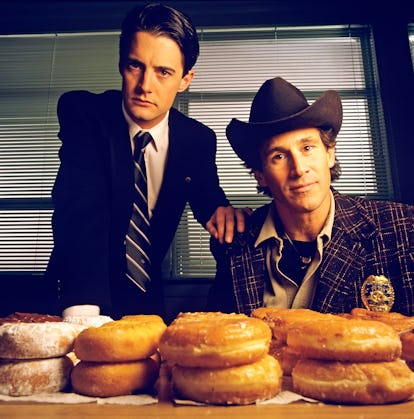 ABC Photo Archives/Getty Images
Netflix's Master of None and Showtime's Billions, which are ostensibly about the romantic life of a New York actor and an epic Wall Street power struggle, respectively, have little in common except they both happen to be obsessed over by the foodie-sphere as the two foodie-est TV shows in 2017—outside of the Food Network and the enduring Anthony Bourdain, of course.
Almost as soon as the second season of Master of None dropped on Netflix last week, the tweets gleefully pointing out each and every New York foodie establishment (from Roberta's to Carbone) frequented by the characters started pouring in—some even going as far to say that food is as central to the show as its star and creator, Aziz Ansari.
And on Billions, which Esquire called "the best food show on TV," hedge funders flex by screaming over the table in restaurants like the four-star Sushi Nakazawa that chefs are indeed artists. The show has even brought chefs onscreen: When Bobby "Axe" Axelrod, played by Damian Lewis, drops by Momofuku Ko with a friend, David Chang emerges to tell them he's about to "carpet-bomb you guys with so much f—ing food you'll be reeling."
But a full quarter of a century before either show, before the Food Network was even founded and Bourdain turned eating around the world into a very profitable living, there was Twin Peaks, David Lynch's cult series being rebooted this Sunday on Showtime. The lifeblood of the show was no doubt Special Agent Dale Cooper, played by Kyle MacLachlan, and while he doesn't show up until 35 minutes into the pilot, when he does, he's practically mid-rave over his latest slice of cherry pie.
Over the next two seasons, Cooper will barely agree to sit down unless there is a "strong, black" cup of coffee waiting for him—to be specific, "black as midnight on a moonless night." Plus an order of donuts and another slice of pie, please. The very beginnings of his investigation into the mystery at the center of the series, the death of local teenager Laura Palmer, take place mostly around conference and picnic tables laden with coffee and at times up to 50 donuts. These Cooper crams into his mouth, to Sheriff Harry S. Truman's astonished delight.
Like the rest of the sleepy town's inhabitants, Truman soon learns that a '"damn fine" cup of joe is just about the only way to get through to the FBI agent. When Truman lets Cooper in on a town secret, he breaks the news by summoning Cooper to the Double R Diner and making sure he's settled with a cup of joe and a rare slice of fresh huckleberry pie. It's the same diner where Audrey Horne, a flirty high schooler with a restless crush on Cooper, tells Laura's best friend Donna that she started drinking coffee—always black—"because Agent Cooper loves coffee." Even the mysterious man in the red room in Cooper's dreams asks Cooper if he'd like a cup of joe.
After all, despite prying messages out from under dead girls's fingernails and being shot inside his hotel room, the only time we ever really see Cooper rattled is when the local sawmill manager, Pete, serves him a cup of suspiciously smelly coffee. (Is that abject horror at a suboptimal product not the definition of modern foodie-ism?)
And it seems likely that MacLachlan himself would have reacted the same way: Decades later, he's still publicly fanatical about coffee via his Twitter, even before the show's revival was announced. (He also once went to Heidi Klum's Halloween party as "Kale MacLachlan.")
There are, of course, other examples of foodie-ism in Twin Peaks. Who could forget Benjamin Horne attacking a brie-and-butter baguette that his brother smuggled onto the plane from Paris. But still, pie and coffee clearly take the cake in the original series. A supercut of every mention of either or both comes to nearly three and a half minutes long. And there will be no doubt more to come with the show's revival, which the New York Times has already anticipated by sleuthing out an "authentic recipe" for "that cherry pie," which was "about as easy as figuring out who killed Laura Palmer."
After all, Lynch seems just about as crazy about pie and coffee as Coop. For starters, as he told Munchies, he drinks 10 cups of joe a day (down from a Balzac-ian 20); he even has his own line of coffee (David Lynch Signature Cup Organic Coffee).
So when Gordon Cole, one of Cooper's coworkers at the FBI, orders "massive, massive quantities" of pie—an entire one to himself—at the Double R Diner, and requests it with "a piece of paper and a pencil" because he plans "on writing an epic poem about this gorgeous pie," it's hard not think that Lynch was talking through him. Twin Peaks is his tribute to coffee and pie.
Related: A Field Guide to Recognizing Your Favorite Twin Peaks Actors Now, 26 Years Later
See Laura Dern, Naomi Watts, Patricia Arquette, and Hailey Gates Open Up About Working with Legendary Director David Lynch: