Tyga, Relevant Rapper, Claims Responsibility for Kylie Jenner's Relevance
"I said, you should wear your hair like this, etc.," the rapper said on Apple Music's Beats1.
---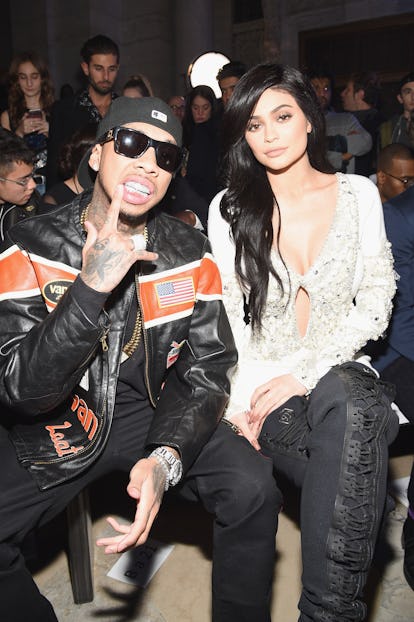 Dimitrios Kambouris
Though Kylie Jenner, recently of legal drinking age, presides over a beauty empire, stars on a reality television show, and is about to eclipse her sister Kim Kardashian in number of Instagram followers, you know, none of it would have been possible without Tyga, the rapper she dated for roughly two years.
At least, that's how Tyga, who is not the father of Kylie's child, tells it. "She always had a platform, and she was destined to be somebody, regardless," he said during an interview with Apple Music's Beats1. So far, so fine. "When I stepped in, I said you should wear your hair like this, etc.," he went on. Less fine! Jenner may have had a platform and following she cultivated herself, but it was only thanks to Tyga's input on how she style her hair (and "etc.") that she really achieved success. I mean, yes, an integral part of Kylie Jenner's brand is her appearance—she does reign over Kylie Cosmetics, after all, a brand modeled on her penchant for lip fillers—but really, Tyga?
(Also, sidebar, one of the best scams perpetrated this summer is how Kylie Jenner, lip kit entrepreneur, dissolved her lip fillers. Sort of like how Rihanna, queen of not wearing a bra, launched the lingerie line Savage x Fenty.)
Anyways, her hair has changed dramatically since then! She's been blonde, she wore a baby-blue wig to Coachella, and she allowed her best friend Jordyn Woods to cut it all off, just to name a few of her various transformations. Even the Daily Mail, fashion's favorite notoriously credulous tabloid, called bullsh-t: "Tyga has now appeared to take credit for ex Kylie Jenner's fame, despite her being on reality television since the age of ten and building a hugely successful cosmetics brand – which currently sees her worth an estimated $900million," it wrote in a recap of Tyga's interview. Meanwhile, though Tyga released albums in 2015, 2017, and 2018 and has a child with model and former dancer Blac Chyna, there's probably a way better case to be made that for all his own accomplishments, his relationship with Jenner was responsible for any relevance he's sustained past his still-biggest hit "Rack City" from 2011. What has Tyga really done? As one of my editors said in his infinite wisdom, "Babe, settle down."