An Astrological Guide to the Most Compatible Celebrity Couples
From Jane and Bernie to Kim and Kanye.
---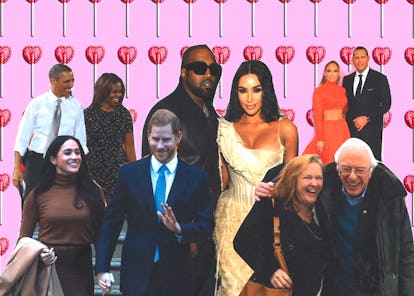 There are many astrological pairings that are famously bad (Scorpio-Leo, Virgo-Sagittarius, Cancer and anyone—just kidding). For Valentine's Day, we're choosing to focus on the good. And there's a lot of it! Here are six couples with excellent astrological compatibility all around.
Kim (Libra) and Kanye (Gemini)
Signs of the same element will always be attracted to one another. But it's their differences that keep things interesting and functional. Kim is a late Libra and she couldn't be more different than Kanye, a classic Gemini. Where Geminis are chaotic and bombastic, Libras are graceful and diplomatic (she's almost a lawyer now!). Libras are all about control, even in their indecision. Meaning they know what they don't want, even when they don't know what they do want. To a Gemini, chaos is a kind of control. We can all remember one or two or 5,000 Kanye tweets that set the Internet on fire, but still, of course, kept our eyes on him. On the contrary, Kim is incredibly calculated. You feel like even her breathing has been approved by a PR team. Though as entertaining as Geminis are, Libras are definitely the boss. Kim's probably killed some even crazier Kanye tweets than the ones we've seen.
Justin (Pisces) and Hailey Bieber (Sagittarius)
You can be sure these two are having some seriously deep conversations, even at the club. If you're watching Justin Bieber's new YouTube series, Seasons, you already know that a Pisces and Sagittarius don't need a lot of space from one another. They want to be together all the time. They're not air signs with intimacy issues. A water sign proves their devotion by more or less stalking their partner. Like a true Pisces, most of Justin's songs are about love, longing, and apologizing (Alexa, play "Sorry"). And apparently, these two met almost a decade ago, backstage at the Today Show when they weren't even teenagers. Hailey wasn't impressed, and played coy initially (typical Sagittarius), but once they got to know each other…well, Justin's entire new album is basically all about her. (A lovesick Pisces, groundbreaking).
Meghan Markle (Leo) and Prince Harry (Virgo)
You wouldn't think that a fire and earth pairing would be easy, but if it's Leo and Virgo, the initial attraction is huge. Leos like to be attended to and Virgos love to be caretakers. Meghan is, of course, a Leo. She's definitely the more magnetic of the two, and perhaps is very instrumental in their recent decision to strike out on their own, as private citizens and away from the monarchy. Leos are trailblazers. They enjoy being bold and will often steer the ship, so to speak. Virgos are more measured and practical. A Leo-Virgo match is actually quite close to very healthy equilibrium (and Prince Harry has a moon in Taurus and a Capricorn rising too—a triple, unshakable dose of earth). Their son, Archie, is a Taurus sun with a Taurus rising, meaning that sooner or later he's going to be running the show and not doing a lot of compromising.
Bernie (Virgo) and Jane Sanders (Capricorn)
Two earth signs are always going to love each other, because their priorities in life will be naturally in sync. This is especially true for Virgo-Capricorn, who move harmoniously through situations, especially ones that require a real work ethic and are profoundly important to both of them. We see these Virgo-Capricorn true love vibrations in Bernie and Jane completely. A Virgo-Capricorn match will always fall deeply in love, quickly, and this love will last a lifetime. Bernie and Jane met when they both had lived a little life already (she was 31 and he was 40) and saw that they were fighting for the same causes and believed in the same things. For Bernie and Jane, their love has spanned nearly four decades (and counting!) and has produced four children and seven grandchildren. With a shared love of their fellow humans and devotion to justice, Bernie and Jane's love is sure to last forever.
J.Lo (Leo) and A-Rod (Leo)
Leo-Leo is a more common love combination than you might think. A famous Leo-Leo love match is Madonna and Sean Penn. Although their fiery love only lasted a few years, it sure was pure passion while it lasted. We think J.Lo and A-Rod have more staying power, though, than Madonna and Sean. Any relationship involving Leos is destined to last a while anyway, because the fixed nature of the sign means that they are reluctant to change something once they've committed to it. Plus, J.Lo and A-Rod's love story will melt even the most cynical of hearts. The story goes that when they met in 2005 at a Yankees game, they both knew something was there between them. J.Lo has said that when their eyes met, there was this "weird electricity for, like, three seconds." This is the best way to describe the feeling when two destined fire signs get together, as J.Lo and A-Rod did in 2017—and three years and a big Leo-dramatic engagement later, they are still going strong.
Michelle (Capricorn) and Barack (Leo)
Another story that warms the heart of any good romantic is that of Michelle and Barack Obama. Meeting at a law firm in 1989, Michelle and Barack couldn't get enough of each other. This is classic for any Leo and Capricorn true-love match. Although, with their Cardinal Earth (Capricorn) and Fixed Fire (Leo), their signs are not always the best combination on paper, when they do meet and fall for each other, their relationship can be deeply passionate and long-lasting. The trick is the Leo's superromantic side, which will lead them to shower their partner with gifts and attention when they deeply respect their mind and ethical core. This in turn will spark the Capricorn's tendency to be tender toward someone who sees them completely, and this tenderness will turn the Leo on even more. Thus, when Leo and Capricorn gets it right, an endless cycle of mutual respect and personal drive can begin, and last a lifetime. We see all of these traits in the never-ending partnership of Michelle and Barack, which is sure to last another 30 years!
Related: February Horoscopes: The Astro Poets Forecast Your Month of Love
Celebrity Couples Before They Were Couples, From Justin Bieber and Hailey Baldwin to J.Lo and A-Rod
Yes, even before they were engaged, Hailey Baldwin and Justin Bieber have had remarkably similar hair. The pair has, after all, as they've repeatedly stated, been longtime friends, as evidenced here in this photo of them with Hailey's dad, Stephen Baldwin, on the red carpet of the Times Square premiere of Bieber's 3D film Never Say Never in 2011.

New York Daily News Archive/Getty Images
Before showcasing their love for each other via many tattoos and Pete-emblazoned sweatshirts, Ariana Grande and Pete Davidson, who of course are now engaged, first met when Grande appeared at Davidson's workplace, Saturday Night Live, and made a joke about them smoking crack.

Courtesy of NBC/Getty Images
At the time of this meeting Lopez was with Marc Anthony, but it's only fitting given that more than a decade later, J.Lo would move on from her then-husband to the much more fittingly named A-Rod, both seen here at a Yankees game in 2005. Their relationship started off with a bang late last year, when they had to evacuate the restaurant during their first date.

Mike Ehrmann/Getty Images
Before Instagram, their family's platform of choice, was even invented, John Legend and Chrissy Teigen met when it came time for Legend to film the music video for his 2006 song "Stereo," which starred a nearly naked (and at times animated) Teigen.

Courtesy of Vevo
Feast your eyes upon Kim Kardashian with bangs—as well as her sister Kourtney and, of course, Kanye West, at a get-together all the way back in 2008. The pair looks a world away from the Kimye they are today—and even the Kimye they were when they first began, seeing as early on, Kanye transformed Kim's grin into tears by throwing away 250 pairs of her bangs-era shoes.

Michael Bezjian/Getty Images
Back in 1991, there was no Victoria Beckham. Instead, there was a Victoria Adams, aka Posh Spice, who hung out with David Beckham and Elton John on red carpets, before marrying the soccer star later that decade, in 1999.

Dave Benett/Getty Images
Long before they married in 2015, Mila Kunis and Ashton Kutcher were red carpet pals and costars on That '70s Show, beginning when Kutcher was 20 and Kunis was just 14.

Ron Galella/Getty Images
Pete and Ariana's union is a bit less surprising when you consider that back in 2002, the power couple-to-be Jay-Z and Beyoncé Knowles also stood side by side on SNL's stage. (Technically, they began dating a bit earlier, when Beyoncé was 19, but they had a phone-only relationship for the first year and a half.)

NBC/Getty Images
Ellen DeGeneres and Portia de Rossi are perhaps one of the only couples who can say their relationship began backstage at the VH1 Awards, which is exactly where they first met in 2004. Making it official, though, took a bit of waiting: They didn't marry until 2010, after the California Supreme Court ruled that the ban on same-sex marriage was unconstitutional (and after de Rossi had split up with the director Francesca Gregorini, whom she'd been dating when she and DeGeneres first met.)

Jeff Kravitz/Getty Images
The Olsen twins may be the first to catch your eye, but this photo primarily documents the early, 2005-era spark between Penélope Cruz and Javier Bardem, who'd go on to marry in 2010.

J. Vespa
In 2007, Salma Hayek announced that she was both pregnant and engaged to the French billionaire and Kering CEO François-Henri Pinault. They wed on Valentine's Day in 2009—and again that April, this time in Venice—and Hayek hasn't stopped making Fashion Week front row appearances since.

Bertrand Rindoff Petroff/Getty Images
Ryan Reynolds was still married to Scarlett Johansson when he and his Green Lantern costar Blake Lively appeared at Comic-Con in 2010. Two years later, a then-divorced Reynolds in turn made things official with Lively, who, in addition to giving birth to two children, has made a point to troll him ever since.

Kevin Winter
Back when she was still making a name for herself as Buffy the Vampire Slayer, in 1997, Sarah Michelle Gellar starred in first-ever major movie: I Know What You Did Last Summer—and just so happened to meet Freddie Prinze Jr., her then-costar who, in 2002, would go on to become her husband.

Mirek Towski/Getty Images
Nick Jonas and Priyanka Chopra, one of this year's most surprising couples, came to be after they met at the 2017 Met Gala, which saw Ralph Lauren, whose designs they each wore, pair them up. Fast forward to just over a year later, and suddenly they've become attached at the hip. They've wasted no time with their relationship, which they struck up less than two months ago; both Jonas and Chopra has already met the other's family.

Mike Coppola/Getty Images