David And Victoria Beckham Take The Entire Family to Miami for New Year's Eve
A sunny start to the new year for this family.
---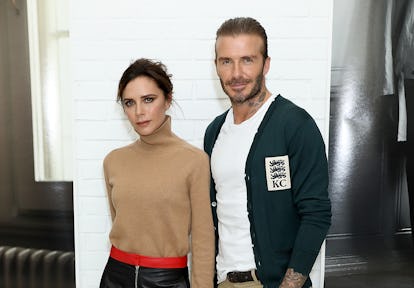 Photo by Darren Gerrish/Darren Gerrish/WireImage
The Beckham family is taking Miami this winter as an entire unit, and it's no surprise why the chose the city for their New Year's Eve vacation (well, besides the obvious factor of the warm weather). Patriarch and soccer superstar David Beckham is planning to create a new MLS soccer team in the Florida city as part of an option on his original 2007 contract with the LA Galaxy, unless of course, that doesn't happen. It's been a whole saga. But in any event, David and Posh Victoria and their kids touched down in a city they may be spending a lot more time in soon on Saturday and are already enjoying the best the beach town has to offer: sunsets and soaks.
David and his three eldest children, Romeo, Cruz and Brooklyn, posed for a sunset snap, after Brooklyn spent the day paddle boarding and wading and, presumably, trying to work on his tan just in time for New Year's Eve.
"Sunset with my beautiful boys ?." Aww.
Only daughter Harper, meanwhile, got to drive (what looks like) a golf cart sitting on her dad's lap, as captured in this ridiculously cute video posted by Victoria:
The Beckhams have always been a tightly-knit family. Whether it's Victoria chastising her son for wearing his hair like Dennis The Menace or David giving six-year-old Harper her very first soccer lesson, they're very involved in their kids' lives. And through it all, Victoria still found some time to help the fashionably challenged, giving out free (virtual) advice in Central Park.
Does this mean the Beckham family is going ahead with plans to relocate from the West Coast? Or just add a Florida pad to their portfolio of properties? Or maybe they along with thousands of other people thought it would be a nice vacation spot for the winter holidays. That's a definite possibility. But they would do well to think seriously about making the Miami dream a reality. There are so many great cities on this planet of ours, but which city can say there's a song about it from Will Smith? That's right. Just Miami.
Related: The Spice Girls Reunion Will Be a Little Less Posh Without Victoria Beckham
What Beyonce, Nicki Minaj, and Karl Lagerfeld Do on Private Planes