The Story Behind Virgil Abloh and Jenny Holzer's Potent, Political Off-White Show at Pitti Uomo
How the designer and the artist pushed each other to make such a strongly-worded presentation in Florence.
---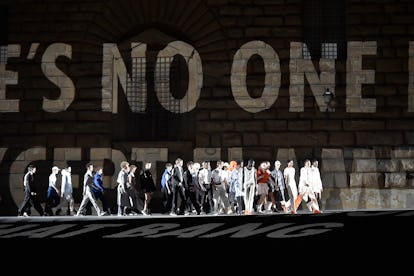 Estrop/Getty Images
The Off-White designer Virgil Abloh and the artist Jenny Holzer had been collaborating since March on Off-White's first presentation at Pitti Uomo in Florence, which he unveiled last night, but they didn't actually meet in person until the night before the show. It was past midnight when Holzer ambled over to the Pitti Palace, where her projections of text were scrolling up the dark façade. "Wow," she exclaimed at the sight. "I still get jacked."
Abloh was equally excited, at both the significance of being a featured guest artist at Pitti Uomo—"the most important show of my career," he called it—and at the chance to create "a happening" with Holzer. His previous shows had been purposely small-scale. "But here, I needed to think even bigger than I normally do," he told me as he and the artist worked out the pacing of the projections for his men's 2018 spring/summer runway presentation. "I wanted to do something that Pitti had never done and give Florence an art work that was large scale and spoke to the moment. I'm at a place where I can add something to the conversation."
The focus of their installation was the international refugee crisis and immigration, topics that struck close to home for Abloh, the son of Ghanaian immigrants, who grew up in Rockford, Illinois. As a self-made multi-hyphenate creative and canny translator of youth culture, he's not only turned the four-year-old Off-White into one of the hottest labels, helping streetwear storm the luxury sector, but he also deejays parties around the globe, designs furniture, publishes books, and collaborates with the likes of Ikea, Nike, Levis, and Moncler. He's rarely not on a plane, and the notion of a travel ban got him thinking. "That's something that obviously parallels my ability to be in America, to be from a young generation that takes for granted that we can just travel wherever, in and out of different cultures. It was the perfect premise."
His turn to Holzer came out of his response to the Women's March on Washington, and his realization that his circle was male-dominated ("it's a bromance thing, only we don't talk about about sports, we talk about sneakers, T-shirts, and vintage jeans"). He knew he wanted a female voice in the show and the scale and power of Holzer's text-based, multi-platform projections, which has brought poetry and politics together in works on buildings, on billboards, and on baseball hats—resonated with his own interests in text, typography, and statements. "Fashion itself doesn't speak with the same volume without context. That's what the collaboration gave me personally: Volume against the white noise of rhetoric."
Holzer, 66, famously collaborated with a fashion designer for the first time in 1996, when she and Helmut Lang created "I Smell You on My Clothes," an installation for the 1996 Florence Biennale. A Proustian rumination on how the aromas left behind on clothing summon memories of the person who wore them, Lang created the scent for the room, while Holzer made two LED installations that hung from the ceiling, pulsing messages like: YOU ARE THE ONE WHO DID THIS TO ME. "We did things that weren't strictly what we typically did," she recalled of a time when art and fashion rarely strayed from their lanes. "Including a great and funny adventure with the perfume we made together that smelled like sperm sweat and starch and a lot of 's' words."
As it happens, it was also in Florence where Holzer showed "Arno," her first projection as part of a work with Lang, about love and loss. From a canoe club on the Arno River they projected text onto a brothel. "So that was another reason for doing a projection with Virgil here," she said. "Not just nostalgia, but making it live again."
As Holzer recalled, Abloh's suggestion that they collaborate "came out of the blue." She was familiar with his name already, and became intrigued by his open-minded approach. "I have known only two designers and both of those men—Karl Lagerfeld and Helmut Lang—are very smart people. So it wasn't that I was surprised by how smart Virgil was, but what caught me was the wide range of his concerns and curiosities. And that he didn't seem to be a jerk. In fact, he seemed like the anti-jerk. Aggressive toward the goal, but not toward the ideas."
She tested him at first, floating the idea of creating light projections based on poems by refugees that would be inescapable by being writ large on an iconic building in the center of Florence. "Some of the poems were so aching, angry—and just a whipsawing combination of furious and glorious and weepy," Holzer said. She selected poetry from Anna Swirzczynska, who was a volunteer nurse during the Warsaw uprising of 1944. "Her experiences were unbearable. Her siege poems read so much like what's happening in Syria that I picked them because they could be Syria."
Another set of projections reflect the voices of those caught in current conflicts in Syria, Iraq, and Palestine. And when Holzer's studio mistakenly sent a particularly tough poem that she hadn't intended to use, Abloh didn't flinch. "He really passed the test then," she said, "because he didn't say, 'What? Are you nuts?' He was like, 'Yeah, bring it on.'"
The two collaborated the modern way, via email, text, and their assistants. Abloh has degrees in engineering and architecture, and his first choice of setting was Brunelleschi's famous Dome. "It's the most gorgeous thing on Earth, possibly," Holzer said. But its angles weren't ideal for the projections, so they chose the Pitti Palace, where the night of the show, the poems scrolled up on either side of the entrance for several minutes before Abloh sent models styled by Bloody Osiris striding across the piazza, with Holzer's text bathing them in light and letters. Several of the pieces bore red diode signs with fragments of text by refugee poet Omid Shams, Abloh's homage to Holzer's own pioneering LED works.
"He sent some designs for T-shirts with Omid's text and asked me what made sense," Holzer explained. "I'm a manic editor, so I'm choosing things and making it shorter and shorter. And I said, 'Given how intense this content is, why don't we not be traditional with the placement of the text over a left pocket, and put it on the spine or over the shoulders where you carry things—put it where it could hurt, or help?' And boom, he did it. He didn't say, 'How dare you intrude?' So here's to men like that."
Many of the show's guests arrived wearing their invitations—day-glo orange t-shirts printed with graphics that carried the visual instructions for putting on a life vest on the front, and the Shams line "I'll never forgive the ocean" on the back. The clothes he sent out were allusions to "oceans and borders and life rafts," Abloh told me, "and how many people die trying just to get from one place to another." That theme of rescue and dangerous crossings resonated through the tailored collection of sport T-shirts with invisible zippers, coats with inflatable vests, and transparent shirts and coats that rustled as the models moved.
For the show's finale, Abloh and his models formed a striking group tableaux on the piazza before marching across it, beneath Holzer's giant projections. "The men walked in, through, away from, and back around good poems in light," Holzer said afterward. "Can't beat that."
For Abloh, Off-White has never been simply a clothing brand, but a container for his myriad ideas—his "trojan horse," as he likes to say. "To me, it's a platform to make art and to represent something else. If the show triggers even two kids to go dig deeper, then it was worth it. I'm using my platform to nudge things along in a direction that's, I guess, a little more utopian."
Afterwards, Abloh headed off to DJ the afterparty alongside the designer Heron Preston, and No Vacancy Inn's Tremaine Emory and DJ Acyde. Holzer, meanwhile, had a show at another palace—Bleinheim Palace, outside London—to prepare for. It opens in September. "Not going to the afterparty," she told me. "I'm going to bounce off the walls in my hotel room instead."
All the Looks From Off-White Spring 2018 Mens
Related: Virgil Abloh and His Army of Disruptors: How He Became the King of Social Media Superinfluencers
Related: Pitti Uomo Street Style Proves that No One Is Better Dressed Than Italian Men
Meet the chameleons of the art world at Frieze New York: