Vladimir Putin's New Reality TV Show Is Essentially "Keeping Up With the Kremlin"
Russia's president is giving the Kardashians a run for their money.
---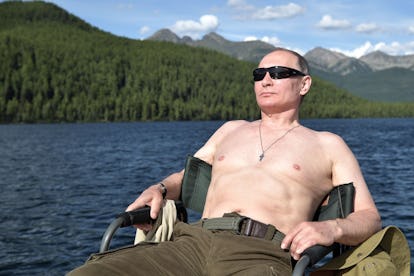 Alexey Nikolsky/Getty Images
In case you've ever experienced a desire to get an up-close view of Vladimir Putin, say, picking wild berries and putting them in his chest pocket for safekeeping while hiking in the mountains of Siberia, well, you're in luck. Whether he's looking to beat Donald Trump at his own game, up his popularity after a steady drop in approval ratings, or—since anything seems possible at this point—aspiring to be the next Ashlee Simpson, Russia's president is getting his own reality TV show. In fact, it already premiered, on Sunday night. (Don't feel too bad if you missed out; the series airs on Russian state television, which probably isn't on your roster of usual streaming platforms.)
Thankfully, The Washington Post is here to bring us all up to speed on, alas, not Keeping Up With the Kremlin, but the very seriously titled Moscow. Kremlin. Putin., which follows Putin carrying out his weekly activities as a world leader and condenses them into hour-long episodes. So far, that's included everything from Putin's vacation in Siberia last month to his attendance at the funeral of the so-called Russian Frank Sinatra, Iosif Kobzon, who died last week. There's no word, exactly, on what's to come—more dinner with Melania? Or perhaps getting some fresh injectables?—though the decision to air the show a few days before tens of thousands of Russians are expected to protest his policies definitely promises some dramatic plot points.
That's especially true if Putin's spokesperson, Dmitry Peskov, is truthful in saying that the series, whose premiere made quite a point to praise Putin's physique, presents a "balanced" view, which would, of course, mean hearing from some Russians with a little less patriotism than Putin too. That section of the population has, after all, seen some significant growth as of late; Putin's approval ratings dropped 12 percent, from 79 to 67, between May and July, when he was at work attempting to give the country's pension system a facelift—which it turns out nearly 90 percent of the population aren't a fan of either.
No wonder Putin has been hiding out in Siberia—something that was, in fact, the subject of another one of Peskov's clarifications. Apparently, the wildlife scenes led some viewers to become fearful for Putin's safety, which Peskov dismissed as entirely unnecessary: "Do you think the bear is an idiot? If he sees Putin, of course he's going to mind his manners."
This is all, after all, old hat for Putin; he appears on state television on an almost daily basis, though it's true that he's never had his own TV show. Surprisingly enough, Trump, who, of course, beat Putin to the game more than a decade ago with The Apprentice, has yet to weigh in on the series, though it's likely only a matter of time before he becomes its most prolific recapper.
Related: Don't Look Like Vladimir Putin: When Powerful Men's Obsession With Injectables and Fillers Goes Wrong