Everything We Know About Maniac, Emma Stone and Jonah Hill's New Dark Comedy Series on Netflix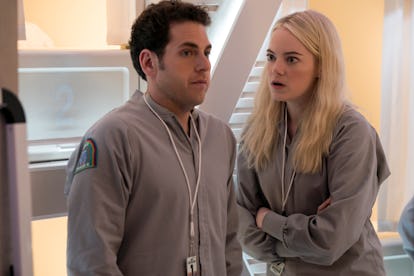 Michele K. Short / Netflix
We finally know a little bit more about Maniac, the trippy new Netflix series starring Emma Stone and Jonah Hill.
Directed by True Detective director Cary Fukunaga, Maniac is based on a 2014 Norwegian television series of the same name. The original series revolves around a man who believes he is seeing and experiencing every dream he has, but in real life he is in an institution, surrounded by other patients, doctors, and psychologists. Fukunaga's version focuses on two strangers, played by Emma Stone and Jonah Hill, who participate in a pharmaceutical trial that allows them to go inside of their dreams and act out their fantasies. When the trial goes wrong, both chaos and hilarity ensue.
Netflix is keeping in step with their notoriously cryptic updates about upcoming series (especially those with such a high-profile cast attached). Though the streaming platform has yet to reveal much information about Maniac, here is everything discernible from the enigmatic photos released ahead of the show's premiere.
It's an A-List Star Vehicle
Way before Emma Stone took home her Best Actress Oscar for her performance in La La Land, a full series of Maniac was ordered in March 2016, with both Stone and Jonah Hill attached to star in the show. It was later announced that recurring cast members would include Julia Garner, Jemima Kirke, Sally Field, and Annihilation's Sonoya Mizuno. Even Justin Theroux is attached (which could explain why Theroux recently revealed via Instagram that he's apparently really good friends with Stone). The Maniac cast is a good look for Netflix, which has been giving the greenlight to a whole wave of new series with A-list talent like Barbra Streisand and Gwyneth Paltrow in the upcoming Ryan Murphy series, The Politician and comedic geniuses like Maya Rudolph and Rachel Dratch in Amy Poehler's Wine Country.
It's a Source for Style
Believe it or not, Maniac could be your next source of style inspiration. Those monochromatic medical jumpsuits Hill and Stone are wearing in the promo stills released ahead of the premiere look pretty fly, as does Sally Field's red Rajneeshee-chic getup. Plus, Justin Theroux sports some aviator eyewear and a white lab coat while pressing his face up against a giant keyboard—which is, at the very least, a relatable mood for the techno junkie in all of us.
It's a Stylized Dark Comedy
The humor of the original Maniac comes across as slightly less dark than what Netflix promises this American version will have in store for viewers, and while the American version appears to be a bit more stylized than the Norwegian original, it is a comedy nonetheless. Unsure of reality, Espen, the main character in the original series, finds himself fighting Nazis, smoking Cuban cigars, and living a luxurious, often heroic, lifestyle—but of course that's all in his head. Hill and Stone should have the comedic chops to pull this off, too, as Maniac marks the reunion of both actors after their hilarious performances in the 2007 Judd Apatow film Superbad.
Related: Justin Theroux Is Now Apparently "Bffffffs" with Emma Stone and Queer Eye's Jonathan Van Ness
For La La Land and Beyond, It's Impossible to Pin Down Emma Stone's Eclectic Style
Emma Stone in Prada at the Metropolitan Museum of Art Costume Institute Gala for 'Manus x Machina' in New York, New York, May 2016.

Getty Images
Emma Stone in Roland Mouret at the Hollywood Foreign Press Association Grants Banquet in Beverly Hills, California, August 2016.

WireImage/Getty Images
Emma Stone in Atelier Versace at the opening ceremony of the Venice Film Festival and the premiere of La La Land in Venice, Italy, August 2016.

WireImage/Getty Images
Emma Stone in Chanel at the Venice Film Festival in Venice, Italy, August 2016.

GC Images/Getty Images
Emma Stone in Rochas at the party for Katie Says Goodbye at the Toronto International Film Festival in Toronto, Canada, September 2016.

WireImage/Getty Images
Emma Stone in Chanel at the press conference for La La Land in Venice, Italy, September 2016.

WireImage/Getty Images
Emma Stone in Chanel at the premiere of La La Land at the Toronto International Film Festival in Toronto, Canada, September 2016.

FilmMagic/Getty Images
Emma Stone in Rodarte at the special screening of La La Land during the Mill Valley Film Festival in Mill Valley, California, October 2016.

FilmMagic/Getty Images
Emma Stone in Prada at the Kennedy Center Mark Twain Prize in honor of Bill Murray in Washington, D.C., October 2016.

WireImage
Emma Stone in Chanel at the premiere of La La Land at the Denver Film Festival in Denver, Colorado, November 2016.

Getty Images
Emma Stone in Rosetta Getty at a special screening of La La Land in Los Angeles, California, November 2016.

Getty Images for Lionsgate
Emma Stone in Prada at the premiere of La La Land in Westwood, California, December 2016.

FilmMagic
Emma Stone in Rochas with Ryan Gosling at their hand and footprint ceremony at TCL Chinese Theater in Hollywood, California, December 2016.

FilmMagic/Getty Images
Emma Stone in Giambattista Valli at the Hollywood Reporter Women in Entertainment breakfast in Los Angeles, California, December 2016.

Getty Images for The Hollywood Reporter
Emma Stone in Gucci at the W Magazine Best Performances pre-Golden Globes party in Los Angeles, California, January 2017.

Getty Images for W Magazine
Emma Stone in The Row at a screening of La La Land in London, England, January 2017.

Getty Images