Zoë Kravitz on Her All-Nighter at Tiffany & Co., Ezra Miller's Style, and Her New Engagement Ring
Tiffany & Co.'s campaign star talks diamonds, septum piercings, and Ezra Miller's thimble.
---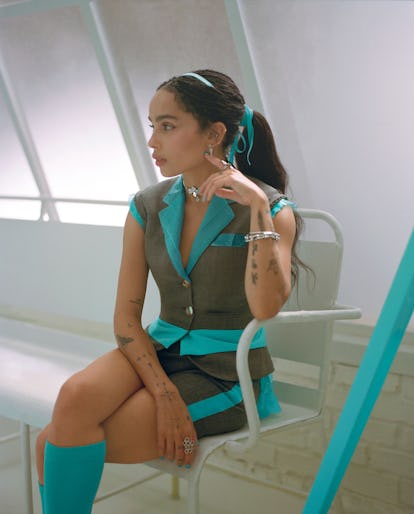 Courtesy of Tiffany & Co.
The holidays are fast approaching, naturally bringing Tiffany & Co.'s latest campaign, "Believe in Dreams," along with it. She might not have any real-life retail experience, but the jewelry house couldn't have a cast a better salesperson than Zoë Kravitz, who could probably convince you to buy anything she gives her seal of approval. In addition to going behind the scenes of Tiffany's glittery workshop and toiling away at the Fifth Avenue flagship into the early hours of the morning, Kravitz has been paying extra attention to her personal life too: In case you missed it, a couple of weeks ago, she casually mentioned that she's engaged to her boyfriend of two years, Karl Glusman, who took Kravitz by surprise by proposing to her with an 18th-century diamond ring while she was at home in her sweatpants.
As it turns out, she'd seen the ring before—on, of all places, Instagram. Here, she shares some more details about the proposal, the pressure she's been under from her costar Ezra Miller, and what it's like to stay at Tiffany's iconic Fifth Avenue flagship well past midnight.
What was it like to work on this campaign, with such amazing women like Naomi Campbell and Karen Elson? Well, it was amazing to shoot in the Tiffany store at night. It's such an iconic place to be, and to be there when it was closed, after hours, was really, really cool. Night shoots are always intense—you're there all night, so the you see the sun go down and the sun go up. Naomi and Karen weren't there the night I stayed until five in the morning—that was just me. But it was really fun. They're both good friends of mine, and also both iconic New York ladies, so it was amazing to have them involved.
Did you have any IRL retail experience, prior to playing a salesperson in this video? No, I don't, which I'm kind of embarrassed to say. I've never had a "real job." I started acting right out of high school, so I never got to, but I did always have a fantasy of being a waitress or bartender. That always seemed like a cool New York thing to do.
Was there anything besides acting that you did consider doing? Not for real—I think I thought about possibly photography at one point. Music is something I still kind of do, though obviously it's not my main career, but I still dabble in it when I have time. My dad always said I would be a really good lawyer because I try to argue with people. [Laughs.]
What is your own jewelry collection like? I have some beautiful pieces passed down from both of my grandmothers. I have two Tiffany's sets that they gifted me, which I'm in love with, and a necklace from the Paper Flowers collection that's so beautiful. I think a pair of classic studs is something that goes with everything—they can dress an outfit up or dress it down. And then I have my engagement ring, which I also love very much.
Did you get to have any say in what it would look like? It was actually a ring I'd been kind of fawning over from afar, and a friend of mine of whispered that into Karl's ear. [Laughs.] It's from this antique dealer called The One I Love; I follow her on Instagram and would always look at her rings. There was one from the 18th century that I saved because I thought it was so beautiful, and I had no idea that my friend had told him about. So he he went the extra mile to get me something that I'd really love.
Are you normally a diamond person, or only for special occasions? I mean, I think diamonds are beautiful. I always try to wear diamonds that no one was hurt in the process of obtaining, and Tiffany is very conscious of that, which I love. And the ones in my engagement ring are antiques, so they're not supporting any kind of blood diamonds situation.
You've had quite a few hairstyles, even in just the past year. Do they affect what jewelry you wear, too? Yeah, definitely. I think I was wearing bigger earrings when I had short hair, because they were kind of a nice centerpiece. Earrings tend to get buried when my hair's long, so something like a little stud is nice—even if it's through your hair, it's a little sparkle.
How many piercings do you have? I'm not sure. I think I have.… I have five in one ear and four in the—you know, I'm guessing, I really don't know. [Laughs.] I have a decent amount.
When did you get your septum piercing? I got it in 2010 or 2011. I don't have it anymore, but I was really into it for a few years—and then I was just kind of done with it. I also feel like it became very, very popular, and it just felt like when you show up to a party wearing the same dress as everybody else.
Did you have to deal with a lot of negative reactions to that particular piercing? I mean, I definitely would meet guys going, "What are you, a fool?" or something like that. I think I liked that piercing because it wasn't necessarily pretty—it was kind of punk and challenging in a way, and I thought that was cool.
Now that that's out of the rotation, what jewelry have you been wearing every day? Well, I wear my engagement ring now. [Laughs.] I have a pinky ring that I got from Tiffany a few years ago—well, I turned it into a pinky ring, I don't know if it's supposed to be one. It has an emerald diamond, and I wear it almost every day. I'm wearing my Tiffany studs all the time, too—I'm really into kind of simple, classic jewelry right now.
What are you hoping to get for the holidays? You know, I don't really—I love to shop, and I shop for myself often, so I don't necessarily feel like I need gifts for the holidays. My family just usually kind of turns it into a chance to go on vacation to take the pressure off, so I like making it less about gift-giving and more about spending time with family. But then you know, if I get something I didn't expect, it's always a perk. But this year, I'm not going to be with my mother [Lisa Bonet], so maybe I'll get her some jewelry, actually. I got her some earrings for her birthday tomorrow, but I have to find something to follow up on that.
Your birthday's also coming up. It's the big 30, right? The big 30, I know. Everyone I know is kind of calling me and asking me what I'm doing, but I don't have any plans yet. I love going to birthday parties, but throwing one for myself is kind of more stressful than fun, so I don't know if I'll do anything. Especially coming off of this press tour and all that, I just want to, like, eat pizza or something.
At least you don't seem to be stressing about that age. I go back and forth. For the most part, I feel excited—I've heard from a lot of people that it just gets better, and that makes a lot of sense to me, because know who you are more and you know what works for you and what doesn't. I do have moments like panic, like, "My 20s are over, I'm getting older," but none of that's real. It's a waste of energy, so I'm trying to just move forward.
Last thing: You've been doing the red carpets for the latest Fantastic Beasts, and I can't not ask you about the looks Ezra Miller has been serving up—including a thimble as a piece of jewelry. That was with the all-white outfit, right? [Laughs.] You know, I love Ezra. Life is art for him; everything's a performance. And when you're on this massive carpet, it is an opportunity to make some kind of a statement, and it's cool to approach it that way. So I think it's cool, man—kudos to him. It's always exciting to see what he's going to show up wearing. He's just showing up all the girls, you know?
I guess it does put some pressure on you. Yeah, seriously!
Related: Surprise: Zoë Kravitz Has Been Secretly Engaged Since February
How Zoë Kravitz Became the Most Effortlessly Cool Girl In Fashion
A young Kravitz poses with dad Lenny in a floral dress with a bright turquoise bag.

Getty
Kravitz arrives at the 82nd Annual Academy Awards held at Kodak Theatre on March 7, 2010 in Hollywood, California.

Getty
Kravitz attends the premiere of Beware The Gonzo during the 2010 Tribeca Film Festival.

Getty
Kravitz arrives at the 25th Film Independent Spirit Awards held at Nokia Theatre LA Live on March 5, 2010

Getty
Kravitz attends the CHANEL Tribeca Film Festival Dinner in support of the Tribeca Film Festival Artists Awards Program at Odeon on April 28, 2010.

Getty
Kravitz attends the Yelling To The Sky premiere during day three of the 61st Berlin International Film Festival at Berlinale Palace on February 12, 2011.

Getty
Kravitz attends the premiere of Conan The Barbarian on August 11, 2011.

Getty
Kravitz attends Bullet To The Head New York premiere at AMC Lincoln Square Theater on January 29, 2013.

Getty
Kravitz attends the 30th annual Fashion Group International Night of Stars on October 22, 2013.

Getty
Kravitz attends The Union premiere during the 10th annual Tribeca Film Festival on April 20, 2011.

Getty
Kravitz attends the Guggenheim International Gala Dinner made possible by Dior on November 6, 2014.

Getty
Kravitz attends the premiere of Lionsgate's The Hunger Games: Catching Fire at Nokia Theatre L.A. Live on November 18, 2013.

Getty
Kravitz attends the 2014 Film Independent Spirit Awards at Santa Monica Beach on March 1, 2014.

Getty
Kravitz attends the "Charles James: Beyond Fashion" Costume Institute Gala at the Metropolitan Museum of Art on May 5, 2014.

Getty
Kravitz attends the 2015 Vanity Fair Oscar Party hosted by Graydon Carter at the Wallis Annenberg Center for the Performing Arts on February 22, 2015.

Getty
Kravitz attends FENDI celebrates the opening of the New York flagship store on February 13, 2015.

Getty
Kravitz attends "China: Through the Looking Glass", the 2015 Costume Institute Gala, at Metropolitan Museum of Art on May 4, 2015.

Getty
Kravitz arrives at the 22nd Annual ELLE Women In Hollywood Awards at Four Seasons Hotel Los Angeles at Beverly Hills on October 19, 2015.

Getty
Kravitz arrives at the 2016 InStyle And Warner Bros. 73rd Annual Golden Globe Awards Post-Party at The Beverly Hilton Hotel on January 10, 2016.

Getty
Kravitz attends the Vincent N Roxxy Premiere during the 2016 Tribeca Film Festival at Chelsea Bow Tie Cinemas on April 18, 2016.

Getty
Kravitz attends the New York premiere of Allegiant at the AMC Lincoln Square Theater on March 14, 2016.

Getty
Kravitz attends the "Manus x Machina: Fashion In An Age Of Technology" Costume Institute Gala at Metropolitan Museum of Art on May 2, 2016.

Getty
Kravitz attends The 21st Annual Critics' Choice Awards at Barker Hangar on January 17, 2016.

Getty
Kravitz attends the Valentino Haute Couture Fall/Winter 2016-2017 show as part of Paris Fashion Week on July 6, 2016.

Getty
Kravitz arrive at the premiere Of HBO's Big Little Lies at TCL Chinese Theatre on February 7, 2017.

Getty
Kravitz attends 19th Annual amfAR New York Gala- Arrivals at Cipriani Wall Street on February 8, 2017.

Getty
Kravitz attends the Saint Laurent show as part of the Paris Fashion Week Womenswear Fall/Winter 2017/2018 on February 28, 2017.

Getty
Kravitz attends 2017 Whitney Biennial presented by Tiffany & Co at The Whitney Museum of American Art on March 15, 2017.

Getty
Kravitz attends "Rei Kawakubo/Comme des Garcons: Art Of The In-Between" Costume Institute Gala at Metropolitan Museum of Art on May 1, 2017.

Getty
Kravitz attends the Rough Night New York Premeire at AMC Lincoln Square Theater on June 12, 2017.

Getty