Ed Sheeran Is Having the Best Week, Dueting With Beyoncé, Taking Selfies With Cardi B, and Earning Grammy Nominations
What do Cardi B and Beyoncé know that the rest of us don't? (Aside from, you know, everything.)
---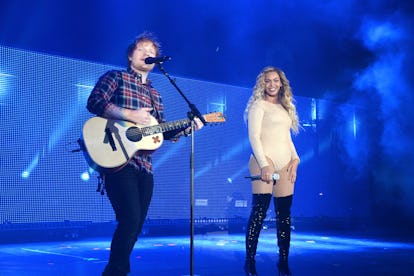 Kevin Mazur/Getty Images
Unlike the rest of us, Ed Sheeran is having a great week. A great month, really. First, he was featured alongside Future on Taylor Swift's new album. Then, he was nominated for Best Pop Vocal Album for ÷ and Best Pop Solo Performance for "Shape of You," a song you probably don't identify with Ed Sheeran but have definitely heard at a bar. And on Wednesday morning, rapper Cardi B, herself nominated for Grammys for Best Rap Performance and Best Rap Song for "Bodak Yellow," posted a photo to her Instagram of herself and Sheeran, calling him "sooo dope and cool" in the caption. (On Twitter, some fans who saw the photo were decidedly less complimentary.) On Thursday, Sheeran announced he will be re-releasing "Perfect," another cut off ÷, this evening—with an assist by Beyoncé.
"Got Beyoncé to duet with me on Perfect, comes out today at 7pm ET / 4pm PT / midnight GMT x," he wrote on his Instagram by way of announcement Thursday morning. "Perfect" has already had two releases—the original mix, and another acoustic version, not to mention the recent video starring actress Zoey Deutch—and Sheeran has already performed with Beyoncé a handful of times, so he can reluctantly be forgiven for being so nonchalant about the whole thing. In 2015, they were joined by Gary Clark, Jr., for a tribute to Stevie Wonder at the Grammy Awards. Then, that summer, they shared the stage at the Global Citizen Festival, when Sheeran joined Beyoncé for a duet of "Drunk in Love," a song he had been covering solo for quite some time, perhaps in hopes this very moment would come. By his own admission, they make an odd pair: "Her set is just kind of so slick and perfect that sticking a scruffy ginger dude in halfway through is a bit like 'Is he meant to be there?' kinda thing," Sheeran told MTV News at the time.
Sheeran has also found dropping Beyoncé's name into otherwise-unrelated conversations apparently irresistible: He likened his recent collaboration with former Fifth Harmony member Camila Cabello to "Crazy in Love"— "It's just sass and vocals," he said earlier this year. "Camila has a voice that should really be shown off." (Also implying, perhaps, that Sheeran brings the sass, though Cabello also rewrote many of his lyrics.)
Some time around those two shared appearances with Beyoncé, and joined by Jay Z (the only New Yorker among the three), they participated in such classic New York pastimes as doing Jägerbombs and eating pizza, as Sheeran said in his documentary about his Wembley Stadium shows. In the end, all of this seems to have planted the seeds of their new collaboration: Earlier this year, Sheeran told Billboard Beyoncé "would be someone great to work with"—meaning in the studio, of course, given that they have already performed together several times. "She has incredible energy and an incredible mind," he added. This was, of course, before "Bodak Yellow" dominated the summer radio and before Cardi B offered her endorsement. Ed Sheeran may have been chased off Twitter after being ridiculed for his cameo in Game of Thrones earlier this year (while learning he has a staunch defender in Lady Gaga), but on Instagram, he's thriving, and apparently Cardi B and Beyoncé (and even Taylor Swift, though they're longtime pals) know something the rest of us don't.
Related: Beyoncé Was Working on a Joint Album with Jay-Z When She Decided to Step Away and Make Lemonade