Elle Fanning Lost a Film Role at 16 Because of a "Disgusting Pig" Director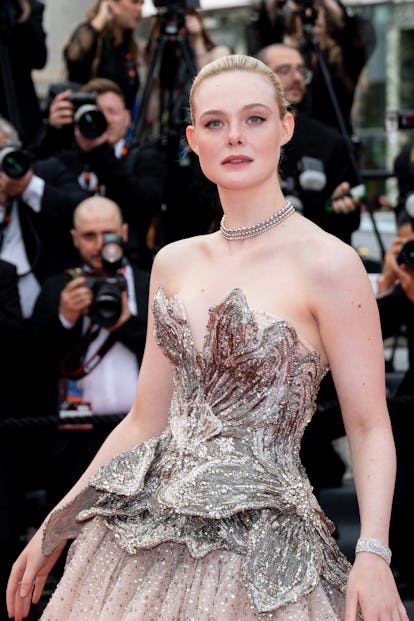 Marc Piasecki/FilmMagic/Getty Images
Elle Fanning may have scored high-profile roles on a variety of indie and blockbuster flicks, but recently, the actress has been upfront about the often harsh truths of Hollywood auditions. Last month, Fanning revealed that she was turned down from a role for not having enough Instagram followers. And in an interview on Tuesday, she explained another cringe, and definitely creepier, reason why she didn't get a role.
"I've never told this story, but I was trying out for a movie," she said in a roundtable interview with The Hollywood Reporter. "I didn't get it. I didn't hear from my agents because they wouldn't tell me things like this—that filtration system is really important because there's probably a lot more damaging comments that they filtered—but this one got to me."
"I was 16 years old, and a person said, 'Oh, she didn't get the father-daughter road trip comedy because she's unfuckable.' It's so disgusting. And I can laugh at it now, like, 'What a disgusting pig!'"
The comment, while shocking, is sadly something that actresses both aspiring and established have dealt with for decades in the film industry. In the same discussion as Fanning, actress Natasha Lyonne detailed a similarly inappropriate experience. Brooke Shields also recently discussed her early sexualization in the documentary Pretty Baby: Brooke Shields.
Elle, who is the younger sister of actress Dakota Fanning, started her acting career by playing the younger version of her sibling's character in I Am Sam and was nominated for a SAG Award at age eight, the youngest in history. But despite her early fame, the actress says that having solid support—and a "filtration" system to eliminate negative comments—has helped immensely throughout her career.
"I was always immensely confident, but of course you're growing up in the public eye, and it's weird," she explained. "I'll look at paparazzi photos from when I was 12 and think, 'Is that a good thing to see such a mirror of yourself at that age?' I don't feel like it damaged me, but it definitely made me very aware of myself."
Fanning recently attended the Cannes Film Festival where she dazzled in a series of looks both on and off the red carpet—from custom Alexander McQueen to futuristic Paco Rabanne. She also has a handful of projects in the works including season three of The Great which premiered in May, as well as forthcoming films with Kristen Stewart and Sarah Paulson.